Stop the Food Fight!
Nutrition Month 2017
March is Nutrition Month and this year, let's stop the food fight!  Dietitians across Canada are coming together to "Take the Fight out of Food" and help the public to improve their relationship with food and find the joy in eating!  find the joy in eating!  Food fights may be either with ourselves, our picky eater or with the management of health conditions such as diabetes, high blood pressure or irritable bowel syndrome.  Today, I will be discussing the top five "food fights" and how we can end them so we can feel good about food!
Take the Pledge!
 I Andrea D'Ambrosio, will Take the Fight out of Food this #NutritionMonth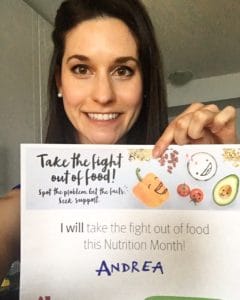 Join me in taking the fight out of food this #NutritionMonth
Click To Tweet
Why the Food Fight?
According to Tracking Nutrition Trends 2015, almost half (49%) of Canadians turn to the internet, blogs or social media when looking for answers about which foods are best for them and their families.  Unfortunately, not all of this information is accurate or the best advice for their needs or health condition.  My clients often express feelings of frustration and confusion when faced with so much (often contradictory) information. Therefore, with accurate information and a good support system, Canadians will be better equipped to make decisions about food, and minimize their nutrition-related struggles.
DYK: 49% of Canadians turn to the internet when looking for answers about which foods are best
Click To Tweet
The five most common 'food fights':
Food Fads: How do I know which nutrition information to trust?
Digestive Woes: What's causing all this gas, pain, bloating?
Picky Eating: Why is family mealtime such mayhem? How can I get my child to eat different foods?
Eating and Stress: Why do I always turn to food when I'm stressed/anxious/bored?
Managing a Condition (e.g. diabetes): How can I manage my diabetes?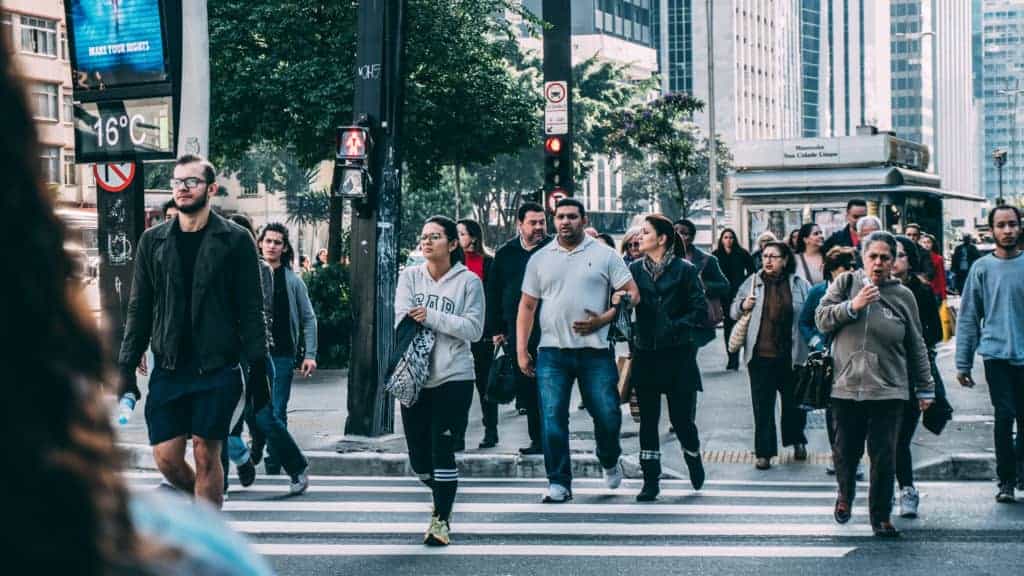 Let's End the Food Fight!
To ease frustrations and overcome your food fight, dietitians are recommending this simple three-step approach – spot the problem, get the facts and seek support.
Spot the Problem:
Define what's causing your food fight. Recognize there's a specific problem you need/want to work on.  This could be a personal struggle, dealing with your a picky eater or supporting an aging parent manage their diabetes.
Get the Facts:
Seek facts from credible sources to help you decide what needs to be done to solve your food fight. Be sure to question the credibility of your online sources by looking at the author and source. Here is link to past blog all on how to spot nutrition misinformation.
Seek Support:
Remember, you do not have to do it alone.  After you have highlighted your problem or area you want to focus on, gathered some reliable facts, you are now ready to seek support.  You may choose to work with or confide in a health professional like a doctor, dietitian, therapist or perhaps family and friends.  Your support system is there to help put your plan into action.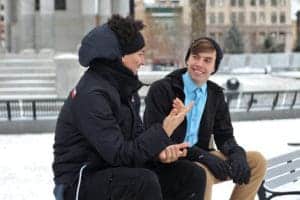 To overcome your food fight – Spot the problem, Get the facts & Seek support.
Click To Tweet
Bottom Line:
This Nutrition Month, let's end the food fight and find joy in eating!  Be sure to join the social media conversation with #NutritionMonth where dietitians across Canada will share tips and tricks to help you manage your health conditions and feel confident in your food choices!  Remember that dietitians, as your "go-to source" of reliable food and nutrition information, are here to individualize recommendations to your needs and lifestyle.  Are you ready to end your food fight?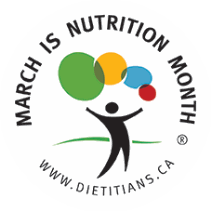 Be sure to check out Dietitians of Canada and Nutrition Month 2017 for more information.