The Year of Quinoa is 2013!
Did you hear that the United Nations named 2013 the 'International Year of Quinoa'?
If you are unfamiliar with quinoa (pronounced KEEN-wah) you are missing out on a tasty, nutty flavoured, nutritional powerhouse!   Today, I am going to provide a quick run down of Quinoa – what it is, where it is found and how to use it!
Learn more about quinoa! What is it and what are the nutritional benefits?
Click To Tweet
What is Quinoa?
An ancient seed, rather than a grain, that can be traced back in origin to ancient Peru. Although quinoa has recently received quite the spotlight, it has been cultivated for human consumption for over 3,000-4,000 years.
The United Nations General Assembly noted that the indigenous people of the Andes have "maintained, controlled, protected and preserved quinoa in its natural state" for generations "through their traditional knowledge and practices of living well, in harmony with nature."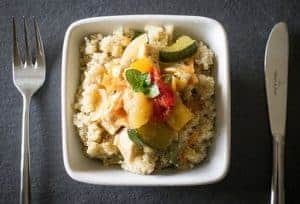 Nutritionally speaking:
Quinoa is classified as a 'complete protein' since it contains all your essential amino acids such as lysine which promotes healthy tissue growth. This seed, similar to couscous in appearance, is gluten free and a good source of dietary fibre, iron, vitamain E, potassium and calcium for those on a vegan diet looking for alternative calcium sources.
Where to find Quinoa: 
Thanks to its popularity, quinoa is readily available at most grocery stores, health food stores, the Bulk Barn and increasingly seen on restaurants menus! Prices range somewhere between $10- $12 for a 700g bag (which will last you about 10-15 servings).
Want to know more about cooking with quinoa and some tasty recipes? I've got you!
Click To Tweet
How to prepare quinoa:
You can toast quinoa like you would popcorn or you can cook it in water like you would prepare rice.
1. One cup of quinoa (makes 4 cups and serves 4)
2. Soak or rinse quinoa under cold water to remove a bitter coating
3. Bring two cups of water or chicken broth or juice to boil
4. Add quinoa, cover and reduce heat over medium for 12 minutes or until water is absorbed
5. Remove from heat, fluff and let stand for 15 minutes

Bottom Line:
Enjoy the 'International Year of Quinoa' and try experimenting. Next blog will be a delicious recipe that I made.