Become a Savvy Label Reader!
Do you check the nutrition facts before making a food purchase? Be honest. If you do, what do you look for? Are you able to interpret some or most of the information provided?
If you find the information provided on food labels overwhelming, you are not alone. In fact, the most recent Tracking Nutrition Trends survey of over 2,000 Canadians found that only half reported making decisions based on the ingredient list and the nutrition facts table. This number should be a lot higher since the food label contains valuable information to help consumers make more informed decisions!
Today, I will break down how to use the current nutrition labels to make savvier choices!  You can also watch me on Daytime TV chatting about label reading.
How to be Label Savvy 101:
Find out how to read nutrition labels effectively and efficiently!
Click To Tweet
#1: Always Check the Serving Size!
In my practice, I advise clients to always check the serving size first.
The serving size is located below the title "Nutrition Facts".
Information in the Nutrition Facts table is all based on a specific quantity or amount of food called the Servings Size.
Serving size is not the suggested quantity you should eat.
Adjust the serving size to how much you eat. For example, if you consume two servings (for example 2 cups of cereal), you will need to multiply the numbers in the nutrition facts table by two.
Compare different products by first referencing the serving sizes. If both products have the same serving size, this allows you to easily compare food products for calories and nutrients you want to get more or less of.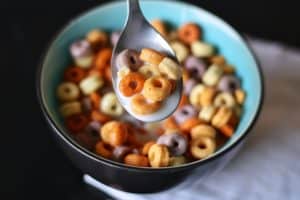 #2. Interpret the Percent Daily Value (%DV)
The percent daily value (%DV) is located on the right of the Nutrition Facts table. It is will tell you if a serving has a little or a lot of a specific nutrient.
5 Percent Daily Value or less is a little.
15 Percent Daily Value or more is a lot.
Choose foods with more of the nutrients you want (like fibre and calcium) and less of those you don't (like saturated and trans fats and sodium).
To compare %DV for canned soup, you could look at product A and first reference the serving size (per 2/3 cup) and you will notice that it has 16% DV of sodium (this is considered a lot). You can compare this to product B (serving size is also 2/3 cup) and has 2% DV of sodium (a little). Now you can make an informed decision and multiply the values if you are planning on having a couple servings.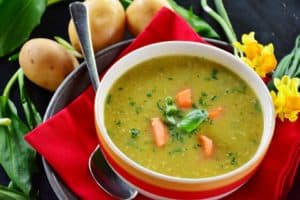 Putting Food Labels into Context:
The nutrition label provides information about what is contained in food products. It also allows you to compare products to make informed decisions.
Many foods you eat do not have nutrition labels (like fresh vegetables and fruit, raw meat and seafood, and foods prepared in store like salads or fresh baked breads).
The %DV does not have to add up to 100% in your diet since this number is not meant to track your total nutrient intake for the day.
Bottom Line:
Be sure to reference the Nutrition Facts to help you make informed decisions. Despite the proposed label changes, the serving size and the %DV will remain crucial components that consumers can use when making decisions. To be a savvy label reader, be sure to first reference the serving size and then use the percent daily value to determine if a product has a little or a lot of specific nutrients. Knowledge is power, especially when it comes to the fuel we put in our bodies.
Learn more on how to use the Nutrition Facts table at Canada.ca/NutritionFacts