Dr. Oz is NO Diet Authority!
In a world inundated with nutrition information, and much more misinformation, people are likely to fall victim to diet scams by purchasing products with unproven health claims or even products that are unsafe for human consumption!  This is a reality, but would you expect a television physician to be the one promoting these miracle fad diets?  On Tuesday, June 17th Dr. Mehmet Oz, a TV icon who is also a cardiothoracic surgeon and teaching professor at Columbia University, appeared before US senators for a scolding for using his powerful media platform to essentially endorse diet scams.  I know that I am not the only one exclaiming the word FINALLY upon reading about this trending topic on twitter, Facebook and from media outlets.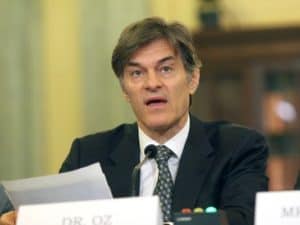 Nevertheless, it is now more evident than ever that Dr. Oz has been making a living, or should I say creating an extremely lucrative empire from promoting diet scams. He has touted products as "miracle fat burners", "magic weight loss cures" and "body fat busting" – all to sell products that do not have real scientific evidence behind them.  With the rising prevalence of overweight and obesity, he certainly has a vulnerable market of hopeful people searching for (and willing to buy) the newest "miracle cure".  However, instead of exploiting the hopefulness and trust of the public, why not provide real, scientifically-proven recommendations to give hope and inspiration?  The public could benefit from scientifically-based, trust-worthy health information along with unique and innovative ideas for healthy eating.  I feel saddened that Dr. Oz has completely missed the opportunity to empower and support the public in living and eating healthy because this simple message is obviously not as profitable as endorsing diet gimmicks to generate ratings!
Despite a lack of scientific evidence, Dr. Oz has touted products as "magic weight loss cures".
Click To Tweet
My hope is that the public will become more skeptical about "miracle pills" and not fall victim to these wacky diet products which are big business and do not deliver results.  Also, remember that Dr. Oz has demonstrated that he cares more about having a sensational show with high ratings than about keeping public trust, professional integrity and public health as top priority.  Last, we need to demand research to support recommendations without following them unquestionably.   And Dr. Oz if you are reading this, please take ownership for your actions and apologize to the public for misleading them with false hope and non-credible research.  Now let's get back to the wonderful world of science and evidence-based medicine please!
Dr. Oz cares more about his show than about professional integrity and public health.
Click To Tweet