Here's to Allergen Free Dining!
For those with severe or life threatening food allergies, choosing a restaurant can be an extraordinarily stressful event.  Dining out requires one to rely on the restaurant to be highly knowledgeable of food allergen(s) and requires even the cooking staff to be cautious with the high risk for cross contamination.  Therefore, the otherwise 'allergen free' food becomes 'contaminated' and a risk for the allergic individual.
Here is a common scenario for a person with celiac disease dining out.  The individual orders a gluten free balsamic salad and tells the server that she has a SEVERE GLUTEN ALLERGY.  The server relays the message to the kitchen but staff accidently top the salad with croutons (wheat) and when the manager walks by and says that it is a Gluten Free dish, the kitchen staff removes the croutons and serves the dish.  For those with food allergies, small amounts of the food allergen still make a BIG IMPACT.  Obviously, this meal would not be a safe for the celiac to consume and more than likely it would be consumed unknowingly.  Hence, we can understand the anxiety that can be provoked when it comes to dining out with food allergies.

Help is on the way!
Today, I heard about an AMAZING concept in the world of allergen free dining! Zero8 is a Montreal based restaurant that provides delicious meals that are free of the top 8 allergens!
Can you name the top 8 allergens?
Click To Tweet
The list of  Top 8 Allergens includes:
-Gluten (wheat, rye, barley, triticale, spelt, kamut)
–Egg
–Milk (Caseine and whey)
–Soy
-Sesame seeds
-Tree nuts
-Peanuts
Their website is currently in French but is now being updated in English. http://zero8.com/index.php/fr/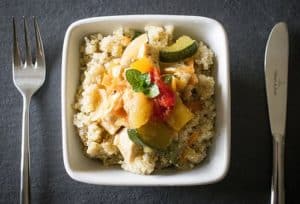 Thx ZERO8 for this tasty allergen-free recipe!
Click To Tweet
Here is a scrumptious recipe courtesy of ZERO8:
ORIENTAL STYLE QUINOA TABOULI 
Recipe created by ZERO8 for EpiPen
Preparation time: 15 minutes
Cooking time: 20 minutes
Ingredients
¼ cup quinoa
½ cup water
1 tomato large
5 tsp green onions
2 tbsp fresh coriander, chopped
1 tbsp mint, chopped
4 tsp lemon juice (about half a lemon)
5 tsp olive oil
Salt and pepper
Rinse quinoa in cold water. Rinse until water runs clear and there is no foam
Put quinoa in a pot with ½ cup of water (and bring to a boil)
Cover and cook over very gentle heat for 20 minutes
Remove from heat and let sit for 20 minutes to allow quinoa to expand
Chill for 3 hours before adding greens, tomato, lemon juice and oil
Cut tomato into small cubes and let drain in a colander
Finely chop green onions
Mince coriander and mint
Juice the lemon and mix juice with olive oil
Take chilled quinoa and put in a large bowl. Fluff with a fork and add greens, tomato, lemon juice and oil mixture
Mix everything well and season to taste with salt and pepper (freshly ground)
*To ensure the safety of people with allergies, it is recommended that you read "Cooking for People with Food Allergies" at the ZERO8 website: http://www.zero8.com/index.php/precautions