3 Steps to Successful Freezer Inventory
When was the last time you did a freezer inventory? Can't remember?  I was in the same boat.  There was food lurking in the back corners that quickly became freezer burnt and sadly in the garbage.  When I became intentional (by doing a freezer inventory), all of this changed.  I was able to feel confident with what I had on hand, I spent less money on groceries and actually spent less time making meals.  Today, I will share my 3 steps to successful freezer inventory.
What is a Freezer Inventory?
A tool used to review what is in your freezer.  Allows you to track food stored so that it can be used up.
Learn HOW to do a Freezer Inventory with Andrea's 3 simple steps (& inventory template)
Click To Tweet
Why do a Freezer Inventory?
Avoid buying multiples of foods you already have (save $$)
Helps with meal planning (saves time)
Allows you to use up leftovers for speedy meals (saves time & $$)
Avoid making foods you already have in freezer (saves time)
Cuts down on foods waste (saves $$ and environment)
When Should I do a Freezer Inventory?
I recommend doing a freezer inventory a minimum of every 6 months.  This way you can stay on top of what goes in and out of your freezer.
When was the last time you did a freezer inventory? Longer than 6 months?
Click To Tweet
Andrea's 3 Steps to Freezer Inventory:
Clear out your entire freezer (and/or deep freezer)
Create a sheet of paper to categorize your foods
Organize foods in your freezer so that you can find what you need
Step 1: The Clear Out
Take the time to remove EVERYTHING so that you can have a completely empty freezer.  Wipe down the inside of the freezer to disinfect and leave it sparkling clean.  There are sprays or vinegar and water solutions you can make.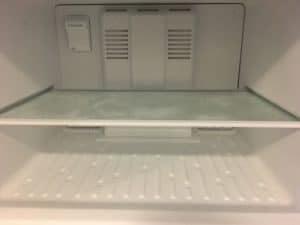 Step 2: Categorize Your Foods
The next step is to categorize all the freezer foods into four categories.  I use the categories shown below (leftover meals, components of meals, foods to use up and multiple days or miscellaneous.
TIP:  Keep this sheet of paper visible so that you can update the categories when you eat foods or add new foods to the freezer.  Be sure to also label and date foods that go in.
Leftover meals: Includes foods that are pre-portioned into single-serve containers, which are perfect for tossing into lunch bags.  This category also includes leftover meals portioned into family-sized containers. These can be moved the evening before into the fridge to thaw for dinner the next day.
Components of meals: These are easy proteins (meatballs, chicken fingers, tofu, fish fillets etc), sauces or batch recipes like muffin that can be used as part of a meal.
Use up: These are items that you keep stocked up, like English muffins, tortillas, frozen fruit or veggies. You will want to use up the older product before purchasing or opening a new package.
Miscellaneous or Multiple days: Other category for personal use, for purchased extras or for larger batches of foods that can be eaten for multiple days (ex. Extra lasagna, large batch of stew etc.)
Here's my Freezer Inventory Template: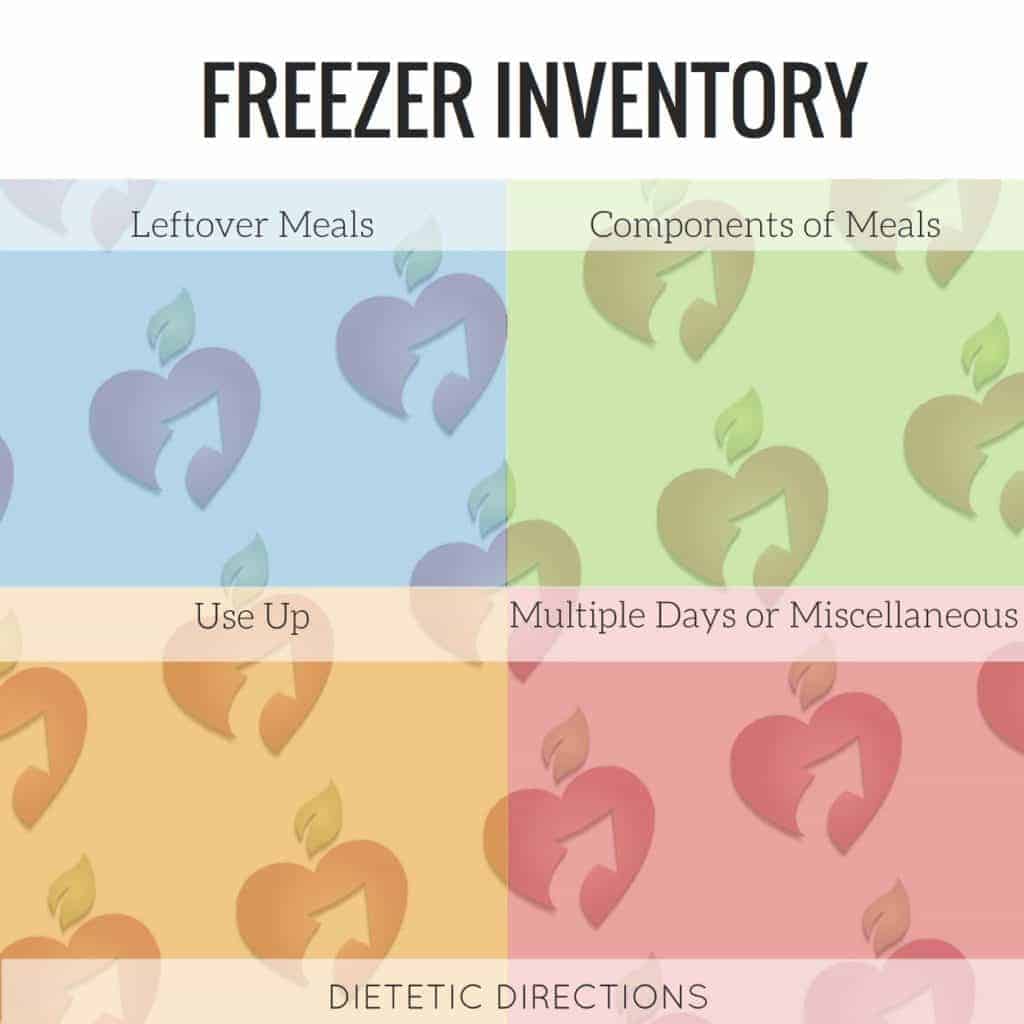 What's in My Freezer?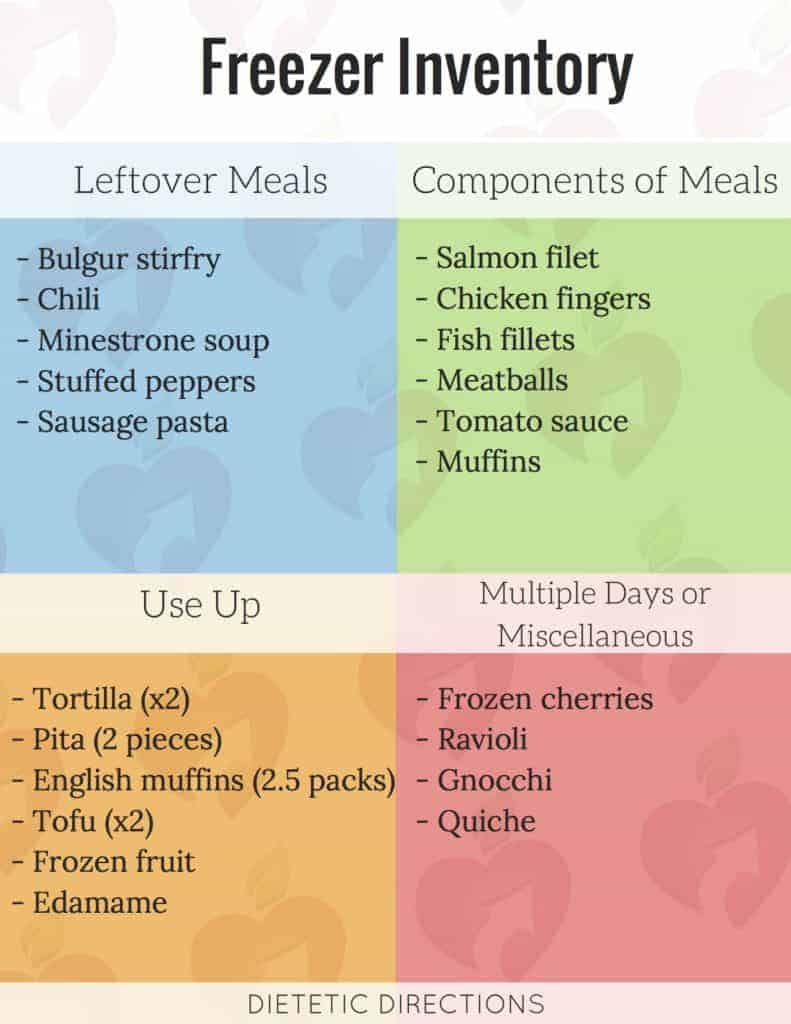 Step 3: Organize your Freezer
After you have written down each freezer food item into the appropriate column, the next step is to put everything back into your freezer but into organized sections.  This will help you in finding foods easily.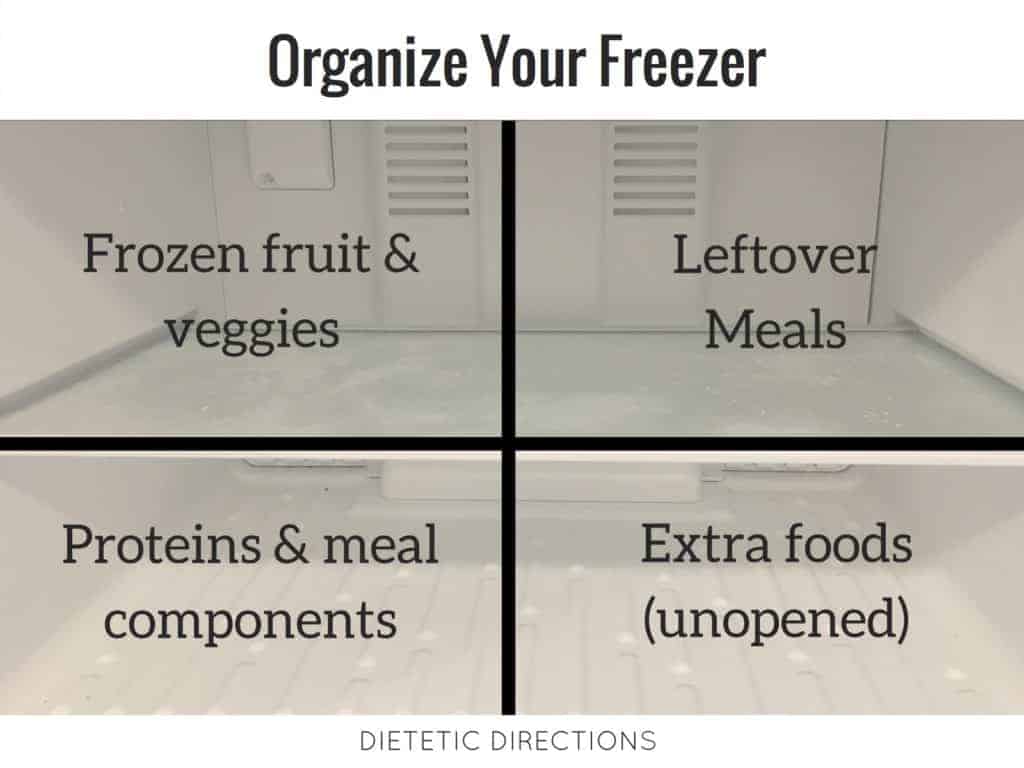 Knowing what is in your freezer is a powerful tool to save you time and money.
Click To Tweet
Bottom Line:
Knowing what is in your freezer is a powerful tool to save you time and money.  It can also decrease stress of meal planning to help you use up foods before it goes bad.  Apply the First in First out (FIFO) principle so that you can cut down on food waste and/or duplicates purchased.   Last, be sure to keep your freezer inventory sheet somewhere visible so that it can be updated regularly.  Enjoy the three simple steps to successful freezer inventory: the clear out, categorize foods and organize your freezer.