How to Make Fantastic Fish! -promoting Heart Health
Welcome to the middle of the month dedicated to promoting Heart Health. To help celebrate this momentous time, I have brought in my very first guest blogger Amanda Li, the talented Registered Dietitian and chef.  Amanda has a passion for creating the finest foods to foster health and well-being.
Thank you Amanda for sharing your exceptional culinary expertise with us at Dietetic Directions!
Fish 101:
The 1st of February not only marked the start of Heart Health Month, but also the beginning of a Fish and Seafood Module in Culinary school!  Today I will share with you how to master the art of cooking fish and encourage you to try new ingredient-pairings with your fish.  This blog could possibly open the doors to those "fish-fearers" and turn them into "fish lovers"!
Learn how to master the art of cooking fantastic fish!
Click To Tweet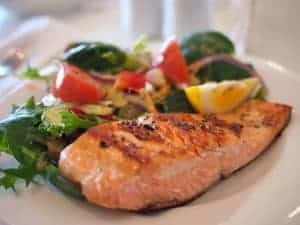 Nutritional Contributions of Fish
Fish not only is a source of high quality protein, but it's much easier to digest compared to meat and poultry since it has significantly less connective tissue. This makes fish a great alternative for the elderly, who may have difficulty swallowing and chewing. With that being said, cooking fish is also very time-sensitive in that, within seconds your piece of fish can go from tender and flaky to tough and dry! So make sure you have a timer on, and take into consideration residual cooking, which is the continued cooking of your food due to the heat that remains after you have removed the food from the heat source.
Not only is fish a source of high quality protein, but it's easier to digest too!
Click To Tweet
Of all the touted health benefits of fish, the most recognized benefit is as a source of heart healthy omega-3 fatty acids. The fattier the fish, the more omega-3 fatty acids it contains!  The term "fattier fish" may sound unappealing, but these are the most tasty and flavourful types of fish (in my opinion)!  Fatty fish include salmon, sardines, mackerel and trout, all of which live in cold waters, where the extra layer of fat acts as an insulator.
The fattier the fish, the more heart-healthy omega 3 fatty acids it contains!
Click To Tweet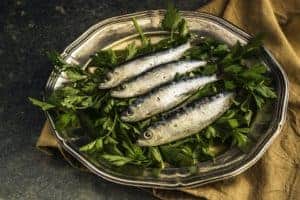 Thai Poached Salmon
During my culinary school, each student received the opportunity to scale and fillet an entire salmon, weighing approximately 20 lbs!  For 1 entire week, we prepared salmon in all the possible forms of cookery. Of all the different methods tested, my favourite by far was the Thai Poached Salmon, where the flavours of lemongrass, garlic, ginger and kaffir lime leaves were infused into the tender delicate flesh of the salmon fillets.
To serve, we paired the salmon with coconut rice pilaf and lightly steamed broccoli florets. Let's just say, that after one bite of the salmon, I took first dibs on taking any remaining poaching liquid home to use again!
Ingredients (makes 4 servings)
4 – 4oz (113g) Salmon Fillets
2 cups Vegetable Broth
1 cup Unsweetened Coconut Milk
1 stalk Lemongrass, cut into quarters lengthwise
3 leaves Kaffir Lime
1-inch piece Gingerroot, sliced thinly
3 cloves Garlic, lightly smashed
1 medium Green Thai Chili, finely minced with seeds removed
to taste Salt & Pepper
Directions

1. Preheat oven to 350 degreesF.  Meanwhile, bring broth and coconut milk to a slight simmer in a large pan. Be sure that the pan is large enough so that there is no overcrowding to ensure even cooking. Take off heat.
2. Submerge the salmon fillets in the poaching liquid along with the lemongrass, lime leaves, ginger, garlic and green chili completely in the liquid. Season with salt and pepper.
3. Cover the pan with a tight fitting lid or a piece of parchment paper, cut to match the size of the pan.
4. Place the pan into the preheated oven for 10-12 minutes.
5. When properly cooked, the flesh of the salmon should feel slightly firm and take on a nearly opaque appearance.
6. Enjoy immediately over rice! FYI: The poaching liquid is amazing served as a light broth or over a bowl of noodles.
Bottom Line:

As with all inherently 'healthy foods', you must keep in mind that how you prepare the fish is almost as important as which type of fish you eat. Any health benefits from fish are negated if you deep-fry it in a vat of palm oil!  Instead, the best ways to prepare fish is to broil (heat applied above the food), bake (heat applied beneath the food), steam, grill, poach or macerate (acid applied to "cook" or breakdown the protein).
How are you going to prepare your fish tonight?