New Orleans Food Exploration
Are you a food explorer? Do you travel to new places and seek their cuisine? I do! Traveling is one of my passions along with food! Food exploration allows me to combine these two passions to make truly memorable experiences. This summer, I went to New Orleans to discover their infamous food scene. In today's blog, I will showcase what makes New Orleans food unique and underscore my top five must-have's!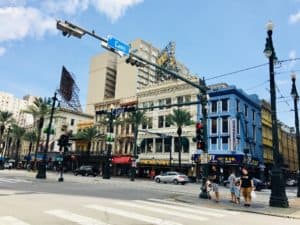 What's "Creole Cuisine?"
Creole cuisine is unique to Louisiana. According to Urban Distortionary, Creole is one of the most interesting yet little known cultures America has ever known! There's a mixture of Black, French, Spanish and Native American-influence from ancestors colonizing in Louisiana. You won't find any American food that tastes better!
DYK: #Creole cuisine is a mixture of French, Spanish, Black & Native American. It's also some of the best in the world! #foodie #travel
Click To Tweet
Andrea's Top 5 New Orleans Foods
Oysters
When flying to New Orleans, I did not expect oysters to be one of my favourite dishes. They are an acquired taste, which I had only eaten a handful of times. However, at Desire Oyster Bar on Bourbon Street, I experienced some truly outstanding oysters! Best I've had. Super fresh and straight out of the Gulf of Mexico.
In New Orleans, you can enjoy oysters chargrilled as shown in the picture above with a combination of garlic, butter and parmesan cheese. Oysters can be served raw, fried or smoked.  At Royal House Oyster bar we tried the famous Oyster Rockefeller with a very rich topping (hence the name); a mix of spinach, bacon, sambuca and baked to a golden brown.
Shrimp & Grits
If you're in New Orleans (NOLA), you must order the shrimp and grits. This traditional Southern breakfast is also available for lunch and dinner. The freshness of the shrimp (again straight from the Gulf of Mexico) and the rich and flavour-packed Creole sauce made this dish one of my absolute favourites. In New Orleans, the "red gravy" or "creole tomato sauce" is added to many dishes such as meat, fish or potatoes. It adds a kick of warm flavours and a little spice. Here is a recipe for a creole sauce.
Beignets
Now, a trip to New Orleans would not be complete without their famous beignets! These are the French-style, deep-fried donuts topped with icing sugar. They are best served hot and often as dessert. Wow! They are akin to consuming a fluffy pillow of sweet goodness. If you are willing to wait in a line-up wrapped around the entire restaurant, go to Café Du Monde; it was well worth it!
Po' Boys
A po' boy (short for poor boy) is a traditional New Orleans submarine sandwich. Conventionally consisting of fried seafood, fish, oysters, crab or cold cuts, they're served on a baguette and known for the crisp crust and the fluffy centre.
According to Mizell-Nelson's research, the Po' Boy sandwich came to be during a streetcar strike. Two former streetcar operators owned a Coffee Stand and Restaurant and wanted to support the streetcar workers on strike. The brothers made sandwiches to feed the strikers, whom they often called "poor boys." The sandwich has been a New Orleans staple ever since.
Had a Po' Boy? Read about this dietitian's trip to #NewOrleans & her top 5 #food choices!
Click To Tweet
Muffaletta
As an Italian girl, I obviously wanted to seek out the Italian-Creole influence of the Muffaletta. This sandwich uses a round Italian bread with sesame seeds on top. Inside, you traditionally have a marinated olive spread, cheese (like provolone, mozzarella and/or Swiss) along with mixed meats like mortadella, ham, salami. Be prepared for a giant sandwich, good for splitting or giving you lots of energy to walk their music-filled streets.
Bottom Line:
Food exploration allows you to combine traveling with local cuisine to make a truly memorable experience. If you are into trying exquisite food, I would highly recommend New Orleans' infamous food scene. Be sure to try the oysters, shrimp and grits, beignets, po-boy and the muffetta! Honourable mentions to jambalaya, scallops and their spicy mac and cheese.
Now it's your turn! Are you a food explorer? Have you been to NOLA? What are your favourite foods while traveling?