How to Increase your Child's Fruit & Vegetable Intake
Children require healthy diets to support optimal growth and development of their minds and bodies.  Healthy eating (including eating a variety of vegetables and fruits) helps prevent widespread health problems such as high blood pressure, high cholesterol, obesity, iron deficiencies, osteoporosis and dental caries.  However, over half (59%) of Canadian children 2-17 years of age, consume fruits and vegetables less than five times a day (CCHS 2.2).  Research supports that these children are significantly more likely to be overweight or obese compared to those who consume fruits and vegetables more frequently.
So how can parents help their child consume more fruits and vegetables?   Parents can start now with a few simple (yet powerful) strategies to increase fruit and veggie consumption and improve their overall diet.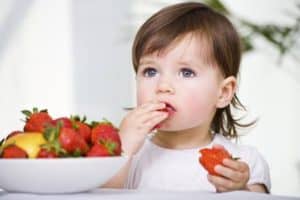 Your Parenting Approach Matters!
Parents are often up against many influences on their child's food intake. There are the alluring television commercials for junk foods, fancy food packaging for processed foods, the noteworthy influence of peer pressure and the vast availability of "less wholesome" foods at sports arenas or cafeterias.  If only advertising dollars were spent on enticing children to make healthy food choices, then parents wouldn't have to worry so much.
Nevertheless, children will develop a natural liking for foods they enjoy and find appealing.  Therefore, parents can create positive associations and eating environments to demonstrate how healthy foods are enjoyable and appealing.  This will support children in developing a genuine liking and make good food choices as they grow.  Remember to never coerce your child into eating; this creates negative associations that could be detrimental and long-lasting.
Never coerce a child into eating as this creates long-lasting negative associations.
Click To Tweet
Top 10 tips for Increasing Vegetable and Fruit Intake:
 1.     Be a Role Model
Children have a natural tendency to imitate so be a good example of healthy eating!  If you want your child to have a piece of fruit for a snack, you should do the same.  And if you are eating vegetables at dinner, your child is likely to take notice and do the same (maybe not immediately).
 2.      Eat Together as a Family:
Having a routine where children are served dinner at approximately the same time creates expectation which improves appetite.  A comfortable, relaxed eating environment generates positive associations and allows children to be exposed to a variety of foods.  Breakfast is a great meal to enjoy together as parents can role model making breakfast a priority.
 3.     Ask your Child:
Children enjoy brainstorming meal ideas and selecting foods to go in their lunch.  Give your child a couple of healthy options to choose from to guide their food choices.
 4.     Persevere! 
Don't give up on providing healthy options, even if your child doesn't always eat them.  When their taste buds mature, they will be likely to develop a taste for them so continue to offer at every meal and healthy snack options.  Children can also have treats as well, it's about the overall balance.
 5.     Make it fun! 
Kids love having fun and this creates a positive association with healthy eating too. Try making fruit kabobs using a skewer where your child can select their own fruit pieces.  Or your child can make a food collage with veggies before eating their creation.
 6.     Dip it!
Children enjoy dips which increases vegetable consumption by 80% according to research published in the Journal of the American Dietetic Association (2011).   Try including vegetable dip or hummus along with vegetables as part of lunch.  You may be surprised how many veggies they eat!
 7.  Get Children in the Kitchen!
Go grocery shopping with your child, get them to help in writing a list or encourage them to choose a new fruit or vegetable to try.  When at home, delegate specific kitchen tasks to involve your child in the meal preparation.  For example, your child could grate cheese, crack an egg or cut vegetables depending on their age and comfort in the kitchen.  You are building a life-skill here so be patient and encouraging!  Cooking skills are associated with healthy eating since your child will be less reliant on packaged, processed foods.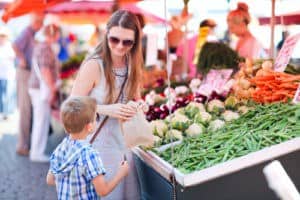 8.     Make your own Smoothies:
Try fruit smoothies for a quick healthy breakfast or afternoon snack.  Children can choose which fruits to include and a protein source.  As a child, I enjoyed making Strawberry Banana smoothies with vanilla yogurt and milk.  I remember feeling a sense of accomplishment making smoothies for the family to enjoy.
 9.     Experiment adding Vegetables and Fruits:
Get creative together and try adding vegetables and fruits to baked goods, meal items or salads.  Try adding blueberries to pancakes, or make zucchini bread or carrot muffins.  Children can enjoy adding fruits to salads or vegetables to omelets or home-made pizzas.
 10.  Make it convenient!
Keep lots of fresh fruit and veggies washed and available for quick snacks, to add to lunches or to include in meals.  Keep these foods available and visible to promote consumption.   Apples, pears, bananas, grapes, carrot and celery sticks are all easy grab on the go.  Remember to add yogurt, nut butter, or hummus for extra protein.
Bottom Line:
Children are impressionable and require parental guidance to support healthy eating habits which will carry them through life.
Children require parental guidance to support lifelong healthy eating habits.
Click To Tweet