Restaurant Labeling Laws Are Changing!
It is with great satisfaction that I announce that the Ontario government passed the Making Healthier Choices Act, which will require eateries with 20 or more establishments to post caloric information on their menus! In my opinion, this is a step in the right direction to enable consumers to make informed food choices. Today we will review what will change on the menus, how this could benefit you and when this law will come into force.
DID YOU KNOW? According to a 2011 Ipsos Reid study, approximately 95 per cent of Ontarians support requiring fast food restaurants to list nutrition information on their menus.
DYK 95% of Ontarians support list nutrition labelling on menus (2011 Ipsos Reid)
Click To Tweet
Ontario's New Labeling Law Outlined:
All restaurants, convenience stores, grocery stores and other food service establishments with 20 or more locations will be required to post calories on their menus and menu boards.
Food service establishments will have to post the number of calories in all food and beverages items, including alcohol.
Eateries will be required to post contextual information to assist patrons in understanding their daily caloric requirements. This means that Boston Pizza's Mediterranean Vegetable Linguini with 1320 calories (it really does) will be put into context. For example, this entrée contains 73% of a woman's daily caloric intake. Keep in mind that this number is based on an estimated 1800 calories daily and dpes not include your beverage or any sides or dessert you may also be inclined to order.
There will also be inspectors to enforce the menu labeling requirements.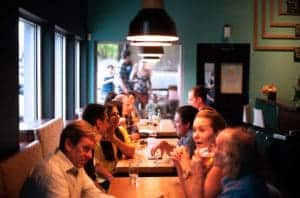 Will this benefit you?
For years I have been a proponent of posting nutrition information on menu boards. Although, it would be nice if more information were posted other than calories, like sodium, fat or sugar.   Nevertheless, knowledge is power; and consumers can make their food choice with some nutritional awareness.   Posting caloric information may also encourage companies to revise recipes or create new healthier alternatives for people to choose.  Possibly, people will not be choosing the 3,000 calorie dessert anymore. Down the line, we may see more information posted on menus and this may also inspire smaller eateries (with less than 20 locations) to also post nutrition information on their menus too!
Posting calorie info may encourage companies to revise recipes or create new healthier alternatives
Click To Tweet
When does the New Labeling Law come into Force?
The new labeling law will come into force January 2017. With less than two years to implement, this will provide time to educate the public and ensure restaurants and food establishments are compliant.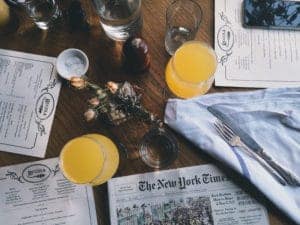 Bottom Line:
As a private practice dietitian, I sympathize with clients who find it difficult to make a healthy choice while eating out. The fact is that the public (and even nutrition professionals) will underestimate calories on foods. This law will help to raise awareness and will also encourage restaurants to offer "healthier" alternatives.  Thank you Ontario for being the first province to take require restaurants to post calories on menus!