Beyond the Banana: Potassium Foods You'll Love!
Are you getting enough potassium in your diet? Do you know which foods are packed with this heart healthy mineral? I will give you a hint – there are many delicious foods, beyond the banana!
I am excited to share part two of my potassium series. In part one, "Potassium: You're not getting enough", I broke down why potassium is crucial for overall health and disease prevention. Today, I  will highlight 10 super high food sources of potassium.
How Much do I Need?
Adults over the age of 18 years require 4700mg of potassium per day according to the Institute of Medicine Dietary Reference Intakes. This amount was determined based on an Average Intake (AI) for potassium that should maintain lower blood pressure and reduce risk of kidney stones and decreased bone mass.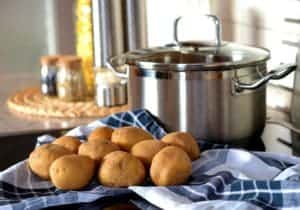 Ten Delicious Potassium-Rich Foods:
| | | | |
| --- | --- | --- | --- |
| Food Source (serving size) | Potassium (mg) | Food Source (serving size) | Potassium (mg) |
| Baked Potato with skin (Medium) | 925 | Yogurt (3/4 cup) | 435 |
| Baked beans or Lentils (3/4 cup) | 550 | Banana (medium) | 420 |
| Baked Sweet Potato (Medium) | 542 | 1 cup milk (skim, 1%, 2%) | 390 |
| Avocado (1/2) | 500 | All 100% Bran cereal (1/2 cup) | 380 |
| Pumpkin seeds (2 Tbsp) | 260 | Kale raw (1 cup) | 329 |
DYK: A medium baked potato with skin contains 925 mg of potassium
Click To Tweet
Deficiency Symptoms
Moderate potassium deficiency is common among the general population and increases the risk of cardiovascular disease and stroke, which are both top causes of death according to Health Canada. Low potassium intakes can be characterized by high blood pressure, increased salt sensitivity, risk of kidney stones and loss of bone or muscle (Institute of Medicine, 2006).   Severe potassium deficiency is uncommon among the general population but includes irregular heartbeat, muscle weakness and blood sugar instability.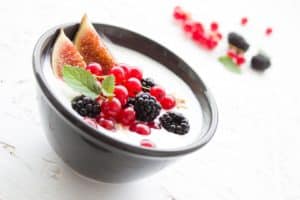 Bottom Line:
Start today and boost potassium in your diet to promote healthy heart, muscle and nerve functioning. Remember that potassium supplements are not recommended, instead I recommend boosting potassium intake through delicious, nutrient-rich foods!