What to Drink this Holiday Season? Popular Festive & Alcoholic Beverages Compared
The holidays mark a time to eat, drink and be merry!  I am all about all of these things.  However, today I will be focusing on the drinking part and doing a nutritional comparison of the most popular festive and alcoholic beverages.  Whether you identify more as a holiday sipper or a guzzler, this article will hopefully shine some twinkling light on what's in your favourite beverages.
Drinking your Calories vs. Eating them
Before we jump into exploring our festive beverages, let's first highlight how liquid calories are processed differently in our bodies from food calories.  Quite simply, the act of eating (chewing and stomach expanding) signals to the brain that calories have been ingested.  However, liquid calories do not register on this radar system.  In fact, research shows that when we add liquid calories to meals, we do not compensate by eating less food. This means that liquid calories will add up a lot faster than if we consumed the same number of calories in food.
Liquid calories add up a lot faster than if we consumed the same number of calories in food.
Click To Tweet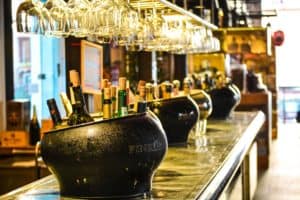 Top Festive & Alcoholic Beverages Compared
Calories (kcal)

Additional Notes

Eggnog (1 cup, 250mL)

250- 450

35% of daily saturated fat, 49% of daily cholesterol, equivalent of 5 teaspoons sugar

Hot apple cider (1 cup, 250mL)

120-200

Equivalent of 6-11 teaspoons sugar

Hot Chocolate using low fat milk ( 1cup)

180-250

Equivalent of 7 teaspoons sugar

Punch, non-alcoholic (1 cup)

150

Equivalent of 8 teaspoons sugar

Alcoholic Beverages
Wine, 12% alcohol: 145 mL (5 oz)

Wine, 9 oz

100-120

180-200

Hot spiced Christmas wine 145 mL (5 oz)

180

Regular beer, 5% alcohol: 1 bottle or 12 oz

Light beer (4% alcohol), 1 bottle or 12 oz

140

100

Champagne 3 oz (89 mL)

70

Holiday mimosa

6.5 oz (192 mL) (6 oz orange juice + 0.5 oz champage):

125

Pint cider beer 20 oz ( 568 ml)

210

Sangria (8.5 oz)

150-300

Martini (4 oz)

250- 400

Distilled spirits 1.5 oz (such as burbon, brandy, rum, vodka)

100-180
Tips to enjoy holiday beverages responsibly:
Use a tall skinny glass for eggnog, cocktails, beer. This visual illusion of having tall glasses makes you feel like you are drinking more than you actually are.
Measure the volume of fluids your glasses hold so that you are aware of how many servings are in each beverage.
Space drinks with water in between. This helps to slow down alcohol consumption and promotes hydration.
Pour beverages into glasses opposed to drinking from tall cans to drink in one serving size at a time.
Dilute alcoholic beverages with club soda or juice.
Avoid drinking alcohol on an empty stomach.
Do not drink and drive.
Bottom Line:
The holidays are a time to eat, drink and be merry.  When it comes to drinking, keep in mind that calorie per gram, alcohol contains about double the calories per gram compared to carbohydrates and protein.  Alcohol also can act as an appetite stimulant and can have negative impacts on our health.  This holiday season, enjoy the food, enjoy the comradery and enjoy your festive holiday drinks (in moderation).