Healthy Eating on a Budget
To help us celebrate Nutrition Month, I have a dynamic guest blogger, Tracy Morris a Registered Dietitian providing diabetes education in Toronto.  I encourage you to visit Tracy's blog, News Bites, for ample consumer-friendly nutrition information.  Today, Tracy will be sharing some of her tips for healthy eating on a budget.
In today's society, we are mindful of both the healthfulness and the cost of the foods we are consuming.  With increasing food prices and the allure of inexpensive convenience foods, I assure you it is possible to eat a healthy diet on a budget.
Here are some dollar-saving tips to keep in mind:
1. 

Go Vegetarian! 
Cooking with protein-rich choices such as lentils, black beans, or chickpeas is a healthy way to lower the cost of your meals, reap the health benefits and take advantage of an opportunity to try something new!  Try making a vegetarian chili or experiment with tofu instead of chicken in your next stir-fry.  Your pocketbook will tell the difference.  Note: If buying canned lentils, be sure to rinse thoroughly before using them in your recipe.
Adding protein-rich lentils and chickpeas are a healthy way to lower the cost of your meals.
Click To Tweet
2. Plan Extras.
This is particularly important if you live alone or are cooking for only two.  This tip allows you to purchase foods in larger quantities and have extras to freeze or use as leftovers. Most foods will last two to three months in the freezer.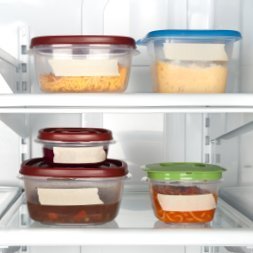 3. Make a List.
Write out a shopping list using the weekly flyer to take advantage of sales.  Next, plan your meals ahead before going to the grocery store.  A list ensures you buy only what you need so little goes to waste.  Impulse purchases are often less healthy options that are there to tempt you.
4. Soup it up!
Make a pot of delicious soup with your favourite vegetables, whole-grains, spices and legumes.  You can enjoy the endless combinations of ingredients as a low cost alternative to canned soup.  Freeze extras to enjoy for lunch or dinner.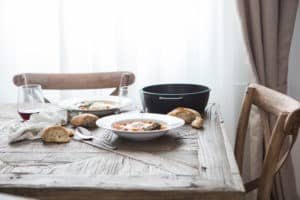 5. Frozen is just as good. 
Sometimes we get caught up in the mindset that healthy eating means you have to eat fresh foods. This is not true; in fact, frozen vegetables and fruits have the same (debatably higher) nutritional quality than fresh vegetables and fruits.
Frozen fruits and veg have the same (debatably higher) nutritional quality than fresh.
Click To Tweet
Simply cook and enjoy your foods (on a budget)!