Instant Pot French Onion Soup
This Christmas I received an Instant Pot, which is a pressure cooker, slow cooker, rice cooker and yogurt maker. I'm just getting acquainted with the Instant Pot so still many more recipes to try. Stay tuned! However, French Onion Soup has always been a favourite and I was excited to try this meal in this new device. I adapted my 2014 Homestyle French Onion Soup recipe from the website so it could be an Instant Pot meal. Made a big batch that was enjoyed as leftovers and some in the freezer as well. 
---
Serves: 4
Prep time: 15 minutes
Cook time: 20-30 minutes *
---
*Actual Ready-Time: About 1 hour with temperature adjustments and release
Ingredients:
4 large white onions, sliced
2 Tbsp butter or margarine
1-2 Tbsp of Sherry wine or balsamic vinegar
1 Tbsp flour
1 can beef consomme (284mL) diluted with 2 cans water (284mL x 2)
900 mL beef broth
4 small pieces of baguette bread, toasted
¼ cup Swiss cheese, grated
2 Tbsp parmesan cheese, graded
Garnish Fresh Italian parsley, chopped
Instructions Instant Pot French Onion Soup:
Turn on Instant Pot and select the Sauté button. When warm, add the butter and stir it so it covers the bottom. Add sliced onions and stir. Cook onions until they have softened and are translucent. If you would like to caramelize your onions sauté for longer (15 to 20 minutes) or until they're golden brown. 
Add dash of Sherry or balsamic vinegar to deglaze the pot. Stir onions. 
Add flour and stir with onions for 1 minute. (Omit if Gluten Free)
Add one can of beef consomme with water and one can of beef broth with water to soup. Be sure to not go over the MAX line of the inner pot. 
Seal pressure cooker lid and cook on high pressure for 20 minutes. Then have a 15-minute natural pressure release.   
After this time, turn steam to vent and release remaining pressure. Remove lid and stir soup. 
When ready to serve, use onion soup bowls, and place a piece of toasted bread on the bottom.  Pour soup overtop the bread.  Top soup with Swiss cheese and sprinkle parmesan cheese.
Turn on oven broiler. Place onion soup bowls in the oven for 3 to 4 minutes to melt and brown the cheese. Stay close to oven as this can turn hot and burn fast!
Let cool before serving!
Add fresh Italian parsley for garnish.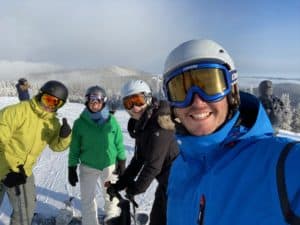 Now it's your turn! Have you tried a slow cooker or Instant Pot? What are your favourite recipes to make? Let me know how you enjoy the Instant Pot French Onion Soup.