Mediterranean Hummus Naan
{10-Minute}
Many times we are looking for EASY (and healthy) recipes. Such meals can be prepared in ten minutes (or less) and use common pantry and kitchen ingredients. Well, friends, I found my new favourite, and incredibly versatile ten-minute meal, a Mediterranean Hummus Naan. 
This naan recipe came about on a lazy Saturday when uncertain what to make. As usual, I wanted a balanced meal with high fibre carbohydrates, protein and of course veggies. I also prefer a hot lunch, but this recipe can easily be served cold or as a work/school lunch the next day.
Also, if you are new to meal planning, be sure to read my 15 Favourite Meal Themes blog. This is a fun strategy to help decide meals using themes to limit selection. One of my top meal themes is "Make it Soooo Easy."  I often do this theme on the weekend. I do not select a meal but instead use what I have on hand to make a very simple sandwich, soup or wrap. 
---
Prep time: 5 minutes
Toaster time: 3 minutes
Serves: 1
---
Ingredients
Whole grain naan bread (always have in the freezer)
2-3 tbsp Hummus
2 tbsp pumpkin seeds, unsalted
1 tbsp feta cheese, crumbled
roasted red peppers, chopped from jar
½ cup fresh spinach, chopped
Directions For Mediterranean Hummus Naan
Toast naan bread if you would like a warm entrée.
Spread hummus over naan.
Add your toppings. I used: pumpkin seeds, feta cheese, roasted peppers and spinach.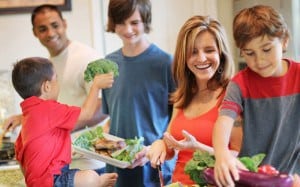 What's your easiest go-to lunch? Do you stock your pantry with staples that can be used in a hurry?