Kefir Fever
When strolling down the dairy aisle have you noticed kefir, a cousin of yogurt? Kefir (pronounced "kuh-FEER") is a dairy beverage made by adding kefir "grains", which are pellets of yeast bacteria, to milk and heating it to produce a drink. Kefir is like a "drinkable yogurt" with a similar taste, but with a much higher probiotic content! In fact, kefir contains 10 to 20 different probiotic strains whereas yogurt has only a few.
Today, we will learn more about kefir and do a general comparison between yogurt and kefir. To begin, it is important to note that probiotics are the "good bacteria" that when consumed in the right amounts may lead to health benefits. However, probiotic research is still in it's infancy and there appears to be dose and strain specific criteria reap specific benefits. Stay tuned as the research continues to evolve!
Health benefits associated with probiotics include:
Improves symptoms of irritable bowel syndrome, crohn's disease and colitis.
Improves diarrhea associated with antibiotic use
Supports healthy immune functioning
Improves lactose digestion
Potentially plays a role in weight management
Positively impacts mental health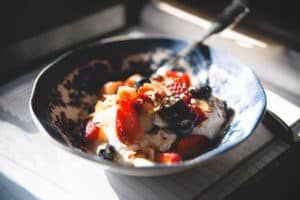 DYK: the health benefits associated with probiotics improves symptoms of IBS, crohn's disease and colitis
Click To Tweet
Kefir vs. Yogurt
| | | |
| --- | --- | --- |
| | Kefir | Yogurt |
| Fermented Milk product | Yes | Yes |
| Consistency | Thinner, sold as a beverage | Thicker, more like pudding |
| Protein (per ½ cup) | 5 grams | 6 grams |
| Taste | Tart & slightly sour, effervescent | Tart & slightly sour, |
| Flavours Available | Variety | Variety |
| Probiotics | 3X probiotic content of yogurt . Estimated 40 billion probiotic organisms per half cup | Probiotic yogurts contain roughly one billion per serving. Content varies depending on type of yogurt |
Where Can I Buy Kefir?
Kefir is readily available in grocery stores and in health food stores.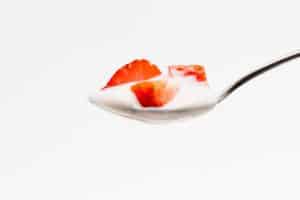 How can I use Kefir?
With a consistency slightly thinner than yogurt, there are many ways to eat/ drink kefir:
Drink it! Plain.
Add it to a smoothie
Enjoy with cereal instead of milk
Combine with nuts, granola or high fibre cereal to make a parfait
Add chia seeds and keep in fridge overnight to thicken to pudding
Use as a substitute for yogurt or buttermilk in baking
Bottom Line:
Next time you are in the dairy aisle, take a second look at kefir, a fermented milk product that contains more probiotics than yogurt. Probiotic research continues to evolve to become more specific on amounts we need to consume, types of strains and the health benefits. When buying kefir or yogurt, check the nutrition label for the sugar amounts. Find out how to interpret the sugar on food labels here.
Check out guest blogger Nicole Osinga as she gives tips on how to expertly navigate the yogurt aisle.