3 Tips for a Healthier Backyard BBQ
Summer is almost upon us! After all, Victoria Day marks the beginning of cottage season and… you guessed it – the beginning of BBQ season! We are proudly marking the time of year when the good ol' grill gets the most use. In my practice, when I mention BBQ to clients as a meal option, I universally get a smile. People simply LOVE BBQ'ing. It's fast, it's easy and it's oh-so-delicious. However, a backyard BBQ can go beyond a basic hot dog to include a variety of foods, many of which you may not have thought to grill.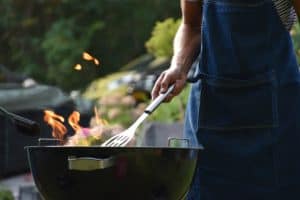 In today's blog, we will be heating up those BBQ flames and talking about how we can incorporate healthy foods and smart cooking techniques to maximize the healthfulness (and deliciousness) of your Backyard BBQ.
This post has been sponsored by Think Beef; however, as always, all opinions are genuine.
Benefits of Backyard BBQ?
Promotes cooking at home versus eating out.
Backyard BBQ'ing is a low-fat cooking method. No oil is added to a pan and fat drips out during cooking. For example, with beef burgers, grilling reduces the fat in burgers as some of the fat drips out while they cook. 
BBQ's bring people together over a shared meal. This has numerous health and psychological benefits (see here). 
Food is more flavourful! Applying heat to foods causes caramelization, leading fruits and veggies to taste sweeter and meat to take on a delicious brown crust. 
There's endless food variety to grill (more on this below!)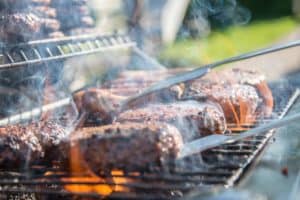 ---
3 Tips for a Healthier Backyard BBQ
Grill Fruit & Veggies:
People don't often think of grilling fruits and veggies. Why not? They make for a healthier backyard BBQ. Fruits are super sweet, caramelized, antioxidant-rich additions. Furthermore, 70% of people do not consume enough veggies (Tracking Nutrition Trends Survey, 2015). Why not BBQ up more? Furthermore, eating more fruits and vegetables is also linked with decreasing risk of heart disease, certain types of cancer and helps the liver remove potential toxins from the body.
---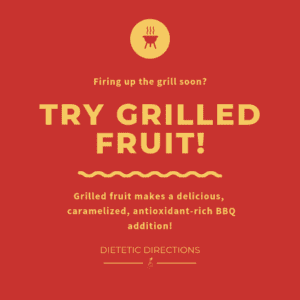 ---
Here are some of my favourite fruits and veggies to grill. The trick is to cut them in uniform pieces that will cook quickly and evenly.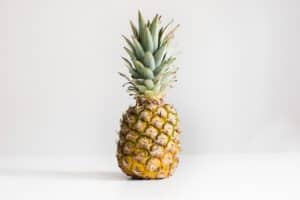 Dietitian TIP: Make a fruit kabob so smaller pieces don't fall between the grill! Once cooked, serve alongside an entrée or as dessert.
Favourite BBQ Fruits:
Pineapple
Mango
Watermelon (grilled with feta, mint and balsamic glaze)
Orange slices
Plums
Peaches
Pears
Grapes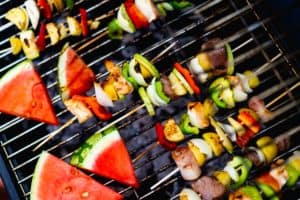 Favourite BBQ Veggies:
Cherry tomatoes
Zucchini
Eggplant
Bell Peppers
Onions
Fennel
Radicchio
Sweet potato  
Mushrooms 
Asparagus
Corn on the Cob (I love Mexican Corn on the Cob)
Dietitian TIP: Use a veggie basket or grill pan for smaller veggies that will fall between the grill like mushrooms, asparagus, onions.
---
How to Grill Fruits & Veggies?
Lightly coat fruit/veggie slices with a neutral-tasting oil.
Place large pieces directly on the grill and smaller pieces in a grill basket to prevent falling into BBQ. You can also put smaller pieces on a skewer to make a kabob.
Grill until the fruit or veggies get tender and grill marks show. Caution: Overcooking will make the fruit or veggies mushy.
---
How to Incorporate Grilled Fruits & Veggies into Meal:
Serve fruit and veggies as half the plate along with quarter of plate meat/protein and quarter starch/grain. This type of meal balancing is highlighted in Canada's New Food Guide (click here to read Canada's New Food Guide: A Dietitian's Perspective). 
Use grilled fruit and/or veggies to top salad and cheese or nuts to add savoury.   
Dice grilled veggies and add to hot/cold pasta or quinoa salad. 
Add grilled pineapple or veggies on top of burgers, in wraps or in BBQ panini.
Serve yogurt or ice cream topped with grilled fruit.
Make a veggie or fruit kabob.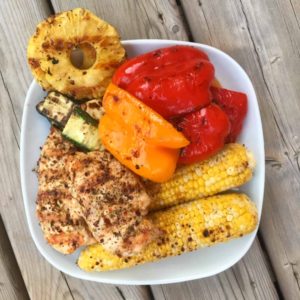 ---
2. Marinate Proteins:
An intensely popular BBQ choice is meat, which becomes more savoury when grilled. When it comes to healthy backyard BBQ'ing, I'm a big fan of marinating meats. Not only does it add flavour to our succulent protein (i.e., beef, poultry, fish, pork, etc.) but we also can reduce the carcinogen formation (more on this later). In fact, marinating meat for at least 30 minutes has been shown to reduce potential carcinogen (of HCAs and PAHs) during grilling by as much as 99 per cent. Therefore, there is no need to avoid BBQ'ing meats! We just want to be aware of how to cook them. A marinade also acts as a barrier between meat and smoke coming up.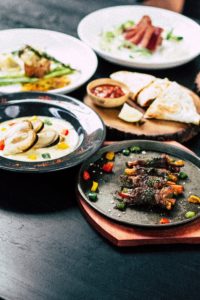 Marinating 101:
Pierce meat with a fork, or cut into smaller pieces to increase flavour absorption.
Fish should only marinate for 15 mins or could go mushy.
A general time estimate is 2 hours for marinating meat. Place in fridge while soaking and may choose longer times to marinate like overnight or when at work.
Use a re-sealable plastic bag for marinating instead of a bowl. This way, the flavouring completely surrounds, immerses the meat/tofu/fish so that there's no need to flip or turn it. Toss away marinade after use.
Marinades typically contain:

Acid (i.e., vinegar, lemon/lime juice, wine, yogurt)

Oil (choose your favourite)

Spices or fresh herbs (choose your favourites, don't forget about garlic)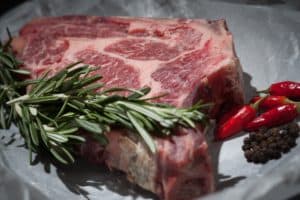 ---
Andrea Loves Flank Steak:
One of my favourite options for the healthy backyard BBQ is a flank steak. Have you tried it? This lesser-known cut of beef is super flavourful and one of the leanest cuts. It's even so lean, there is no need to trim any fat. However, because it's a tougher cut than tenderloin, it has to be tenderized by piercing with a fork and adding a marinade. Also critical to tenderness is that you carve the cooked flank steak across the grain to serve it (see video here). Additionally, cut meat after it has rested for 5 to 10 minutes so that the juices settle.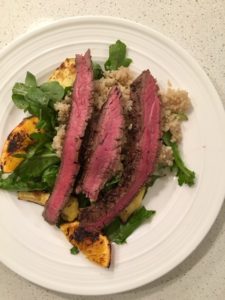 I like to think of flank as a modern way to serve steak. Instead of a single big steak on the plate, you can grill a single lean flank and elegantly serve it in strips that can be passed and shared at the table. It can also be added beautifully on top of salads (like this recipe), or served on a bed of whole grains (like quinoa or bulgur, brown rice dishes).  
Dietitian TIP: Piercing a flank steak prior to marinating is key to tenderizing – the marinade does not penetrate deeply – this is an urban myth – it is the piercing that does the work.
---
Is beef healthy and can red meat be included in a healthy diet?
This is a common question I get in my nutrition consulting practice. The answer is absolutely we can enjoy beef or fresh red meat! It's a whole, unprocessed food choice. It's also a protein powerhouse with 35 grams of protein in a palm-sized, 3-ounce/100-gram portion. Beef is also a leader in bioavailable iron sources (approximately 20% of daily requirement in a serving.) Interestingly, when combined with plant-based sources of iron (like beans, lentils, chickpeas), meat can boost iron absorption of these foods by 150%. Additionally, serving vitamin C-rich foods (i.e., bell peppers, oranges, or lemon) with iron-rich food sources also enhances iron absorption even more. 
What's important to note when talking about meat is distinguishing "processed meats" (i.e., hot dogs, ham, sausage, corned beef, canned meat, etc.) from fresh red meat. They are not the same. The World Health Organization, defines red meat as muscle meat including, beef, veal and pork. Consuming them is vastly different from eating salty jerky. 
Did you know? Canadians consume an average of 5% of their total calories from red meat.

Canadian Community Health Survey, 2015
Marinating BBQ Tips:
Choose fresh, un-processed cuts of meat such as steaks, chicken thighs, ribs, fresh fish and seafood.
Vegetarian alternatives? Try marinating extra-firm tofu as a healthy backyard BBQ option. 
When grilling meat, limit flare ups by using leaner cuts, trimming fat and remove skin.
Firm-fleshed fish such as salmon, tilapia or halibut are tasty on the grill or wrap loosely in foil for less direct cooking. 
Use marinated protein as a salad topper. 
Add into a wrap or pita/naan bread or in a bun for meal. 
Dietitian Tip: Skip the (sugary) BBQ sauce, it's likely to burn and char. Swap in your own marinade (here are examples!) or if you are going to use BBQ sauce, put it on at the end of cooking.
---
3. Flavourful (and Fun) BBQ Meals!
One of the benefits of BBQ'ing is to cook an entire meal on the grill. This is something that many campers and cottage-goers appreciate. To make a complete meal on the BBQ, think outside the box with unique food ideas. 
Favourite BBQ Additions Include:
Taco or Fajita Night on BBQ – Use your grill basket to combine a variety of veggies to add in your fajitas. Can warm the tortillas on the BBQ and add your favourite protein and guacamole or salsa.
Grilled panini or grilled cheese – Cut buns lengthwise, and place face down on the grill until toasted. Stuff the bun with grilled zucchini, eggplant, red pepper and provolone cheese. For a meat-lovers' version, add grilled chicken breast or sliced steak.
BBQ pizza – here's a video on how.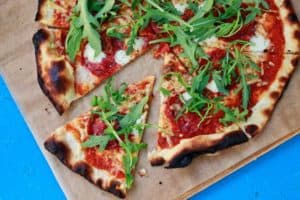 Grill feta cheese – If you haven't tried it, you're missing out! Wrap in aluminum foil with sprinkle of oregano and place packet on grill. Then add on top of steak, potatoes or salad for extra savoury delight.
Entrée salads – Here's a delicious Grilled Flank Steak, Peach & Burrata Entrée salad. It's got all your food groups covered and bursting with flavour.
Kabob it! – You have total flexibility to add ingredients you love – thread veggies and meat, and red onions on a skewer. If using wooden skewers, soak them in cold water first for about 30 minutes to prevent them from burning. Grill these colourful kabobs for four to five minutes on medium heat.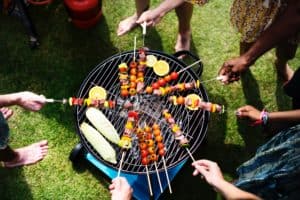 Beef or chicken souvlaki – Grilled souvlaki on a skewer and served with grilled naan bread, tzatziki and eggplant.
---
What about BBQ carcinogens?
Cooking at high temperatures (i.e., grilling, broiling, pan frying) can (potentially) create carcinogens. However, certain smart cooking techniques that we will discuss here can limit this reaction. After all, by cooking at home, you control the process. Additionally, knowledge is power!
Two main BBQ carcinogens:
HCAs (heterocyclic amines): Form when the building blocks of protein (called amino acids) and the compound in muscle meats (known as creatine) react at high temperatures. High temperature pan-frying creates the most HCAs.   
PAHs (polycyclic aromatic hydrocarbons): Form when fat from the meat drips onto the hot coals or grill element. PAHs are then deposited on the food by smoke and flare ups.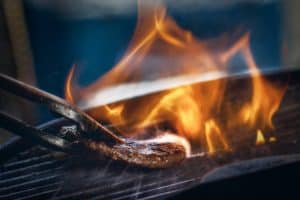 Tips to Reduce BBQ Carcinogens-Formation:
Choose lean cuts (e.g., any cut with the word 'loin' or 'round' as part of the name: e.g. sirloin, tenderloin, round steak and also flank steak, plus lean or extra lean ground meat) and trim excess fat before cooking.
Shorten Cooking Time: Cut meat into smaller pieces and flip often; this decreases the risk of charring and burning. Example: Kabob cubes or satay strips are great options.
Cook meat on medium to medium-high heat: A moderate temperature approach is best to limit excess heat and longer cooking times.
Clean grill regularly and consider placing foods in foil to reduce drips and flare ups.
Keep a squirt bottle of water handy to control flare ups. If you do char your meat, cut it away before eating.
Dietitian Tip: For the those who own a sous vide, this is a method of cooking in a plastic bag and water bath that can pre-cook the meat off-flame so that the meat then gets finished on the grill (less time on the BBQ).
---
Bottom Line:
Tis the season to enjoy the backyard BBQ! This healthy cooking alternative adds taste, flavour and fun for the whole family. Incorporate lots of grilled fruits and veggies, use a meat marinade for flavour and prevention of HCAs and PAH formation. Lastly, think outside the box to create nutritionally-balanced meals that can be made completely on the BBQ.  
Now it's your turn! Are you into the BBQ season extravaganza? What are your favourite meals to grill? Anything new you're now excited to try?