Let's Cook in a Hurry!
Welcome to Nutrition Month 2014 with the practical theme of "Simply Cook and Enjoy!"  This month, Dietitians across Canada guide consumers back to the kitchen to master some cooking basics.  Since time constraints are one of the largest barriers to today's cooking, I will teach some timesaving tips on how to cook in a hurry!
Over the years, we have transitioned (or regressed) in our cooking and food preparation methods.  This transition involves consuming more prepared foods, packaged foods and convenience foods, all which require less time in the kitchen and fewer food skills (Health Canada, 2010).   Not surprisingly, our dietary intake has moved toward one that is higher in calories, fat, sugar and salt than in previous decades.  Spending less time preparing meals is also associated with a decreased vegetable intake and increased fast food consumption (Dietitians of Canada, 2014).   Nevertheless, the way we are cooking (or not cooking) has an important impact on our health!
Less time spent preparing meals is associated decreased veg and increased fast food intake (DC).
Click To Tweet
Possibly the greatest concern with our food transition is the decrease in opportunities for cooking skills to be passed on to our next generation! How are youth supposed to sustain a healthy diet when they are reliant upon packaged or convenience foods?  So let's work to get our kids in the kitchen as well.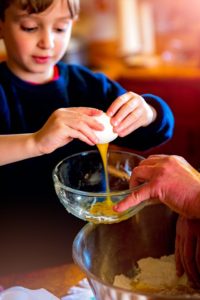 Cooking in a Hurry?
If you are in a time-crunch, you can still create healthy, balanced meals by planning ahead and trying these simple tips:
Keep it simple (For example: quesadillas with black beans, sandwich for dinner, pita pizza, entrée salad etc.)
Cook on weekends (freeze extra or use later in the week)
Planned extras (Make extra quiche, meatloaf, chili, or lasagna)
Pre-cut vegetables to toss into stir-fry
B-fast for dinner (Try a veggie frittata, French toast, poached egg)
Marinate meat or fish the night before
Crock pot meals
Pre-portion or measure ingredients the night before
Freezer meals (frozen leftovers)
Bottom Line:
Cooking is a beneficial skill for adults and children.  Remember that you do not need to be a gourmet chef to make healthy meals for one or the whole family.
You do not need to be a gourmet chef to make healthy meals for one or the whole family.
Click To Tweet