My Top 7 Veggie Boosting Tips
It is well understood that we are not getting enough health-promoting and cancer-fighting veggies. In my last blog, I explored the current stats on vegetable consumption and some of the reasons we are not getting enough. Today, we will focus on HOW to boost your veggie intake to meet our needs.
How to Set a Veggie Goal?
You can boost your vegetable intake in one of two ways: you can implement one new strategy (try using one from the list below) and repeat it for about 21 days until it becomes a habit. Or you can take an inventory of how many veggies you get on an average each day and plan how you can "bump it up" to meet your daily requirements. I have seen both strategies work well.
Your Target:
Current Canadian fruit and vegetable recommendations are set at 7-10 servings a day. To break this down, I recommend clients aim for at least 4 servings of veggies per day and about 3 servings of fruit per day. One serving of veggies qualifies as about ½ cup raw or cooked veg or 1 cup of leafy greens. A fruit serving is usually about ½ cup or a medium sized apple or half large banana.
DYK: The current Canadian fruit and vegetable recommendations are set at 7-10 servings a day?
Click To Tweet
Andrea's Top 7 Veggie Boosting Tips:
Buy Fresh Vegetables!
I love the taste of fresh veggies and how they can be used for snacks or added to entrees. However, people are often concerned that fresh veggies will also go bad if we don't use them fast enough. This is true! But all the more reason to use them up! To prevent food waste, plan meals around using your veggies and buying only what you need.
Tip: Make a farmer's market trip and enjoy the taste of fresh veggies!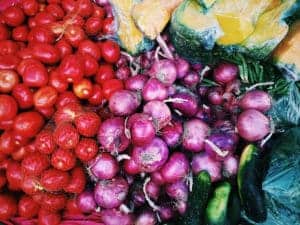 Have Fun Prepping your Veggies:
Having veggies cut and cleaned and waiting to be eaten will skyrocket your chances of eating them! As much as chopping can feel like a chore, it can become much more enjoyable by cutting and cleaning your lettuce while talking on a Bluetooth or speakerphone, or listening to music or even the news. The important thing is that when you reach for a snack or make a salad, you want the work to be done for you!
Tip: Don't let your fresh vegetables sit in the plastic bag in your fridge – cut them up! Get your kids or spouse involved too.
Make Scrumptious Salads with Dinner!
If you are like most people, most of your veggies get consumed with dinner. What better way to boost veggies than by adding a salad to dinner? When my family makes salads we make them using simple ingredients (oil and vinegar) but then adding extras like raisins, sunflower seeds, fruit or cheese to take it up a notch!   Try my Grape and Feta Kale Salad or Endive with Goat Cheese Apple and Walnut! Believe it or not, the salads are in such high demand that we needed to increase the serving bowl size because people were having 2 servings (2 cups) or more of the salad after their entree.
Tip: Adding a salad to dinner can get you two out of your four servings of veggies!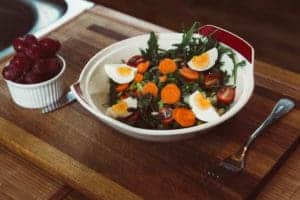 Pack veggies into lunch:
Lunch packing is the perfect way to take control of what foods you have available to eat during the day/afternoon. Therefore, if you want to ensure you are getting enough veggies throughout the day, try adding 1-2 servings with your lunch!
Tip: Include a plastic bag or container filled with fresh chopped veggies (add dip too if desired).
Green Smoothies:
More and more people are hopping on the smoothie bandwagon and enjoying getting their balanced breakfast in a liquid form. Adding a cup of kale and pineapple to your morning smoothie is a great flavour combo.
Tip: Try drinking your veggies, but make it yourself and skip the pre-made vegetable juices.
Add a cup of kale and pineapple to your morning smoothie for a great flavour combo!
Click To Tweet
Put out veggies and Hummus/dip:
Have you noticed the power of putting food in front of people? Something magical happens when it just disappears! You can do this simply by putting out a tray of fresh cut veggies and some dip like hummus or veggie dip.
Tip: Offer yourself, your children or your guests a veggie platter and watch them enjoy!
Get creative!
Vegetables are delicious and can be used in so many different ways! Don't be shy to experiment and try new recipes. If you are making a tomato sauce or chili, why not add carrots, celery or peppers?
Tip: Try my veggie chili recipe and add all the veggies you desire – you can't go wrong!
Bottom Line:
Let's make a conscious effort to eat our veggies! This is one of the simplest ways for weight management and healthier eating. Keep in mind that variety is the spice of Life. Go for green, orange, red, purple, brown, yellow, purple, white….whatever colour you like! Get creative and most of all enjoy your food!