Should Juice be banned from the Food Guide?
Last week, the Canadian Medical Association Journal (CMAJ) published an article entitled "Food Guide under Fire at Obesity Summit".  One of the main issues was how fruit juice (125mL) is counted towards a fruit and vegetable serving on the Food Guide.  With this logic, having a couple cups of juice daily could help you reach your daily requirements.  The worry is that consumers are given the false impression that fruit juice is as healthy as a piece of fruit!  This is not the case.  In fact, one glass of juice can provide above the daily limit of sugar provided by World Health Organization and Heart and Stroke Foundation.
1 glass of juice provides above the daily limit of sugar referenced by WHO.
Click To Tweet
In light of our increased awareness on the health consequences excess sugar, today is the perfect time to address this sweet dilemma.  To start, I recommend when you think of juice, to view it similar to pop.  After all, juice has as much sugar and also total calories as regular pop.  Today, I will provide my thoughts on this juice matter and I welcome you to share yours as well!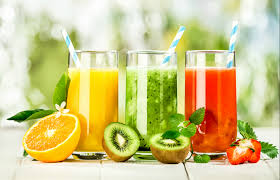 Benefits of Juice Removed from the Food Guide:
Canadians can be encouraged to eat their fruit and not drink it. I advise my clients to skip the juice and opt for the whole fruit instead. This way, they can benefit from the fibre and avoid the added sugars.
In light of the obesity epidemic, fruit juice fills us up on liquid calories without the satiating or filling effect of eating the real food.
People are often misled by the heavy juice marketing and believe it is "healthy".   In my private practice, many clients view fruit juice with a "health halo" and tend to over-consume beyond 125mL daily.
Be sure to eat your fruit and not drink it.
Click To Tweet
How Much Sugar is in my Orange Juice?
It is easy to consume beyond the 4oz (125mL) juice serving.  The common juice bottle size is 16-20oz.   The 16oz bottle of Minute Maid Orange juice has 48g sugar (equivalent of 12 tsp sugar) and almost 200 calories from just the sugar alone!
DYK: 16oz of Minute Maid Orange juice has 48g sugar (equivalent of 12 tsp sugar. That's almost 200 calories from just the sugar alone!
Click To Tweet
What can be done?
Reading the food label is one way to help identify sugar. However, our current nutrition labels make it very difficult for consumers to interpret the sugar value since it is only given in grams and without a percentage daily value.   Here's a lesson from a past blog on how to interpret sugar on food labels .
It is anticipated that Health Canada will make revisions to the Nutrition Facts table and the Ingredient list to make it easier for Canadians to identify the sugars in foods and how much sugar it contains.  We will cross our fingers for now and I will keep you posted.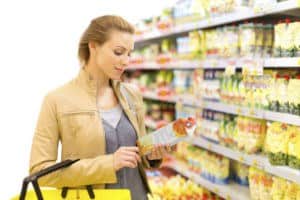 Bottom Line:
We previously thought of sugar mainly as empty calories with links to weight gain. Today, the health consequences of excess sugar include links to heart disease, stroke, obesity, diabetes, high cholesterol, cancer and cavities.   If you are going to drink juice, it is best to limit consumption to ½ cup (125mL) daily and to not think of it as a "health food".