10 Unique Ways to Use Turkey Leftovers
~Thanksgiving Edition~
Thanksgiving is around the corner. Did you know 29% (4.2 million) Canadian households purchased turkey for Thanksgiving last year? That's a lot of turkey and (likely) a lot of leftovers. If you are over the boring turkey sandwich, you've come to the right place. Today's blog will inspire you with 10 unique ways to use leftover turkey to make different healthy and satisfying meals. You might even feel motivated to cook extra turkey for ample leftovers to prepare some of these cool options.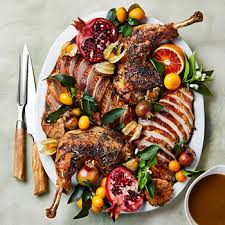 Turkey Nutrition:
Turkey is high in protein (~25 grams per 3 ounce serving, size of a deck of cards)
White meat is considered "extra lean" with only 2 grams of fat per serving and 125 calories
Dark meat is considered "lean" with 5 grams of fat per serving and 147 calories
Very good source of niacin (aka vitamin B3) which helps your body use fat, protein and carbohydrates from foods to make energy
Turkey is an excellent source of vitamin B6, which helps your body use stored energy from our muscles and liver
High source of potassium, an electrolyte or mineral that relaxes the arteries through the release of nitric oxide. A serving of light turkey meat has the same amount of potassium as a small banana! Potassium helps to prevent cardiovascular disease caused by narrowed or blocked blood vessels
Single serving of turkey skin (1 ounce) provides 115 calories and over 11 grams of fat; this does not include the added fat from butter
Turkey also contains iron, selenium, zinc, B12 and phosphorus
DYK: A serving of light #turkey meat has the same amount of #potassium as a small banana! #nutrition #dietitian #FoodFacts
Click To Tweet
10 Unique Turkey Leftover Ideas
I absolutely love cobb salads because they offer flexibility to use up different ingredients, like your turkey. The turkey goes well with a nice blue cheese, ranch dressing or a balsamic dressing. You cannot go wrong with adapting this recipe!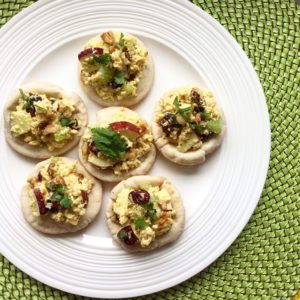 Curry Egg Salad Sandwich Recipe
Here's an awesome "make ahead" lunch idea! For this recipe, swap out the eggs for a different protein, like turkey or chicken! This recipe is full of flavour and crunch with the apples, craisins and nuts. You can also use the white meat or a combination of white and dark turkey meat chopped into bite-sized pieces.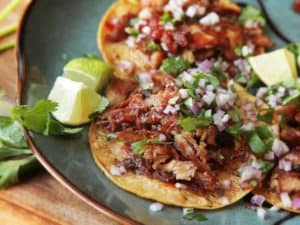 Serious Eats' Turkey Carnitas Recipe & photo cred
Carnitas means "little meats", a Mexican dish that is often made by braising pork in oil or in a slow cooker. Tacos using leftover turkey to make carnitas provide a tasty meal. Here's a recipe from Serious Eats for Turkey Carnitas. If you wanted to do a beef taco you can see the Dietetic Directions' Tasty Taco recipe here.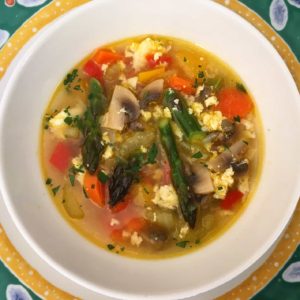 My Italian side of the family loves making homemade egg drop soup. Add turkey to this soup for extra protein. So good! Fall and winter are the perfect times for soup! This recipe is also a "fridge cleaner" where you can add leftover veggies to clean out the fridge. Then you can always freeze leftovers.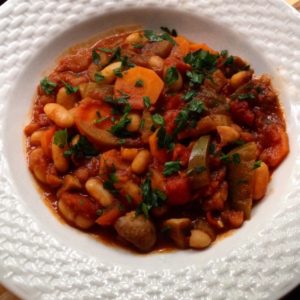 I could not do a turkey leftover roundup without including the top "fridge-cleaner" chili. Why not add your leftover turkey to the chili as well? Toss in chopped or pulled leftover turkey when veggies are sautéed and before adding the tomatoes and beans. This recipe also allows you to adjust the heat to your taste preference.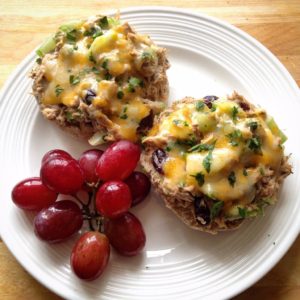 Move over tuna melt and let's try this classic recipe using turkey. Why not? You can't go wrong. Tastes are very compatible and many enjoy an easy-to-assemble, warm entrée. Add raw veggies on the side and you're nutritionally balanced and ready for the day!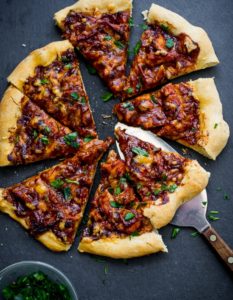 White on Rice Couple's BBQ Turkey Pizza Recipe & Photo Cred
For a simple meal, why not use leftover turkey meat to top a speedy naan pizza. Here's my recipe for Speedy Naan Pizzas. This saves time from making the dough and allows flexibility to use the ingredients you have on hand. However, White on Rice  shows how to make a BBQ Turkey Pizza complete with your very own crust. Feel free to check both recipes for inspiration and adapt them to meet your needs. For example, you can do BBQ turkey on naan bread.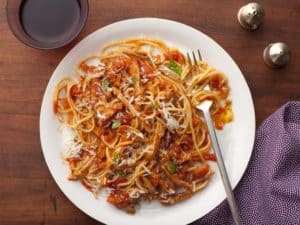 Giada DeLaurentiis' Turkey Bolognese Recipe & Photo Cred
Homemade sauce is one of the necessities in my house. I always have at least a jar in the freezer for a busy night speedy meal. This recipe from the Food Network highlights using leftover turkey in a classic meat sauce. I cannot wait to try this after Thanksgiving!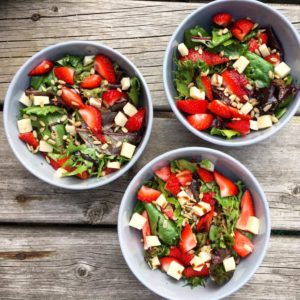 Strawberry and Swiss Salad Recipe
Leftover turkey is a smart addition to make a flavourful salad. In this past blog, I spoke about how to build satisfying summer salads. I speak of the importance of combining different textures and flavours. Adding meat to this Strawberry Swiss salad provides extra chew and protein for sustenance.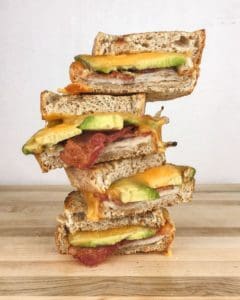 Delish's Turkey Bacon Avocado Grilled Cheese Recipe & Photo Cred
When I found this recipe on Delish, I knew this was a must-include on my Thanksgiving Turkey leftover roundup! Busy clients often overlook simple dishes, like a grilled cheese sandwich. You can add additional ingredient, like avocado to pump up the nutrition, flavour and interest of the dish. Feel inspired to use leftover turkey beyond a simple sandwich.
How to Store Turkey Leftovers?
In order to enjoy your turkey leftovers for unique recipes, it is important to store it properly. Be sure to refrigerate the leftover turkey within two hours of serving. Pull the meat off the bones before packing in the fridge. Use shallow bowls to speed up the cooling process. In general, leftovers stay fresh for 2 to 3 days in the refrigerator or two to three months in freezer. Use an air-tight container or plastic bags for storage. Separate meat from the stuffing.
DYK: Leftover #turkey stays fresh for 2 to 3 days in the fridge or 2- 3 months in freezer! #dietitian #health
Click To Tweet
Bottom Line:
Happy Thanksgiving! May you feel grateful for the abundance of the harvest season and share this with others. If you have leftover turkey, I hope you feel inspired with 10 unique ways to re-invent your turkey leftovers into new meals. Now it's your turn! What are your Thanksgiving traditions? Favourite festive foods? How do you traditionally use turkey leftovers?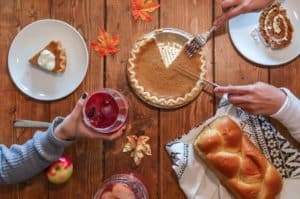 More Dietetic Directions' Thanksgiving Blogs: