Pineapple, Black Olive & Spicy Salami Pizza
Posting my favourite pineapple, black olive and spicy salami pizza recipe is way overdue! I was a little shy because people always think, dietitians don't eat pizza! I'm not sure why I haven't busted this myth a long time ago. Dietitians love pizza just like everyone else.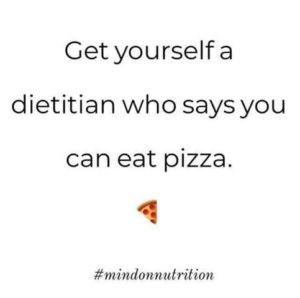 In private practice, I find (almost) everyone loves pizza, but most of us tend to order-in, eat pizza at restaurants or open a McCain pizza box instead of making homemade pizza. Obviously, busy schedules mean we spend less time cooking. However, Canada's New Food Guide released just last week encouraged us to "cook more often." This is a practical and often overlooked aspect to healthy eating. Research clearly supports the nutritional benefits of cooking at home as opposed to eating out where foods tend to be higher in calories, saturated fat and sodium. Why not cook pizzas at home and make it a themed night! 
Today, I hope to inspire you to buy pizza dough (unless you make homemade dough) and create some deliciousness. I promise, you won't go back! Also, be prepared to double your batch for lunch leftovers.
In case you missed it, here I break down the changes to Canada's New Food Guide.
---
Prep Time: 15-20 minutes
Cook Time: 20-25 minutes
---
Ingredients:
Store-bought pizza dough (in bakery section)
1-2 tbsp olive oil
3 tbsp tomato pizza sauce
½ tsp oregano
1 cup spinach
1 cup of mozzarella cheese, grated
½ cup black olives, sliced
½ cup pineapple, chunks
½ cup sundried tomatoes, chopped
½ cup of spicy salami, slivered
¼ cup pesto
Optional: Fresh basil for garnish
---
Directions for Homemade Pizza
Pre-heat oven to 425F. If purchasing store-bought dough, keep dough in the bag at room temperature while oven is heating. 
Prepare all pizza ingredients. Feel free to use up veggies in your fridge; you can't go wrong! Unique flavour combinations create magic. 
On a standard baking sheet (21″ x 15") drizzle ½ tbsp olive oil and use hands to spread oil all over the pan to prevent sticking. 
Remove the pizza dough from plastic bag and work it with your hands. Can roll the pizza dough on a clean surface (flour-dusted if desired). Transfer the dough to the baking sheet and gradually spread out dough to all corners. You can pick up the dough again and use your knuckles and back of hand to smooth dough evenly. 
Spread 1 tbsp of olive oil over the dough using a spoon or plastic cooking brush. Sprinkle oregano over the oil. Next, spread tomato sauce evenly next over the dough. 
If using spinach, add it on top of the tomato sauce and below the cheese to prevent burning. 
Add cheese to your pizza along with chosen toppings. I also add spoonfuls of pesto on top of cheese.
Bake in oven for approximately 20-25 minutes until the bottom crust is golden brown and cheese is bubbly. 
Let stand for a few minutes on a cookie sheet rack to cool before cutting. 
Top with fresh basil and enjoy!