Benefit from Bulgur!
Are you growing tired of using quinoa as a rice or pasta substitute?  Are you looking for something new to add to your diet that is not only whole grain but also nutritious and delicious?  Well, look no further than the less famous, but exceptionally wholesome bulgur!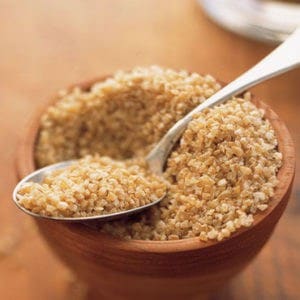 Bulgur is made from whole wheat kernels that have been cracked and partially pre-cooked to speed up the cooking time.   Bulgur packs a nutty flavour and can be paired with many other foods such as stir-fries, curry dishes, or fish.  Bulgur can also be used simply as a rice, oatmeal or pasta substitute.  This whole grain is traditionally used in tabouli salad along with tomatoes, parsley, mint, onion, olive oil, lemon juice and salt.   Check out my recipe for a Spring Fresh Bulgur salad.
Bulgur is made from cracked whole wheat kernels that have been cracked and partially pre-cooked.
Click To Tweet
Bulgur's Impressive Nutrition Profile:
Nutritionally speaking, bulgur is higher in fibre and protein and lower in carbohydrates than quinoa, brown rice or couscous. Bulgur is a good source of folate, vitamin E, magnesium, potassium and selenium, which are found in the outer shell of the wheat kernels and associated with various health benefits such as reducing risk of cardiovascular disease and type 2 diabetes.
Bulgur is higher in fibre and protein and lower in carbs than quinoa, brown rice or couscous.
Click To Tweet
| | | | | | |
| --- | --- | --- | --- | --- | --- |
| Serving per 1/2 cup cooked | Calories (kcal) | Protein (grams) | Fibre (grams) | Carbohydrates (grams) | Folate (mcg) |
| Bulgur | 76 | 3 | 4.1 | 17 | 16.4 |
| Brown Rice | 108 | 2.6 | 1.7 | 23 | 3.9 |
| Quinoa | 112 | 4 | 2.5 | 19 | 36 |
| White Rice | 103 | 2.1 | 0.3 | 23 | 46 |
| Couscous | 88 | 3 | 1.1 | 18.2 | 12 |
Note: If you are on a gluten free diet, bulgur is a form of wheat and therefore not a suitable alternative.
Where to Buy Bulgur?
You can find bulgur at the grocery store in the specialty section with quinoa and other less common grains like wheat berries. You can also find bulgur at the Bulk Barn or at your local health food store.  Bulgur is available in three types: fine, medium or coarse grain. The cooking times will vary depending on the type so it is best to check the cooking instructions. The finer variety can be used in recipes with ground meat such as a stuffing and coarse bulgur is more common for rice substitution.
Cooking Bulgur:
Cooking bulgur is simple and can be done in one of two ways:
Use one part grain for two parts water:  This is the same ratio you would use to cook quinoa, white rice or oats.  Simply bring water to a boil, add bulgur and then simmer on low for 12-15 minutes until water is absorbed.
Cook bulgur using a large cooking dish with a lid:  Pour 2 cups of boiling water over 1 cup of bulgur wheat.  Cover and let the bulgur and boiled water sit for 40 minutes while the water absorbs.  You then drain excess water and fluff.  I typically use this method because it doesn't take any monitoring on the stove.
How to Store bulgur?
It is so easy to store bulgur.  Simply use an airtight container and store in a cool, dry place.  In ancient times this grain was favoured for its resistance to spoilage so purchasing bulgur in bulk can be a good idea to cut costs.
Bottom Line:
If you have not already tried the nutritious whole grain bulgur, go to the store and pick some up!  You will enjoy the versatility of this grain and the sustaining power for fighting off hunger.  Enjoy experimenting and be sure to share your recipes too!