Divine Deviled Eggs
Happy summer everyone! We are full swing into potluck season which has me sharing my favourite dishes with you in my most recent blog, 5 Easy Potluck-Pleasers! In this piece, I share my affinity for deviled eggs. This Divine Deviled Eggs recipe was passed along from my grandma who would always prepare them for family gatherings. Why not? They were a massive hit every time. I remember her saying, "they're really easy to make!" She was right. They are quite simple to prepare and a definite crowd-pleaser! 
These are a trendy option for potlucks because they are a hand-held and convenient way to eat while socializing. Additionally, making deviled eggs reminds us to not skip the yolk, where we receive most of the nutrition such as choline for brain health and lutein for heart health. Click here to read why you don't want to skip the yolk when eating eggs.  
---
Prep Time: 10 minutes
Cook Time: 10 minutes
Serves: 4-6
---
Ingredients:
6 eggs, Hard-Cooked to Perfection (see recipe)
2 tbsp of low-fat mayonnaise
2 tsp grainy Dijon mustard
1 tsp lemon juice
Fresh ground pepper and Kosher salt to taste
Garnish: Fresh chives/dill/green onions and lemon wedges, paprika
Directions for Divine Deviled Eggs:
Hard-cook your eggs in advance and allow to cool. I always use my go-to blog recipe, Hard-Cooked Eggs to Perfection.
Peel hard-cooked eggs and cut in half length-wise.
In a medium-sized bowl, add mayonnaise and Dijon mustard.
Scoop yolks out of the halved eggs and add to mayonnaise and Dijon. You should have 12 egg yolk halves.
Mash the egg yolks with a spoon and stir in with ingredients in bowl. Add salt and pepper to taste.
Using a teaspoon, scoop egg filling back into the halved egg whites.
Garnish with chives and lemon wedges! Sprinkle paprika on top!
---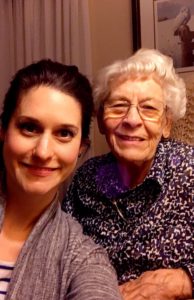 Now it's your turn! What are your go-to potluck meals? Are you a fellow deviled egg fan!?