5 Easy Summer Potluck-Pleasers!
Summer (and potluck season) has finally begun! Thankfully, we're outdoors more and partaking in a surge of social gatherings. Love this potluck-style of eating because it's fun to get together with family and friends over shared food and laughter. However, many of our clients find potluck meal decision stressful. Just to clarify, potlucks are a gathering where everyone brings a dish/meal and it comes together to create a smorgasbord of options instead of the host carrying the cooking responsibility.
Today's blog is dedicated to inspiring easy summer potluck-pleasers. I will break down how to select the appropriate potluck dish and 5 easy summer potluck-pleasers! These dishes are ideal for sharing, make-ahead assembly and sure to impress the taste buds.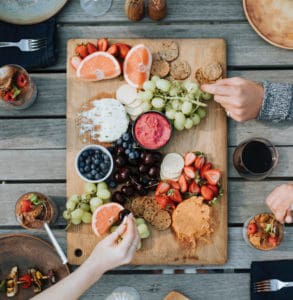 This post was sponsored by the Egg Farmers of Ontario; as always, all opinions are genuine.
---
How to Choose a Potluck Item?
Select what you LOVE!
First, bring to the party something that you are a big fan of. This makes it more likely that others will also be impressed and enjoy your dish. Consider ease of eating while socializing and be conscientious of ways you may need to modify your meal to make individual servings or hand-held items.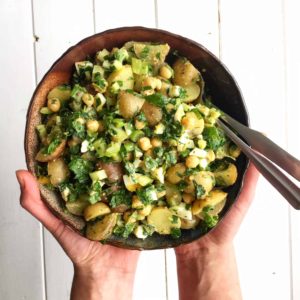 Consider Balanced Eating
A host might prompt guests to sign up for different types of foods – appetizers, veggies, fruit platter, meat/protein, mains, etc. This ensures variety in foods and balanced eating. To learn about how to balance a meal, click here to see Canada's New Food Guide: A Dietitian's Perspective.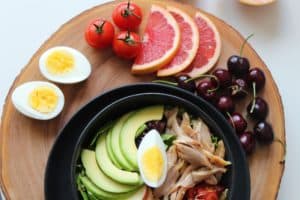 Consider Ease of Preparation
Be realistic with how much time you want to spend cooking or preparing your potluck item. Planning ahead is the key to success! This means that you know what dish you want to make, you have all necessary groceries, your recipe is on hand, and you've put aside an adequate chunk of time to prepare your dish. If you want to learn more about how to expertly meal prep, click here. If you're more interested in meal planning, click here.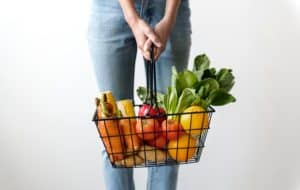 ---
5 Favourite Summer Potluck-Pleasers!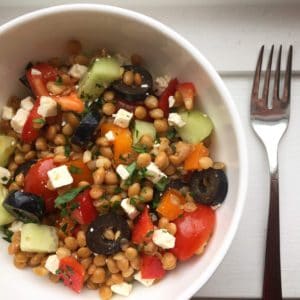 Who doesn't adore Greek flavours? The salty feta cheese and briny olives and the freshness of tomatoes and cucumber. Yum! This Easiest Greek Lentil Salad recipe is a potluck go-to. It uses lentils, which are little edible pulses or seeds. Lentils are packed with heart-healthy nutrition along with 9 grams of fibre and 8 grams of protein per half-cup.
The lentils in this crowd-pleaser recipe are also gluten free and vegetarian for guests needing appropriate alternatives. Additionally, this "healthy" option intrigues many who haven't tried lentils yet.
Did you know? Lentils are gluten free, vegetarian, and packed with 9 grams of fibre and 8 grams of protein per half-cup. Consider incorporating lentils into your next potluck dish!
Make-Ahead:
This recipe is the perfect make-ahead option. If you want to prepare it the day before, the Greek flavours marinate and intensify when left overnight. There's also speedy preparation because we use canned lentils, which are cooked and ready to use. Simply rinse and drain them to remove excess sodium. Next, cut your veggies and add an extremely simple two-ingredient dressing (see recipe).
Deviled eggs are a true crowd-pleaser. It's also a recipe that my grandma would make for family summer parties. And boy were they a hit! They have an indulgent taste with a creamy, flavourful zest but also pack impressive nutrition. In fact, one egg has 6 grams of protein and half this protein is found in the yolk. Making deviled eggs reminds us to not skip the yolk, where we receive most of the nutrition such as choline for brain health and lutein for heart health. Click here to read why you don't want to skip the yolk when eating eggs.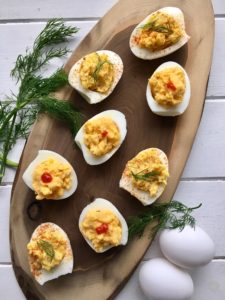 DYK: One egg has 6 grams of protein and half this protein is found in the yolk.
Make-Ahead:
Hard-cooking eggs is an ideal make-ahead option. It takes only about 10-minutes and the eggs last in the fridge for 7 days. Many meal-prep advocates love having a batch of hard-cooked eggs in the fridge ready to add to meals, snacks or salads.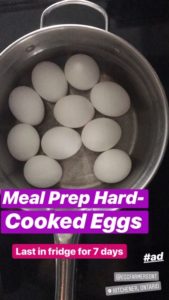 Click here for my Hard-Cooked Eggs to Perfection recipe.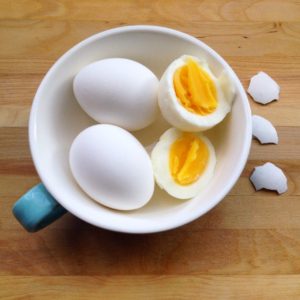 When you are ready to prepare your deviled eggs, you simply scoop egg yolks out into a bowl and add fillings to suit your flavour profile. The traditional deviled egg has mayonnaise, vinegar and Dijon mustard with sprinkled paprika on top. You can put the filling in a plastic bag and when you arrive at the potluck you can cut off the corner to pipe the filling back into the halved egg whites.
Dietitian Tip: Try to experiment with new flavour combinations to wow your potluck guests. You can make Avocado Deviled Eggs, Sriracha Flavoured Eggs or a Lemon Chive Flavoured Eggs. Eggs are super versatile and you can't beat the freshness of eggs that go from farm to grocery store in 4 to 7 days.
This simple smoked salmon appetizer is a delicious potluck recipe to boost your guests' nutrition with omega-3 fats. These are the heart-healthy fatty acids found in fatty fish like trout, mackerel, and sardines. Salmon contains anti-inflammatory omega-3 fats that are beneficial for heart health, eye health, and brain functioning. I love this appetizer because the assembly is speedy and the final product is nothing but impressive.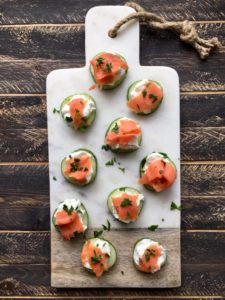 Make-Ahead:
Smoked Salmon Cucumber Bites requires minimal prep. They are also super-fast to assemble. In fact, you can bring ingredients to your potluck and assemble there.
To make these, clean cucumbers and cut into ½" thick coins. Top each with about half a tablespoon of chive-flavoured smooth or whipped cottage cheese for a low calorie and high protein alternative. Place a small piece of smoked salmon on top of each cucumber coin. Finally, garnish with fresh dill or chives along with squeeze of lemon. Easy peasy lemon squeezy, right?
Having a big bowl of fresh salad greens is exactly what many desire on a hot summer's day. Using tips from How to Build Satisfying Summer Salads, we've put together a simple Strawberry Swiss Salad recipe for potluck inspiration. To make salads interesting, be sure to add something sweet, something savoury and a pop of flavour with a touch of zesty citrus or fresh herbs.
Make-Ahead:
Salad greens can be purchased pre-washed and pre-cut. Try including two different varieties for added texture and flavour. Be sure to assemble your salad at the potluck so that it does not go mushy. For this recipe, I recommend pre-cutting strawberries, cubing Swiss cheese and putting the vinaigrette in a mason jar to drizzle when ready to serve. You can also leave dressing on the side for guests to add themselves.
When planning potluck meals, think of ease of eating while socializing. Therefore, hand-held skewers are an ideal, fun and a trendy food option that many guests will love. One of my favourites is a Chicken Peanut Satay. A satay is an Indonesian dish using seasoned, skewered, and grilled meat with a dipping sauce.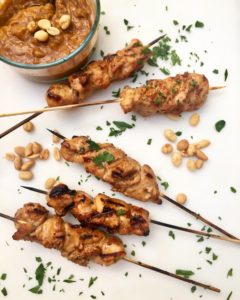 Make-Ahead:
If making satays for the potluck, you will need to marinate chicken for a couple of hours or overnight. A simple marinade may include soya sauce, oil, brown sugar, fresh ginger and fresh garlic. A peanut dipping sauce can also be made in advance (here's a recipe). You will then want to soak wooden skewers for at least 30 minutes before threading the meat on them. You can then BBQ these at the potluck or in advance. These are tasty served either hot or cold! Garnish with green onions, cilantro and/or crushed peanuts.
Looking for more ideas for a Healthy Backyard BBQ? Click here.
---
Bottom Line:
We hope you enjoy your summer potluck season! Relish this time outdoors with friends and family over a shared meal. Additionally, be sure to minimize the stress of potluck meal decision by opting for meals that you love, considering the nutritional value and prioritizing ease of preparation. Happy potlucking!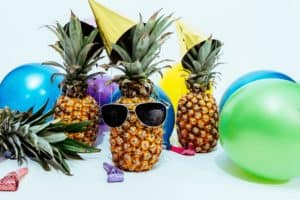 Now it's your turn! Are you a potluck fan? What are your go-to meals to bring? How do you ease the stress of deciding what to bring? Any words of encouragement for fellow potluckers?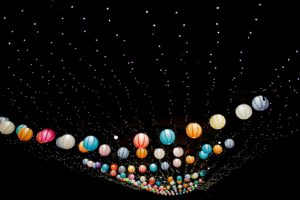 P.S., In case you missed it! Here's Andrea on CHCH Morning Live talking all about Healthy Summer Potlucks! I also stopped by CTV Kitchener to share potluck tips for the News at Noon.