Don't just Survive the Holidays… Enjoy them!
We are one week away from Christmas and what better way to celebrate with Dietetic Directions than by having a dynamic guest blogger!  I am excited to feature Chelsea Allen, Registered Dietitian from Chelsea's Healthy Kitchen.  I was first drawn to Chelsea's website by her flare for food with scrumptious, healthy recipes, along with her restaurant reviews and current nutrition blog.  Chelsea's Christmas article made me smile and shares the key message that we should all focus on not simply surviving but holidays, but enjoying them!
I know as a dietitian I'm supposed to be writing posts right now along the lines of "10 strategies to survive the holidays". But to be honest, I really don't like that wording choice and don't even agree with some of the suggestions those kinds of articles offer.
I mean, the whole concept of "surviving" the holidays just takes away from their whole meaning. The holidays aren't something to survive. They're not a huge battle for which we need to design a game plan. They're a time to enjoy. A time to spend time with your friends and family, go to parties, have fun picking out the perfect gifts, bake shortbread cookies from your Nana's recipe, and watch cheesy Christmas movies. The fact that the media makes people feel like they have to fight to survive the holidays turns it into a time of stress rather than a time of joy.
The whole concept of "surviving" the holidays just takes away from their whole meaning.
Click To Tweet
I'm not saying that some of these articles don't have a valid point. Because yes, it's true that the holidays provide many opportunities to eat calorie dense and low nutrient foods. And indulging at every opportunity would be good for neither our health nor our waistlines. However, part of the fun of the holidays includes enjoying these treats.
My personal outlook is that we should choose things that contribute to our enjoyment. If eating something will contribute to your enjoyment, eat it. If not, skip it. Personally I don't care for packaged cookies from the grocery store bakery, so I skip them. Likewise, eating a treat at a work event doesn't have any special meaning to me and wouldn't make a difference in my enjoyment of the holidays, so I might skip that as well. But eating one of my favourite cookies freshly baked out of the oven after an afternoon of baking with my family is part of what enjoying the holidays means to me. And potluck dinners with my friends are another one of my favourite holiday activities, so I choose to fully enjoy the food at those as well.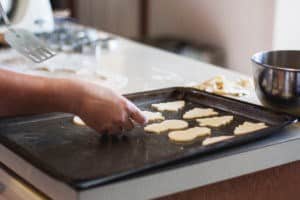 My point is that while the holidays are not a time to go crazy with overindulging, you also shouldn't restrict yourself from what you love about this time of year. Because at the end of the day, it's not about how many treats you didn't eat  – it's about how much you enjoyed the holidays.