7 Ways to Save on Groceries (& Still Eat Healthy)
Who doesn't want to save on groceries? Whether you are a mother with a family, a student or a busy professional, we could all benefit from saving. After all, the cost of food increases and the average Canadian household spends about $241 per person on food each month (Statistics Canada, 2016). This equates to just under $3,000 dollars a year (per person) on groceries (not including eating out). Today, I will share my Top 7 Strategies to Save on Groceries – while still eating healthy.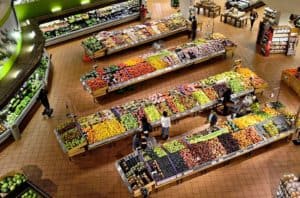 1. Start Basic 'Meal Planning'
When it comes to saving on groceries, planning ahead may not be a 'glamorous solution' but it allows you to use food up, buy only what you need and throw out less ($$ in the garbage). According to the Toronto Food Policy Council, 40% of food produced yearly in Canada is wasted (yikes!). Additionally, households waste approximately $28 worth of food each week. By having a plan, we can save money because we can use our food instead of throwing it away.
#DYK: 40% of food produced yearly in Canada is wasted?
Click To Tweet
From almost a decade of nutrition counselling, I have learned that meal planning is HARD. It involves time, intention and creativity. Most people are unsure where to start. Here are three tips to get started: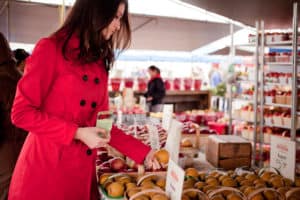 1,2,3 Meal Planning:
Take a fridge inventory and set the intention to use up your fresh ingredients first. For example, if you have bell peppers and mushrooms, you may decide to make a tomato sauce, quiche/omelette or pizza on Monday or Tuesday.
How to Meal Plan 2 Save $$ on Groceries! Find out:
Click To Tweet
Next, my personal approach (and my recommendation to clients) is planning a week's worth of meals at a time. You want to have your schedule handy to determine which nights you will cook (or batch cook) and which nights you will require quick meals or leftovers. I also recommend clients always have basic ingredients to make something simple like a fried egg sandwich with veggies or even a bowl of cereal, for last minute changes.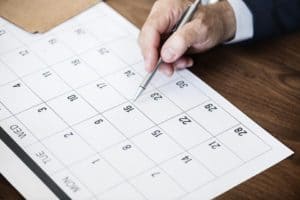 From your week's meal plan, we can now make a week's grocery list. Several clients found that by buying only what is on their shopping list, they were able to save money. According to research from the University of Pennsylvania, people who can avoid impulse spending can save up to 23% on their grocery bills. With a list, grocery trips become faster and you will buy only what will be used that week.
#FYI: people who can avoid impulse spending can save up to 23% on their grocery bills!
Click To Tweet
Remember that meal planning takes time and practice. Working with a dietitian is helpful to come up with an individualized approach to meet your needs within your lifestyle. Having a plan first is necessary for executing your healthy meals.
2. Become a "Sale Hunter" &/or Price Matcher:
Foods prices fluctuate week to week and from grocery store to grocery store. Therefore, be sure to use the flyer or flyer apps (like Flipp) when planning meals. This way, you can take advantage of sales when choosing your meals for the week.
Being a sale hunter also involves buying produce that is in season. Here's a great resource to discover what is in season, FoodLAND. Take advantage of frozen fruits or vegetables (when they go on sale) is another money-saving trick that does not compromise the nutrition.
Interested in how to price match to save on groceries? #nutrition #health
Click To Tweet
Taking advantage of sales means that you may also be price-matching. If you are unfamiliar, price-matching involves showing the cashier the app (or flyer) with the lower price for a product at a competitive store. The cashier will then match the lowest price to give you the best deal. This option is only available at some discount grocery stores (like Superstore, Fresh CO and Walmart). In general, shopping at discount grocery stores saves you at least 10% on your groceries.
One of our counselling dietitians, Katerina, at Dietetic Directions, is fantastic at using price matching to save approximately $20 each week on groceries. She also goes to the grocery stores with clients to show them how they can save too. Click here to book a consultation with Kat.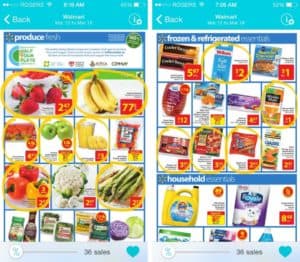 TIP: Take advantage of weekly grocery deals when planning your meals!
Click To Tweet
3. Reduce Your Meat Intake:
Eating more vegetarian protein is another great way to reduce your grocery bill. The increases in the price of meat are often above the increases in food prices from inflation. If you are new to reducing your meat intake, try preparing one meatless meal a week (See ideas at Meatless Monday and/or 10 dietitian-approved plant-based lunches). Use beans or lentils (dried or canned), peas (frozen or fresh), nuts and seeds as the protein. Eggs, peanut butter and tofu are low cost meat alternatives as well. I love swapping out chicken for extra-firm tofu in a stir-fry. Just pan-fry the tofu the same way you'd cook the chicken. One block of tofu costs around $2 and feeds 3-4 people.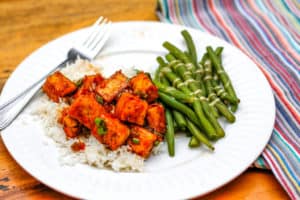 For your next meal try using #tofu, #beans or #lentils! They're inexpensive & high in #protein
Click To Tweet
More Ideas? Dietetic Directions' 'Meatless' Budget-Friendly Eats:
Italian-Style Romano Beans ($0.88 a can, two servings)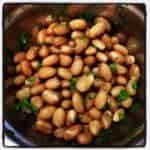 Mini Pesto Pizzas with Chickpea Flour (~$2/serving)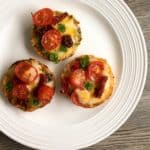 Garlicky Breakfast Lentils with Egg (~$1.50/serving)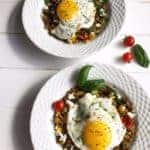 Buddha Bowl with Tahini Miso Sauce (~$3/serving)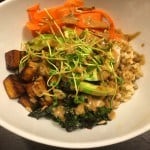 Caribbean Coconut Black Bean Rice (~$2.50/serving)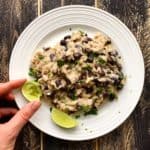 Vegetarian Fajita Wrap/Burrito (~$2/serving)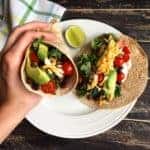 Ps. If you want to see more of what's cooking in Andrea's kitchen, follow Dietetic Directions on Instagram!
4. Extend your Meat with a 'Ground Meat-Lentil' Mix:
Confession, I'm obsessed with lentils! They are little edible seeds grown in a pod and part of the legume family. They are incredibly versatile and take on the flavour of the dish they are being mixed with. If you are making a dish with ground meat, try adding 25% or 50% lentils in the meat mixture. This allows you to extend the dish (to have more servings) and it also boost the nutrition by adding fibre and heart-healthy minerals. For example, if you are making a spaghetti Bolognese (beef and tomato sauce), try adding cooked lentils with cooked beef. Check out my recipe for Lentil & Mushroom-Stuffed Shells with Italian Sausage. I also do this same lentil-meat mix for taco filling and with chili.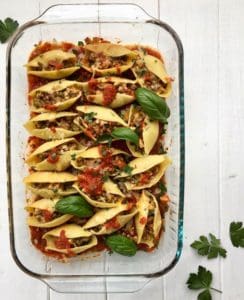 Lentils are not only budget-friendly, they are also very nutritious: in just ½ cup serving, there are 12 grams of protein and 8 grams of fibre! They also contain the heart-healthy mineral potassium which helps in lowering blood pressure and they are an excellent source of iron. You can purchase lentils dried or I prefer the canned – just rinse and drain. A can of lentils (19 oz) costs around $0.88-1.50 for approximately four servings.
5. Buy Generic Brands:
Generic brands, such as No Name often cost 25% less than the name brand. Some generic products may taste differently but many are quite similar. Compare the Nutrition Facts label and ingredient lists to see how the products compare nutritionally. The higher price of the brand name often comes from the fancy packaging and the larger marketing budget.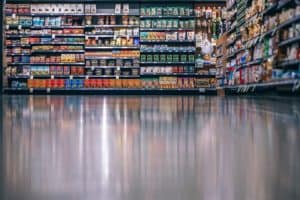 #DYK: No name brands often cost 25% less than the name brand?
Click To Tweet
6. Prep Yourself:
When we are busy, it is sometimes necessary to opt for convenience. For example, buying pre-cut veggies or pre-cut fruit will cost more, but for some, this is a necessary expense. However, if you are able to spend time prepping yourself – like grating cheese, cutting veggies, cleaning lettuce, this will save you sometimes 50% of the price.
Buy whole potatoes and cut them yourself instead of buying the bagged fries. Contrary to popular belief, potatoes (white or sweet potatoes) are both very nutritious – excellent source of potassium and a good source of vitamin C, fibre and folate. Sweet potatoes contain 10 times more vitamin A than white potatoes. I also love to buy popcorn kernels and pop my own instead of the microwave popcorn. A whole bag of corn kernels costs $3 and lasts for many months.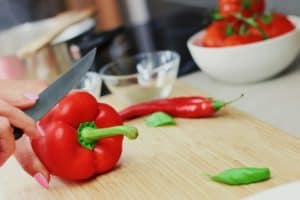 7. Eat Out Less:
Many people enjoy eating out or ordering in. I get it, it's a nice treat! However, if your goal is to save, try swapping your takeout for a home-cooked alternative. For example, instead of ordering pizza, why not try these Speedy Naan Pizzas which are a healthier option and small fraction of the price. Making foods at home, opposed to eating out, also means you are likely consuming fewer calories, less sodium and fat.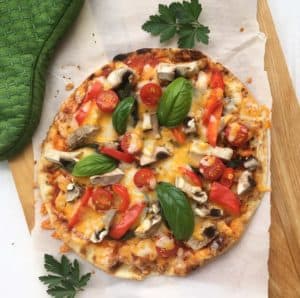 Bottom Line:
Who does not want to save on groceries and throw away less food? Be sure to come up with a basic meal plan, utilize sales, reduce meat intake, add lentils to dishes for extra protein and fibre, use generic products, making foods yourself opposed to eating out. Also be sure to avoid grocery shopping when hungry, as you are more likely to choose foods that are less healthy and stray from your budget and grocery list (if you have one). I also only carry bags that I want to fill – for example, I often skip the grocery cart to buy only what's essential within a basket.
Now's your turn! How do you manage to save on your grocery bill? I'd love to hear your ideas and which tips are you most interested in implementing to save?