Salad Showdown: Comparing the Nutrition!
Are you a salad enthusiast? I hope so, and if not, I anticipate you will be very soon!  After all, salad greens are awesome! They are low in calories and high in vitamins and minerals like vitamin A, vitamin K, potassium, folate, etc.  Furthermore, adding a salad to your meal(s) is a quick and easy way to increase your veggie intake since we know we are not getting enough!
Today's blog inspiration came about after being reminded about the widespread demonization of foods. Who's the newest food victim? Move over gluten, our newest target is none other than our dear friend the salad!   In a recent article published in the National Post, the author slams salads as offering no nutritional benefit and states they are essentially a waste of time eating and a waste of our natural resources.   Wow, talk about a conversation piece!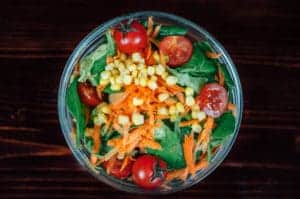 My blog today, is in defense of salads.  Let's take a closer look and compare the nutrition for popular (and delicious) salad greens. I will also provide tips for making healthy salads at home – since this is a much healthier alternative to the calorie and fat-rich ones found at most restaurants.
| | | | | |
| --- | --- | --- | --- | --- |
| Per 2 cup Serving | Calories per serving | Vitamin A (%DV)* | Vitamin C (%DV)* | Potassium(%DV)* |
| Romaine | 16 | 162 | 6 | 6 |
| Spinach | 14 | 112 | 28 | 8 |
| Kale | 66 | 266 | 268 | 18 |
| Arugula | 6 | 8 | 4 | 2 |
| Iceberg | 16 | 14 | 6 | 4 |
*%DV = percentage of daily requirement or nutritional needs for adults
DYK: Kale contains 266% DV of vitamin A and 268% DV of vitamin C
Click To Tweet
Nutritional Importance:
Vitamin A: Important to keep our eyes, skin and immune system healthy. Promotes normal growth and development. Salad greens contain carotenoids, which are a form of vitamin A and important for our vision.
Vitamin C: Helps in the growth and repair of bones, teeth, skin and acts as an antioxidant that may reduce risk of certain cancers and chronic diseases. Helps increase the absorption of iron and keeps immune system healthy.
Potassium: Critical for lowering blood pressure and reducing risk of cardiovascular disease by relaxing our blood vessels (vasodilatation). Defends against loss of muscle mass associated with aging.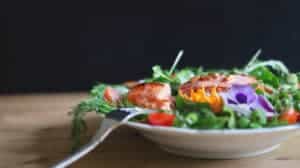 Tips for Salad Lovers:
Enjoy your salads and focus on consuming a variety of dark leafy greens!
Buy local whenever you can to reduce the carbon footprint and to support our local farmers!
Mix salad greens to get a blend of flavours. Try mixing romaine lettuce with arugula or kale to provide additional vitamins and minerals.   I also recommend adding fresh herbs such as fresh parsley to the mix (don't knock it until you've tried it!).
Add delicious ingredients to your salads such as sunflower seeds, raisins or some feta or goat cheese. Nobody enjoys eating plain lettuce so make it special!  Try my Grape and Feta salad or Simply Spinach salad .
Make it an entrée salad, by including fibre and protein!  Try using fresh fruits, whole grains like wheat berries, legumes like chickpeas or grilled chicken or canned tuna. These ingredients will help to keep you satisfied.
Find out some delicious ways to jazz up your salads!
Click To Tweet
Bottom Line:
Stop food demonizing!  Let's focus on increasing our vegetable consumption and enjoying our food along the way.  It's not all about one food being the superstar and other foods being worthless, they all can fit and offer varying amounts of vitamins and minerals.  Enjoy your salads!