Red Thai Curry Chicken & Shrimp Skewers
Happy Nutrition Month everyone! To celebrate, we have a giveaway and a recipe for Red Thai Curry Chicken & Shrimp Skewers with Peanut Sauce. For our Nutrition Month giveaway, I've partnered with two fellow dietitians and a chef. We are all lovers of food, cooking and thought what better way to celebrate than to giveaway an outstanding cookbook and cooking swag!
Interestingly, last year I realized how easy making homemade Thai Curry can be. And you have the flexibility to load it up with veggies and your choice of protein (see Green Thai Curry and Shrimp recipe).  Nevertheless, there is versatility to go beyond rice curries and into skewers with the same great flavours. My Red Thai Curry Chicken & Shrimp Skewers with Peanut Sauce Recipe is inspired by the Green Curry Chicken Satay in the "Firehouse Chef" cookbook by firefighter Patrick Mathieu (@stationhouse_). 
I've taken cooking classes with Patrick for over five years and learned the flexibility of cooking what you have on hand (I had chicken, red curry paste and shrimp), as well as tasting and adjusting as you go. Plus, there is benefit to cooking more at home. Use cookbook or online recipes as a guide or rough template for inspiration. If you're new to making curries at home, I enjoy the pastes that come in a little glass jar at the grocery store. 
Now for the GIVEAWAY!!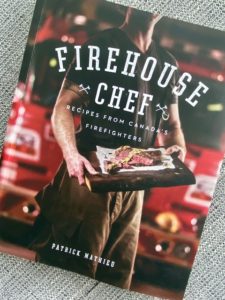 For Nutrition Month, we want to encourage you to use cookbooks for meal inspiration and to cook more at home! Follow recipes closely or simply use it as a guide.

The prize is "Firehouse Chef" cookbook, a marble effect silicone spatula, a food thermometer, a 3 set vegetable peeler (serrated, julienne and straight). The details for entering the contest are on my Dietetic Directions Instagram page with instructions for how to enter. Contest ends March 31st 2020. Winner will be announced April 1st. Must be 18 years or older to enter. Must reside in Canada to win prize, although anyone can enter for fun! Unlimited entries per person. This contest is in no way associated with Instagram or prize brands.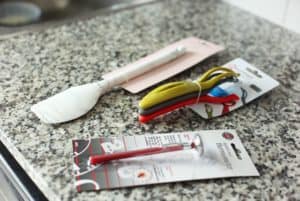 Happy Nutrition Month everyone!
---
Prep time: 15 mins
Cook time: 8 – 15 minutes
Serves: 5-8
---
Ingredients:
10 boneless, skinless chicken thighs
2 cups of large frozen shrimp, thawed
400 mL can of coconut milk
2 cloves of garlic, minced
2 limes, juiced
3 Tbsp Thai red curry paste
2 Tbsp fish sauce (or soy sauce)
4 tsp brown sugar
Kosher salt for garnish
Cilantro or Green onions for garnish
Lime wedges for garnish
Peanut Sauce
½ cup peanut butter (smooth or crunchy)
2 tbsp warm water, add more to make thinner
2 tbsp low sodium soya sauce
½ tbsp rice wine vinegar or ½ a lime, juiced
2 tsp maple syrup
Option: To thin sauce, add 1 tbsp water.
Directions Red Thai Curry Chicken & Shrimp Skewers:
Cut chicken into ½" or 1" pieces and place in a large freezer bag. Add thawed shrimp to same bag.
Next, add coconut milk, garlic, lime, fish sauce, brown sugar, to the plastic bag with chicken and shrimp. Seal the bag and move marinade around with your hands to allow meat and shrimp to be coated.
Allow the chicken and shrimp to marinate for at least 60 minutes, ideally 4 to 8 hours, or overnight.
If using wooden skewers, soak in water for at least 30 minutes before using. This prevents them from burning (at all or very much) on the grill.
Thread marinated chicken onto the skewers so they are secure and won't fall off. I put the shrimp on separate skewers since they cook faster. Choose how full you would like the skewers to be – about a third or half-full is common.
Grill Red Thai Curry Chicken & Shrimp Skewers on the BBQ over medium-high heat. Grill skewers for about 8 to 15 minutes, turning every few minutes until cooked through and with grill marks. Ensure juices run clear. Allow meat to rest for about 10 minutes before serving.
Add peanut sauce ingredients together and stir. Taste to adjust as needed. I often make this ahead and allow it to stay in the fridge until ready to serve. Can use leftover sauce for a peanut stir-fry too. Add water if needed to thin the sauce to your preference.
Serve Red Thai Curry Chicken & Shrimp Skewers garnished with green onion or cilantro and lime wedges.
Enjoy Nutrition Month and celebrate how it's more than food! Importantly, cooking and trying new recipes means building confidence, coming together, enjoying conversation and of course, tasting deliciousness.