Where did Pancake Tuesday come from?
Today is the annual day of Pancakes!  Also known as Pancake Tuesday or Shrove Tuesday or Mardi Gras or Fat Tuesday. Wow, those are a lot of names for one single day!  Nevertheless, are you curious on the origins of Pancake Tuesday? Wondering why pancakes or why at this time of year?  If you are looking for answers, I am happy to say that you have come to the right place 🙂
Where did Pancake Tuesday come from??
Click To Tweet
Why on Tuesday?

Pancake Tuesday happens around the same time each year and always falls on the Tuesday before Ash Wednesday.  Ash Wednesday marks the first day of Lent, which is the season with 40 days of preparation before Easter for Christians.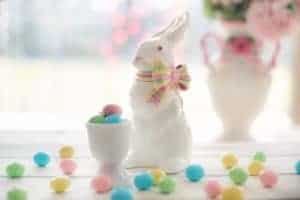 What does 'Shrove' Tuesday mean?

The word "shrive" means to confess sins.  In the Middle Ages, people would confess their sins before the season of Lent began. Therefore, the day before the Lenten season came to be known as "Shrove Tuesday".
How about the term Mardi Gras?

The Lenten season is a religious season of fasting and religious obligations. Therefore, what do people want to do before a season of fasting and religious obligations?  Evidently, they want to party and eat!  The name Mardi Gras means 'Fat Tuesday' and involves consuming rich, fatty foods before Lent.
Why Pancakes?

Pancakes are the food of choice since they are made up of rich ingredients (milk, eggs, sugar) which families wanted to use up before the Lenten season began.  Therefore, "Pancake Tuesday" highlights enjoyment of consuming rich foods before days of religious fasting.
I hope you now feel confident to explain to your children, grandchildren or great-grandchildren the origins of Pancake Tuesday!
Want a flavourful yet healthy pancake recipe? Look no further!
Click To Tweet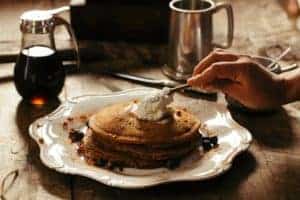 My recipe for you:
Blueberry Bran Pancakes Recipe!
Serves: 3
Prep time: 10 minutes
Cook time: 5 minutes
Ingredients:
1 egg
1 cup whole wheat flour
¾ cup milk
2 Tbsp vegetable oil
1 Tbsp brown sugar, packed
½ Tsp salt
1/3 cup bran buds
1/3 cup blueberries, fresh
Instructions:
1. Beat egg until fluffy then add ingredients and beat with fork just until smooth.
2. Add extra milk if you desire thinner pancakes.
3. Cook on the griddle until golden brown and flip once.
Happy Pancake Day!