Buy Local: A Dietitian's Perspective
Are you a Locavore? Do you check where your food comes from before popping it into your grocery cart? According to Statistics Canada, over 40% of all fruits and vegetables purchased are imported. This statistic also includes foods that are grown in Canada like apples!
As a dietitian, many clients ask what types of food they should choose. Today, I will share my top 3 reasons to buy local. My follow-up blog will highlight 20 of my favourite locally grown foods in time for fall Harvest.
Andrea's Top 3 Reasons to Buy Local: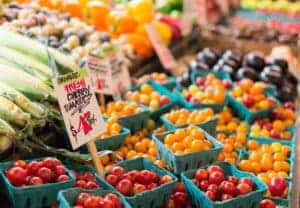 #1. Increased Food Awareness!
Buying local increases our awareness and knowledge of where food comes from. After all, many of us do not pay attention to how far food has traveled before reaching our dinner plate.
Children are even more vulnerable to a lack of food knowledge. Research shows that kids are more likely to make healthy choices if they have basic food skills. Here is a jaw-dropping 2-minute clip from Jamie Oliver's Food Revolution where he goes into an elementary school classroom to ask food questions.
Take Action: Empower yourself with knowledge about food!  Allow children to grow their own food, go to Fall Fairs and shop at the farmer's market.
#2. Hello Freshness!
It is difficult to deny a noticeable difference in taste in the foods that are freshly plucked off the tree or uprooted from the earth. Generally speaking, the less distance food travels, the fresher it is since it is picked at the height of nutrition.
Take Action: Try an experiment.  Compare the taste, aroma and texture of foods that are locally grown versus internationally imported. Do you notice a difference in freshness? Do you have a favourite local food?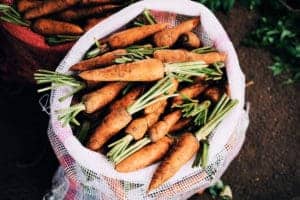 #3. Take Care of our Environment:
Last, but not least, buying local foods preserves our environment by reducing greenhouse gas production. Currently, the average meal travels 1200 km from the farm to plate (David Suzuki Foundation, 2015). Buying locally produced foods uses fewer resources for transportation, packaging and processing required to reduce food spoilage.
DYK: the average meal travels 1200 km from the farm to plate?
Click To Tweet
Take Action: Do your part to decrease climate change by choosing foods lower on the food chain and foods that can be produced locally.
Bottom Line:
Buy local as much as you can! Empower yourself with food knowledge, enjoy the freshness of your foods and do your part to preserve our environment. Are you a locavore?