3 Tips to Expertly Meal Plan!
What's for dinner? A dreaded question for many. Couples may text this inquiry at the end of a long, busy day. Only to be met by, "I don't know. What do you want?" Who knew this infuriating back-and-forth could lead to so much uncertainty, frustration and possibly anxiety? However, it doesn't have to be this way! Learning 3 Tips to Expertly Meal Plan can take away this annoying, last-minute question and the corresponding indecision, frustration and distress.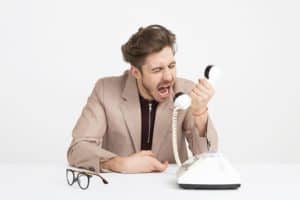 Most people can relate to the above scenario. When we are without a dinner plan, stress is higher and takeout is much more alluring. As a registered dietitian and big proponent of meal planning, I like to say that "healthy eating does not happen by accident." We have to prioritize nutrition and plan (a little or a lot) to set ourselves up for success. This is something the team at Dietetic Directions coach our clients on.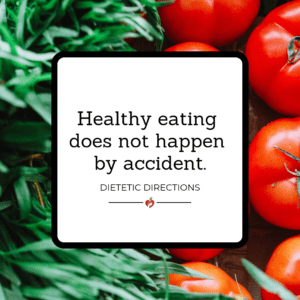 The good news? Learning the tips you need to expertly meal plan CAN be done. We can start small and build with practice. Today, I will be sharing the benefits of meal planning and tips on how to begin to advance your skills! Let's get started.
PLEASE NOTE: How to Expertly Meal Plan is a highly requested topic I'll be teaching at an upcoming Self-Care Sunday Retreat on June 2nd. Click here to save your spot before they fill up!
---
Is Meal Planning for You?
Are you:
Overwhelmed by the "what's to make for dinner" question?
Feeling unprepared (with available groceries) to make dinner at home?
Resorting to take-out more than you'd like?
Resenting money spent on eating out when cooking at home is cheaper?
Believing your diet could be healthier if you cooked more?
Making several trips to the grocery store in a week?
If you answered YES to any of the above, meal planning would benefit you!
---
Top 3 Skills for Meal Planning:
First, please note, meal planning is a real skill that takes practice. Don't feel ashamed if it feels difficult at first. It comes natural to some, but certainly not to most.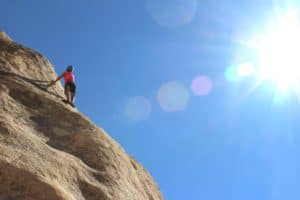 Here are the three most important skills to cultivate if you want to start meal planning:
1. Planning Ahead.
Meal planning requires prioritizing nutrition and allocating time to follow-through with thinking about meals, grocery shopping (online or in person), and of course cooking.
Please note: Setting a goal requires being realistic about your priorities. If planning meals is not yet a priority to you, you will likely find it a challenging habit to sustain.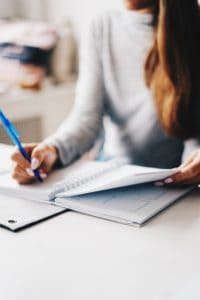 2. The Ability to Creatively Conceptualize Meals.
The meal planning skill involves being able to plan a balanced meal with the necessary ingredients. Maybe you're looking to plan a meal that provides sufficient carbs, protein, and veggies and is fun to make. Naan pizzas with mozzarella, pesto chicken and tomato slices are a great option. For an easy veggie boost, toss in a side salad with goat cheese, strawberries, and a simple balsamic dressing. Finding it tricky to come up with nourishing and tasty meals? Don't worry! We have your back. Check out our 15 Favourite Meal Themes blog if you are in need of some inspiration.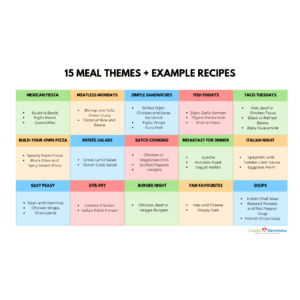 Creativity in planning fun and unique meals comes with time and experience in planning and cooking. If you are uncertain what a balanced meal looks like, working with a registered dietitian can be helpful. You can also review the New Canada Food Guide to get an idea of what a basic balanced plate looks like (pictured below). Or, finally, you can read Canada's New Food Guide: A Dietitian's Perspective.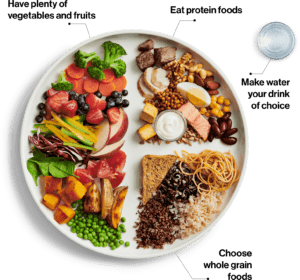 Dietitian Tip: Still stuck for ideas? Plan a Taco Tuesday, Build-Your-Own Pizzas and Breakfast for Dinner are all popular themes. Designating a day of the week for a meal theme helps to add focus and creativity to meal planning. Many of my clients love this to reduce decision fatigue. If every Wednesday becomes Fish Day or Monday becomes Meatless Monday, for example, it's then easier to decide what meal to make.
3. Execution & Follow-Through.
Following through is imperative when meal planning! Nothing beats commitment and consistency. To execute a plan, we need to be realistic with our time-constraints and energy reserves.
Setting goals involves being honest about our expectations. We should realistically take into account our available time to cook during the work-week. Each of us should consider our level of cooking skill, enjoyment, as well as our individual preferences. That's a lot to do, especially when we find ourselves already busy! This might mean choosing simple meals that require minimal ingredients and prep time – and that's okay. There is nothing wrong with choosing easier options!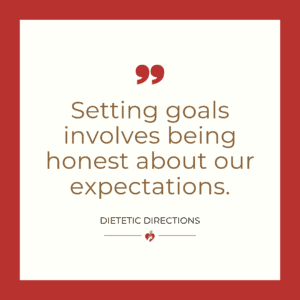 ---
What's the difference between meal plans and meal planning?
Meal Plans: Are usually static templates stipulating what to eat. Meal plans often involve repetition of what is listed for breakfast, lunch or dinner. They typically do not take into account your schedule for cooking, foods you need to use up, and may not be individualized to your preferences, nutrition needs or developed by (or with) a registered dietitian.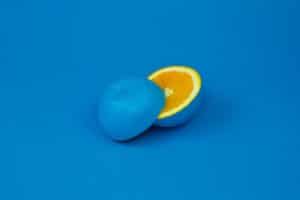 Meal Planning: Is the action of deciding meals in advance using your schedule, preferences, foods on hand, seasonal produce, sale items, etc. Meal planning usually leads to grocery shopping once a week, for only the items needed and having others (e.g. family) involved in creating the menu. If you know how to meal plan you can create your own weekly meal plans!
Designating a day of the week for a meal theme helps to add focus and creativity to meal planning and reduces decision fatigue.
Another tool that can go hand-in-hand with mean planning is meal prepping. Click here if you are interested in learning 3 Simple Ways to Meal prep!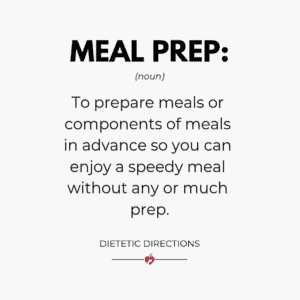 ---
3 Tips to Expertly Meal Plan!
1. Designate a "Planning Time"
Consistency is key in forming any habit. Meal planning involves being steady in giving yourself time to plan. For the first tip to expert meal planning, I recommend setting aside 20 to 30 mins to quietly think about the week ahead, your schedule, and the amount of time you have to cook.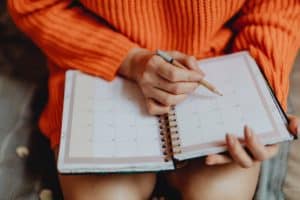 Reviewing and meal planning can be done any day of the week. I often plan my meals on a Friday or Sunday for the upcoming week. You can also break planning into stages.
First, lay out your commitments for the week and realistically estimate the amount of time you're comfortable cooking that day. For example, if swimming lessons are on Tuesdays at 7pm, you might plan to have an early dinner. Next, estimate when you will be home from work and how much time you can put aside to cook (or to heat leftovers). Maybe at 5:30 you choose to start your dinner prep. Simple so far, right?
When you have a broken down structure of how much time you're working with during the day, it becomes much easier to structure meals into your day-to-day life that you will enjoy! You can also set yourself up for success with freezer meals, such as a batch of this Spicy Chili – perfect for a quick leftover freezer meal on nights when you're short on time.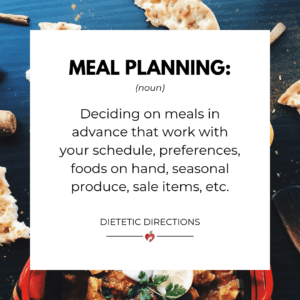 Dietitian TIP: Aim to make your designated planning time a time where you are uninterrupted. You may prefer to have others (e.g. family) available for input. For example, would you like to have tacos on Tuesday or black bean quesadillas for Mexican Night?
---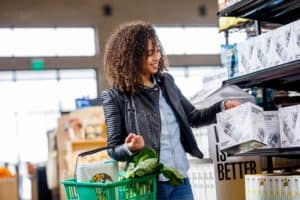 ---
2. Grocery Inventory = Meal Ideas
Taking a grocery inventory is a crucial step in making a realistic and sustainable meal plan. The purpose of taking a grocery inventory is to aid you in using existing groceries and buying only what you need at the grocery store.
Dietitian Tip: Plan meals BEFORE you grocery shop. This way you can buy only what you need, thus saving yourself time and money.
How do I complete a grocery inventory?
On the top of your meal planning sheet, write down fresh ingredients you want to use up. We'll plan to use these ingredients first because they'll be the first to go bad. At Dietetic Directions, we have a template for clients to use for weekly meal planning. For example, right now I have some spinach, cherry tomatoes, and mushrooms in the fridge to use up. Therefore, I plan to make a mushroom spinach quiche for dinner with tomatoes sliced on top.
---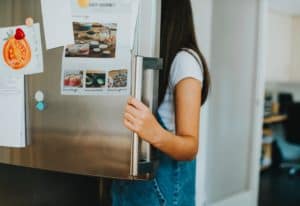 Dietitian Tip #3: When we know what's on hand and it's at the top of our meal plan, this food is less likely to go bad. When we have a plan, we can do "first in first out."
---
3. Create Grocery List, Get Creative, & Have Fun!
Now that your meal plan has your schedule parameters for time available to cook or eat and your grocery inventory has a list of what you need to use up, it is now time to get creative and plan those meals! For beginners, the act of meal planning is more important that the level of skill in your meals. Coming up with a very simple meal plan and then following through is more important that striving for advanced culinary creations which may be unsustainable with a busy weeknight schedule. Keeping it simple can be extremely effective!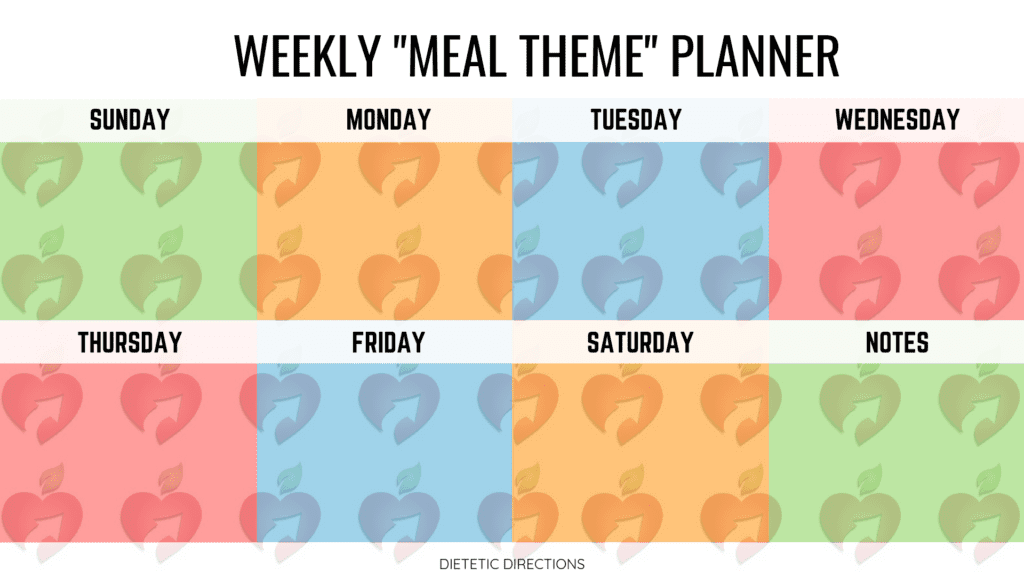 As you come up with meal ideas, be sure to put the ingredients needed on a grocery list at the bottom of your meal plan! This way you can easily go to the grocery store and buy ONLY what you need.
For example, you want to have Taco Tuesday in your meal plan. What ingredients do you need? Go through all items and check to see if you have them on hand or if they need to be added to the grocery list. Do you have soft tortillas or would you prefer taco shells? If not in your kitchen, on the grocery list they go. What about chicken/beans/beef or fish for those tacos? Lettuce, tomatoes, plain yogurt, cheese? Mark items you need and you'll save yourself multiple grocery trips (bonus!). Not to mention, future you will be thankful you took the time to plan in advance.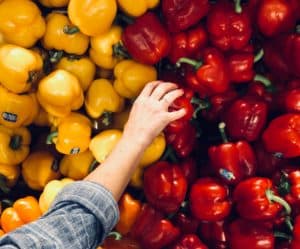 Dietitian TIP: Order grocery list by section of the store (i.e., produce, meat/seafood/cheese/bakery, grocery (fridge or freezer) and grocery (dry goods). This way all the produce items are listed together so you can promptly collect these items and move to the next section. Research shows shopping from a grocery list leads to less impulsive purchases and money saved.
---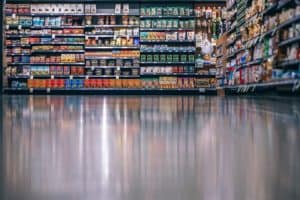 ---
Next Steps?
After you are familiar with these 3 Tips to Expertly Meal Plan, the next step is to practice, practice, and practice some more. Additionally, you may find it fun and inspiring to set a "cooking date" with a friend or loved one to spend time together and try something new. Moreover, you may choose to seek dietitian meal planning support. Working with a dietitian skilled in idea generation and meal planning can also help come up with additional tools and cheat sheets of easy meal ideas.
---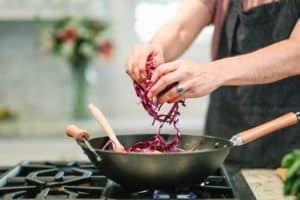 ---
Bottom Line:
The good news? Expert meal planning is a learned skill. Start small and simple with meal planning and build on the skill over time. Having a meal plan (or basic outline) for dinners reduces stress and indecision, increases the likelihood of cooking at home, saves money, and reduces food waste.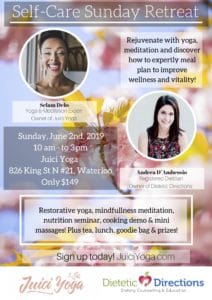 For more information on expert meal planning, I will be leading an interactive workshop complete with templates, idea sheets and more at the upcoming Self-Care Sunday Retreat on June 2nd. Click here to save your spot before they fill up! Click the blue "Sign Up Now!" to register.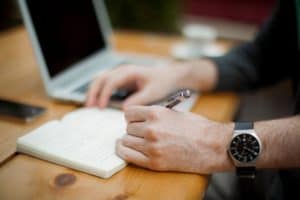 Now it's your turn! Do you meal plan? What do you find most helpful when it comes to setting a plan for the busy week ahead?