Meal Planning Tips & Tricks for Busy Families
Meal planning can be a daunting task considering our hectic work schedules, our children's sports or extracurricular activities and not to mention the parental task of ensuring homework is complete and the kids are to bed at a decent time!  Nevertheless, if you (and your family) are looking to eat less processed foods, eat more fruits and vegetables in addition to less sugary and/or processed foods then meal planning is your key to success.
I believe that meal planning is truly an 'art form' which you get better at only with practice.  Once meal planning becomes a habit, it can significantly lower your stress through improved meal-time organization and the enjoyment of delicious, balanced, healthy meals to energize your mind and body.   Meal planning also positively influences your child's perception of healthy eating and creates habits that they can continue as they grow more independent.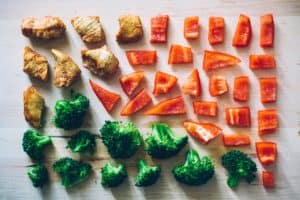 My Top 5 Tips for Meal Planning:
Meal Planning Tips and Tricks
Click To Tweet
1.  KEEP IT SIMPLE!
This is the first tip because your meal plan needs to be realistic considering your time constraints.  If meal planning is manageable and achievable, you are more likely to continue planning your meals until it becomes a new habit.  Therefore, decide in advance how much time you can devote to preparing meals and decide your menu item accordingly.   When you have less time, choose menu items involving less prep like whole grain spaghetti with meatballs that you had frozen from another meal.   To balance your meal, add a side of fresh or frozen veggies along with a tossed salad. Note: A balanced meal contains starch or grain (carbohydrate) along with lean meat, fish or vegetarian alternative for your protein choice and then lots of colourful veggies!
2.  PLAN AHEAD!
This is probably the toughest task but once you get into the routine of planning your meals it will become second nature.  Planning allows you to do 'strategic grocery shopping' so that you can use left-over veggies in different meals later in the week.  For example, if you make hamburgers for Monday and you have left over ground meat you can make meatballs and freeze them for another day.   Planning ahead also allows you to prepare foods you will need in advance, such as pre-cutting veggies for a pizza the night before or moving the frozen chicken breasts into the fridge to defrost the day before you need them.  Planning ahead will make your job much easier when you are ready to begin meal preparation!
3.  GET HELP!
By this, I mean that you need to involve the kids in meal prep!  Involving children in meal planning, grocery shopping and preparing foods is a great way to empower children to develop necessary food skills in order to be a more confident, adventurous eater.  Check out Family Kitchen with great tips to challenge your child in the kitchen as they gain confidence cooking!
4.  Make Family Dinner Traditions!
Families have different schedules and commitments so you will need to have a discussion to see what works best for sit down family meals.  Eating meals together as a family fosters numerous health benefits such as improved nutritional intake, decreased incidence of obesity and disordered eating along with improved grades.  So make family meals a priority!
5.  Let's do Leftovers!
What a great way to have tomorrow's lunch ready in a snap or a convenient meal in a hurry by making a little extra.  Be sure to date your meal in an air-tight container if you are freezing it.  When packing your lunch, be sure to supplement your left-over veggie stir fry or pesto pasta with chicken with fresh fruit and cup of yogurt.
Prepare healthy meals using leftovers!
Click To Tweet
Bottom Line:
Meal planning is beneficial for the whole family because it enables you to make healthy, home cooking a priority!  If you do not feel like a confident cook, there are economical cooking classes at local grocery stores which provide 3 recipes and lots of tasting samples!   Remember that you don't have to be a chef to eat well and to decrease your reliance on processed and packaged foods.