15 Favourite Packed Lunches (ready in 15 minutes)
Now that you've mastered three steps to packed lunches, you're likely looking for some extra lunchbox inspiration!  Here are my 15 favourite lunches, ready in 15 minutes or less.  Click on blue lunch titles for a hyperlinks to the recipe!
Andrea's 15 Favourite Lunches!
Check out Andrea's 15 favourite lunches!
Click To Tweet
This is my favourite option for a filling lunch loaded with fibre and protein. Simply rinsed and drain canned lentils and toss in veggies and a simple olive oil and vinegar dressing.
Time-saving Tip: Use veggies that you have pre-cut on a weekend to speed up the prep time. Portion into lunch containers for later in the week.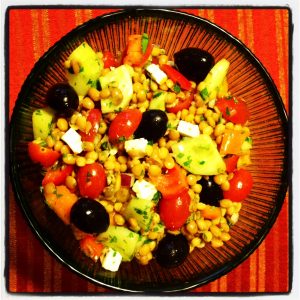 When you are in a rush the easiest thing might be grabbing one or two frozen muffins and pairing it with a protein and possibly a fruit or veggie.
This lunch uses basic ingredients and has versatility to use different whole grains like tortilla, crackers, pita chips or sliced bread. Pair with fruit and veggie sticks.
Peanut butter (or alternative nut butter) roll-up with cinnamon:
This is an easy option if you are low on groceries.  Simply spread peanut butter, soy nut butter or sunflower seed butter on a whole wheat tortilla, sprinkle cinnamon and roll-up.
Time saving tip: Always have wraps in the freezer to make this super simple go-to.
Bento box bonanza!
This Japanese-style lunch box has cool compartments that are fun to fill. They also cue us to include at least three of the four food groups. Try hummus (protein), pita wedges (grain), fresh veggies and grapes. Or try brown rice, leftover roasted chickpeas and cherry tomatoes.
This is another favourite if you are short on time and groceries. Rinse and drain a can of Romano beans and toss a simple two ingredient homemade dressing.
Time saving tip: Make this the night before so flavours can marinade.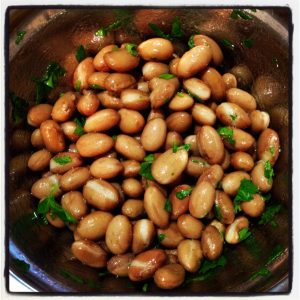 This recipe is ideal if you're looking for something a little outside the ordinary. There is no cooking involved when using rice wrappers, simply soak in warm water to soften.
Time saving tip: Packed or portion fresh fruit as a great addition to this meal.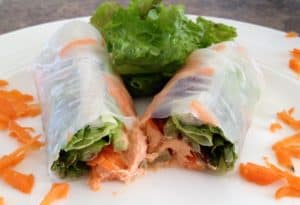 Chili is a perfect batch cooking meal; use leftovers later in the week for a burrito where you can add toppings of choice such as grated cheese, lettuce, salsa, avocado, tomatoes or plain Greek yogurt/sour cream.
Time saving tip: Make chili ahead of time and thaw the day before or set aside for lunch.
In order to make a salad into an entrée, you will need to have sufficient carbohydrate and protein. With this salad you can add Greek yogurt on the side, roasted chickpeas or additional fruit depending on your carbohydrate and protein needs.
Time saving tip: Cut, clean and dry salad in advance. Store in airtight containers or plastic bags in fridge.
By adding chickpeas to this salad you boost up the fibre and the protein. If you do not have extra quinoa or pasta prepared in advance, opt for the Greek Lentil salad for a no-cook alternative.
Time saving tip: Make extra quinoa the evening before or on the weekend to use for speedy assembly.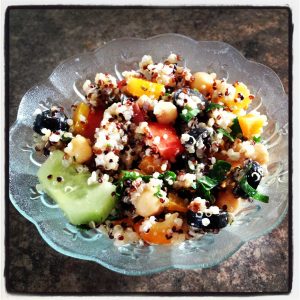 Spices are a way to boost flavour and uniqueness of a recipe. Love the sweet of the apples and craisins mixed with the crunch of walnuts.
Time saving tip: Batch cook hard boiled eggs on the weekend (takes 10 minutes); they keep well in fridge for one week.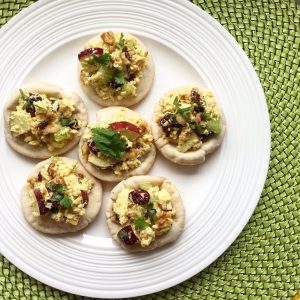 If you are too lazy to cook or prepare anything. Include canned lupini beans for your carbohydrate and protein option.  Pair this with fresh cut veggies and possibly a fruit.
Time saving tip: Stock up on canned beans because they make easy lunches.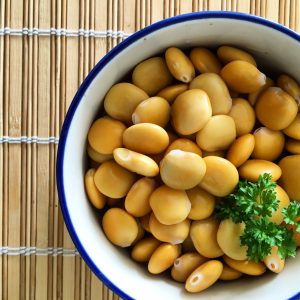 Cereal it is

:
Choose a high fibre and protein containing cereal and create your own bowl of cereal with milk or yogurt parfait with fruit and chia seeds.
Time saving tip: Have storage containers for cereal and fluids like milk.
Who doesn't love pizza? You can eat it hot or cold and add veggies as topping and on the side. My versatile easy peasy pizza recipe allows you to use English muffins, pita bread or even tortillas.
Time saving tip: Pre-cut veggies make this meal assembly even faster.
Making a bean salad is a no-cook way to have a filling lunch option that's available for multiple days or family members during the week.
Time saving tip: Pack the evening before into lunch sized containers for lunches for later in the week.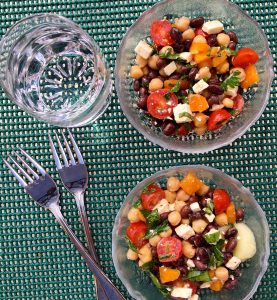 Packing lunches does not need to be boring or time consuming.  I hope you enjoy your lunchbox inspiration and please share your favourites too!
In case you missed it, here are my top 3 tips to master the packed lunch.