Pack a Lunch your Picky Eater will Love!
Happy first day of school! What's in your child's lunchbox? And are you confident that your child will actually eat it?
This year, in order to maximize your child's health, let's discuss how to pack a balanced lunch that even picky eaters will love! Here are seven practical tips to tackle this very common lunchbox challenge:
Andrea's Top 7 Picky Eating Lunchbox Tips:
Make a list of favourites:
Sit down with your child and make a list of favourite foods. However, lunches will not be limited to only foods on this list. During the brain storming session, divide your list into quadrants for each of the four food groups. Make this a positive experience and never coerce your child into eating foods.
Note: Keeping a calm and relaxed eating atmosphere helps children develop confidence and positive associations with food.  Rest assured that children will naturally test their limits and it is the parent's job to set appropriate feeding boundaries.
All hands on deck!
Children involved in the lunch-making process are more likely to eat and enjoy the foods offered! Therefore, involve your child in the process by bringing them grocery shopping to pick fresh produce and assign them age appropriate tasks like grating cheese or placing snacks in lunch bags. Set a designed "lunch making time" the DAY BEFORE, to avoid the morning chaos.
Note: Lunch favourites may include: leftovers, breakfast foods or even a combination of snack foods made into a meal. For example, using a bento box you can pack hummus, pita wedges, veggies, cheese cubes and side of grapes for dessert. Seek inspiration online, from magazines or from friends and family.   Click here for meal planning tips and tricks for busy families and click here for healthy lunch ideas.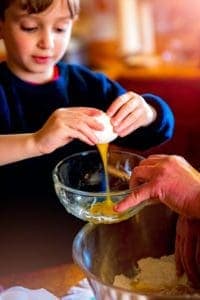 Pair a new food with a familiar one:
In order to increase your child's eating confidence and exposure to new foods, pair a new food with a familiar favourite. This helps to decrease the fear associated with new foods since there is no pressure to eat them.
Warning: New foods may come back uneaten but this is part of the process of exposure to new foods before your child feels brave enough to try them!  Remember that it may take 10-15 times of trying a new food before your child develops a liking for it.
Fun fact: it may take 10-15 times of trying a new food before your child develops a liking for it!
Click To Tweet
Customizable lunch options:
Encourage your child to choose their own toppings for lunches like pita pizzas or wraps. Guide your child to select a carbohydrate, protein, and veggies or fruit for a balanced meal.
Note: Some children enjoy doing meal assembly at school. In this case, have meats, cheese, veggies and grain in separate containers and the child can eat the ingredients separately or assemble.
Same food in two ways:
Allow your child to experiment with food by making the same food in two different ways. For example, try roasted chickpeas for a crunchy snack or use a food processor to create a creamy hummus for veggie dipping or as a sandwich spread.
Note: By experimenting with foods picky eaters find new foods less threatening with versatility of textures and flavours.
Get some colourful lunchbox gear!
Ensure that you have an insulated lunch bag that is large enough to fit several containers and snacks. Many children appreciate colourful re-usable containers that come in small portions. Pack a water bottle instead of juice box!
Tip: Remember that children have small tummies and short nutrition breaks. It is best to not over-whelm them with large portions.
Snack Attack!
Having nutritious snacks packed helps to boost nutrient intake and provide additional energy throughout the day. Talk with your child about how they're feeling at each of the nutrition breaks. Most children will want a morning snack, lunch, afternoon snack and possibly an after school snack.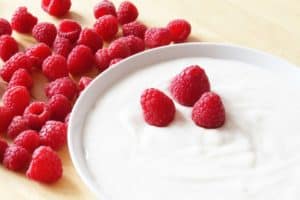 Snack ideas to try: 
Cheese portion and crackers, Greek yogurt andgrapes, Hummus and pita wedges, steamed edamame, roasted chickpeas, sliced Strawberries and yogurt dip or rice cakes and soy nut butter.
Bottom Line:
Start this school year off with fresh foods, familiar favourites and new variety that will transform your picky eater. Support your child to develop positive feelings around eating and trying new foods by setting structure, role modeling, staying positive (not stressed or angry) and avoiding the tendency to cater to your child's demands.
Happy lunch-making!