Healthy School Lunches Made Easy!
The briskness in the air tells us that back-to-school time is fast approaching.  Parents are already finding me in anticipation of making these infamous lunches and expressing understandable concern that they are packing the right foods to meet the nutrition needed for their growing child.  Today, making lunches will get a whole lot simpler with strategies to make this process a breeze.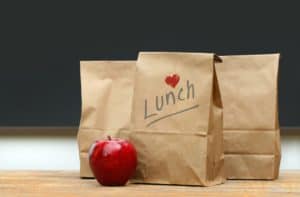 1. Take the Teaching Opportunity! 
I recently watched a YouTube video for making school lunches where the speaker made the bold comparison that parents teach their children to be independent with using the toilet or getting dressed in the morning but do not provide the same "skill-teaching" when it comes to preparing school lunches.  Essentially, when parents make a lunch for the child regularly (without involvement) the child fails to learn the HOW and WHY for making a healthy meal.  Building food skills or confidence in the kitchen is a sustainable and lifelong skill that is crucial for healthy eating in the long-term. Parents should start young, or start wherever they are today, and get their child/teenager involved in the lunch-making process!  Try asking what types of foods he/she enjoys eating (make a list of lunch favourites) or give them two options to choose from.   Be sure to highlight the reasons why you need a variety of foods in their diet (more below).
2.  Make it Balanced:
When it comes to healthy eating we are looking for nutritional balance to get all the components for healthy functioning.  Pack lunches with foods from at least three of the four food groups:
Grains and starches: Whole grain breads, crackers, pitas, English muffins, wraps etc.
Fruits and vegetable:  Veggies with dip, vegetables in a stir-fry, soup or pasta dish, fruit slices, fruit kabob etc.
Milk and Milk alternatives:  Yogurt, cheese portion, soy/almond/cow milk.
Meat and Meat alternatives:  Lean meat (turkey, chicken breast, pork tenderloin), fish, egg, peanut butter, hummus, tofu, nuts/seeds etc.
3. Prepare Yourself in Advance:
Packing lunches the evening before is  essential.  It is also a good idea to plan lunches on the weekend to ensure that you have the groceries needed.  Taking time in the evening allows you to think about foods to include and ensure they are nutritionally sound.  When families are in a busy morning whirlwind they are less likely to pack mindfully and more likely to toss in whatever they find.  So make it a habit to pack your lunches after dinner or before bedtime so you can grab your prepared lunch on the way out the door.
Packing lunches the evening before is essential. It is also a good idea to plan lunches on the weekend to ensure that you have the groceries needed.
Click To Tweet
 4. Stock up on Grab-and-Go Items:
Having convenient, ready-prepared food items at your fingertips makes lunch-making a speedy process.  Bring your child to the grocery store and have them pick out fresh fruits and vegetables they would like to try.  I recommend clients having a large bag of baby carrots in the fridge and cutting and cleaning other veggies like celery or cucumber so that you can simply toss the already cut veggies into a container for lunch.  Another strategy to encourage fruit and vegetable consumption is to combine them in one container.  For example red grapes and green pepper slices in a container or cherries and cucumber, the combination of variety actually encourages consumption.  Other grab-and-go items include: ¼ cup serving containers for unsalted nuts or seeds, yogurt cups, cheese portions, whole grain crackers, trail-mix or water-packed fruit cups.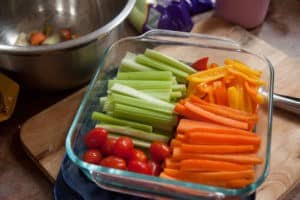 5. Go Homemade:
Though many prefer the convenience of store-bought foods, homemade cooking allows you to be in control of the ingredients, which allows for less salt, sugar and calories.  Here are some lunch ideas that can be prepared on a Sunday and enjoyed during the week for lunches.  Leftovers are a terrific option for lunches.
Zucchini Chocolate Chip Muffins
Bottom Line:
Empower children to take an active role in lunch preparation.  It is healthier to bring a lunch since meals prepared from home are higher in vitamins, minerals and fibre and lower in fat and calories.  Emphasize nutritional balance with at least three of the four food groups, take advantage of grab-and-go convenience and try homemade items as well.  Happy Back to School season!
Empower children to take an active role in lunch preparation.
Click To Tweet