Mini Egg Muffins
Make-ahead breakfasts are where it's at! Do you agree? These mini egg muffins hit the mark for a breakfast that can be prepared on a weekend and kept in fridge for 4 days or frozen for up to three months. They're also an excellent way to boost protein intake, which many don't get enough of at breakfast. This meal is versatile to turn into a fridge-cleaner for your leftover veggies and cheese. I love a spinach, tomato and cheddar combination or caramelized onion, mushroom, goat cheese and bacon. All you need to do is sauté your veg, add to muffin tins, top veggies with cheese and pour over beaten eggs. Season with Kosher salt and fresh ground pepper.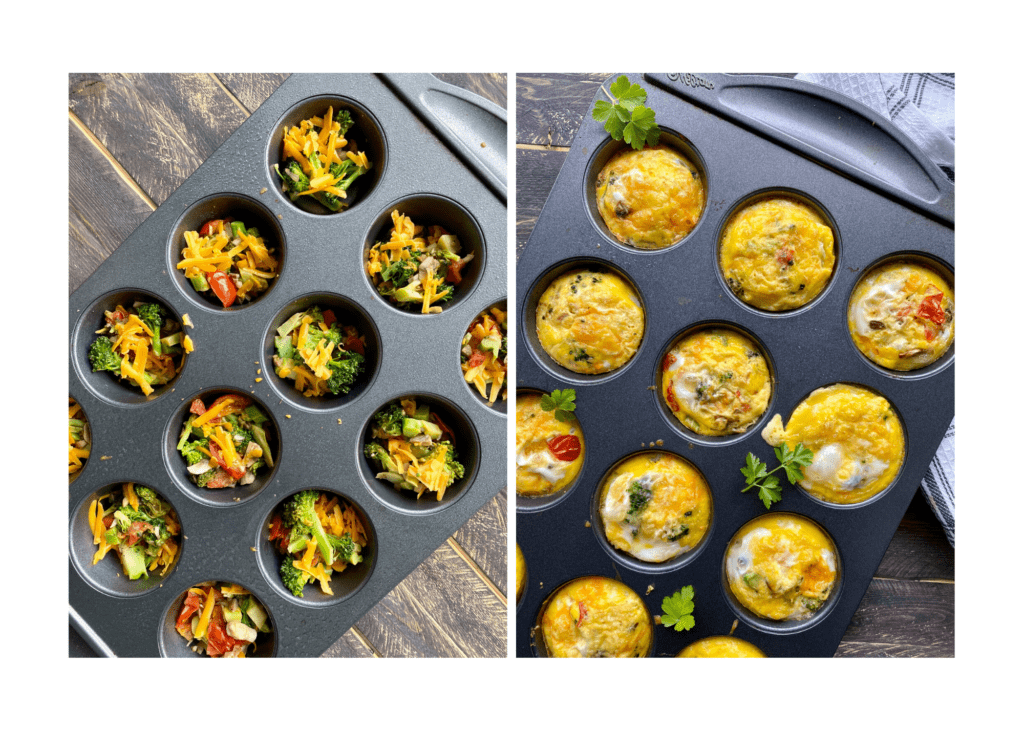 Cooking Tip: When the oven is hot add more food! I made my Roasted Rosemary Mini Potatoes from the recipe blog and popped them in the oven at the same time. Talk about maximizing time and nutritionally balancing the meal.
---
Prep Time: 10- 15 minutes
Cook Time: 18 – 25 minutes
Serves: 12 egg cups
---
Ingredients:
10 eggs, beaten
¼ cup milk
1 tsp oil
2-3 cups of cooked veggies of choice
½ to 1 cup cheese, grated
Kosher salt, fresh ground pepper
I a non-stick cooking spray on muffin tins to prevent sticking
Directions for Mini Egg Muffins
Pre-heat oven to 350F. Spray muffin tin tray with a non-stick spray. 
Beat eggs in a large bowl using a whisk or fork . Season with salt and pepper. Add ¼ cup of milk and stir to combine. 
Heat a teaspoon of oil on a large fry pan to medium-high heat. Add your veggies of choice. You may cook onions first until translucent and then add your chopped mushrooms, tomatoes and spinach. * Remember: This is an extremely versatile to use your leftover veggies. 
Spoon about a tablespoon or two of veggie mixture into each of the muffin tin areas. Top with a sprinkling of your favourite cheese. 
Be careful to not over-fill as the mini egg muffins expand/rise in the oven. Pour egg mixture over the veggies and cheese leaving room for expansion. 
Bake in the oven for 18 to 25 minutes until eggs are solid and set. 
Remove from oven and allow to sit for about 10 minutes before removing from the tray and placing on a cooling rack. 
Serve with your favourite potato wedges and side salad!

Now it's your turn! What are your favourite make-ahead meals? Have you tried mini egg muffins? Any favourite flavour combinations?