Orange, Parsley & Sunflower Salad
We're in the middle of fall and coming up to Thanksgiving weekend, which means time to feast! However, this doesn't inevitably mean feeling over-stuffed and gluttonous. In fact, we can balance things out by including more well-prepared (not boring) veggies to promote fullness. This Orange Parsley & Sunflower Salad does just that! It packs freshness, flavour and a fibre boost. 
If you're planning your Thanksgiving menu, be sure to read my Top 3 Thanksgiving Dishes for inspiration. I share tips on menu planning and how I believe every feast needs two awesome salads. Furthermore, make your salad something that people are enthused about. To make this Orange, Parsley & Sunflower Salad extra alluring, we have punches of flavour (fresh herbs) and ingredients that add sweet (oranges, raisins), along with some savoury and crunch (sunflower seeds).  
---
Serves: 4
Prep Time: 10 minutes
---
Ingredients
4 cups of mixed spinach & arugula
1 orange, segmented (preferably seedless)
½ cup Italian Parsley, chopped
3 Tbsp unsalted sunflower seeds
3 Tbsp raisins (or cranraisins, especially for Thanksgiving)
2 Tbsp olive oil
1 Tbsp balsamic vinegar
Pinch of Kosher salt if needed
Optional: Drizzle balsamic glaze on top of the orange and greens for elegant finish.
Directions for Orange, Parsley & Sunflower Salad:
In a large salad bowl mix spinach and arugula.
Add in orange segments, parsley, raisins and sunflower seeds.
Drizzle oil and balsamic vinegar over salad and toppings.
Toss salad to combine ingredients. You want the greens to be coated lightly.
Drizzle balsamic glaze on top.
Finally, I encourage you to think of Thanksgiving (or any eating occasion) as a time to celebrate food as nourishment for your body, mind and soul. Let's all take notice of the flavours, textures and aromas of the foods you enjoy this fall festive season. Above all, taking enjoyment and pleasure in foods helps bring mindfulness and gratitude to the food and entire eating experience.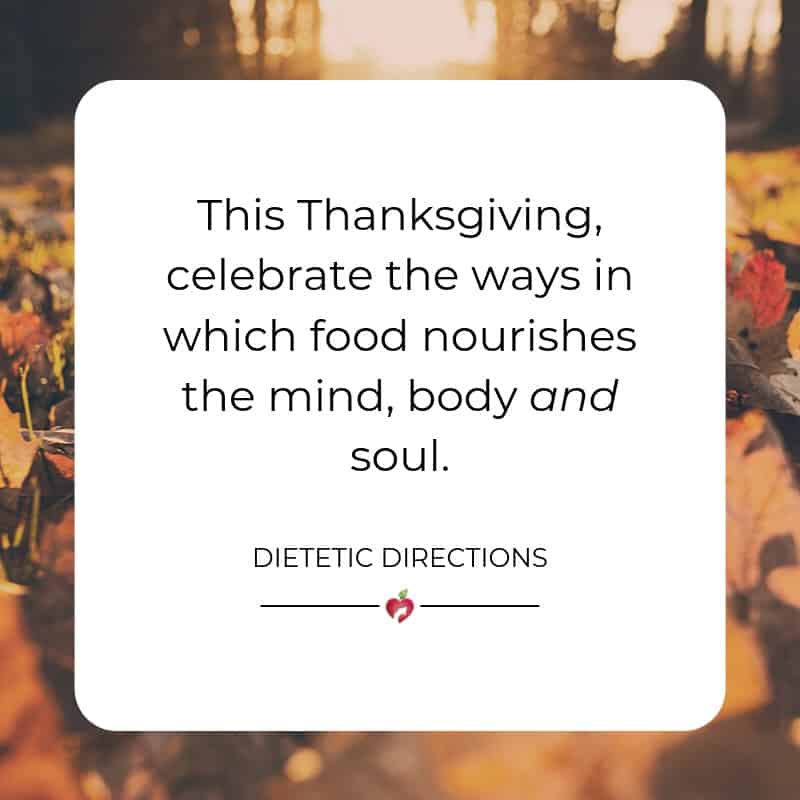 Wishing you an enjoyable and delicious Thanksgiving!