Top 3 Thanksgiving Entertaining Dishes
~Appetizer, Side-Dish & Salad~
Are you a Thanksgiving Entertaining maven? Or perhaps you're a designated "appetizer/side-dish/salad-bringing guest." Nevertheless, people often find themselves uncertain what to make for Thanksgiving entertaining. After all, we are frequently short on time and it's an enormous feast. We can count on the standards: turkey, mashed potatoes, stuffing and pumpkin pie! I'm not complaining about any of these options. However, to add meal inspiration and change things up, let's give thanks to extra VARIETY.
Today, I'll share my Top 3 Thanksgiving Entertaining Dishes to add to the mix. You can make these items as either a host or guest. Conveniently, they fall within the appetizer, side-dish and salad category that can be made ahead. I will also discuss how to plan a menu and top three host survival tips.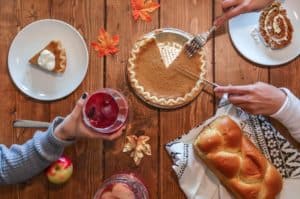 ---
Thanksgiving Entertaining Menu
If you're the host, planning your Thanksgiving entertaining menu can be overwhelming. To start, think of crowd-pleasing dishes, and write these down to include in your dinner. Mom's broccoli casserole comes to mind along with turkey, gravy, mashed potatoes and stuffing. Next, to plan your menu consider nutritional balance and dietary restrictions. For example, do you need vegetarian, vegan, gluten free or Low FODMAP alternatives? To think of nutritional balance, plan protein dishes, carbohydrate sources and lots of veggies. This balance is emphasized in Canada's New Food Guide (click here to see my review of pro's and con's). When you have your menu outlining favourites, nutritional balance and options for those on restricted diets, you can delegate dishes guests can bring. For example, delegate an appetizer, side-dish or salad.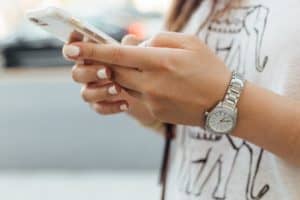 My Family's Thanksgiving Entertaining Menu Outline:
Appetizers – 2-3 hand-held hors d'oeuvres and/or large veggie tray with dip.
Main Course – 2 proteins, 2-3 starch sides, 2-3 veggies and 1-2 salads.
Dessert – 1-2 options such as a fruit tray (as well as tea and coffee).
---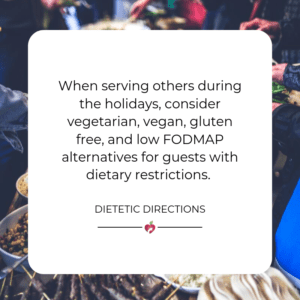 3 Entertaining Survival Tips:
Delegate – You are not the only one responsible for putting a meal together. Don't be afraid to ask for help! Appoint friends or family members to bring an appetizer, side-dish, or salad (see my top 3 Thanksgiving Entertaining Dishes below).
Plan Ahead – Create the menu ahead, see what is being delegated, and translate items you will be making into a grocery list. Be sure to shop a day or two in advance to give yourself lots of wiggle room. Remember that fresh turkeys often need to be pre-ordered, and frozen ones require defrosting in the fridge several days in advance, depending on their weight.
Stagger Prep – To alleviate day-of stress, see what tasks can be completed ahead of time. Perhaps you can cut veggies for the platter or marinate protein a day before. Or cut veggies or peel/chop potatoes (but store them well-rinsed in a bag to avoid browning). Breaking tasks into manageable pieces decreases last minute stress. Just remember, your future self will thank you!
Without further delay, here are my Top 3 Thanksgiving Entertaining Dishes that fall within the appetizer, side-dish and salad category. They are all true crowd-pleasers that the host can make or suggest to a guest looking for ideas.
---
Top 3 Thanksgiving Entertaining Dishes
Appetizer: Smoked Gouda & Apple Crostini
Hand-held appetizers are a fun way to enjoy conversation while having a little nibble of something yummy! Crostinis are a versatile Italian appetizer with small slices of toasted baguette (can also serve gluten free if you have guests with celiac disease or following a Low FODMAP diet) with delicious toppings. They also look (and sound) fancy to add elegance with minimal ingredients and effort. Keep in mind, crostinis are versatile to make vegetarian, with fish or meat-options. Check out this link for creative crostini options!
One of my favourites is the Smoked Gouda & Apple Crostini. Combining fresh apples in season with the smoked gouda cheese makes for a sweet and savoury appetizer. Plus, adding a little thyme and honey really brings out the flavour and contrasts the sweet and salty deliciousness.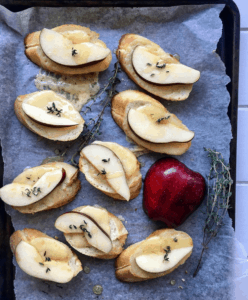 Make-Ahead:
Cut the baguette in advance into rounds (can place these in a sealed bag).
Slice your favourite cheese (I love Mountainoak's Smoked Gouda Cheese) and put it into a container. I visited their dairy farm and saw how they make their Artisan cheese from their own dairy cows – super cool!
Choose a sweet apple like red delicious or honey crisp and slice thinly at the party. If you want to slice it ahead, squeeze a little lemon juice on top to avoid browning.
Sprinkle fresh thyme on top of apple and drizzle honey if you wish.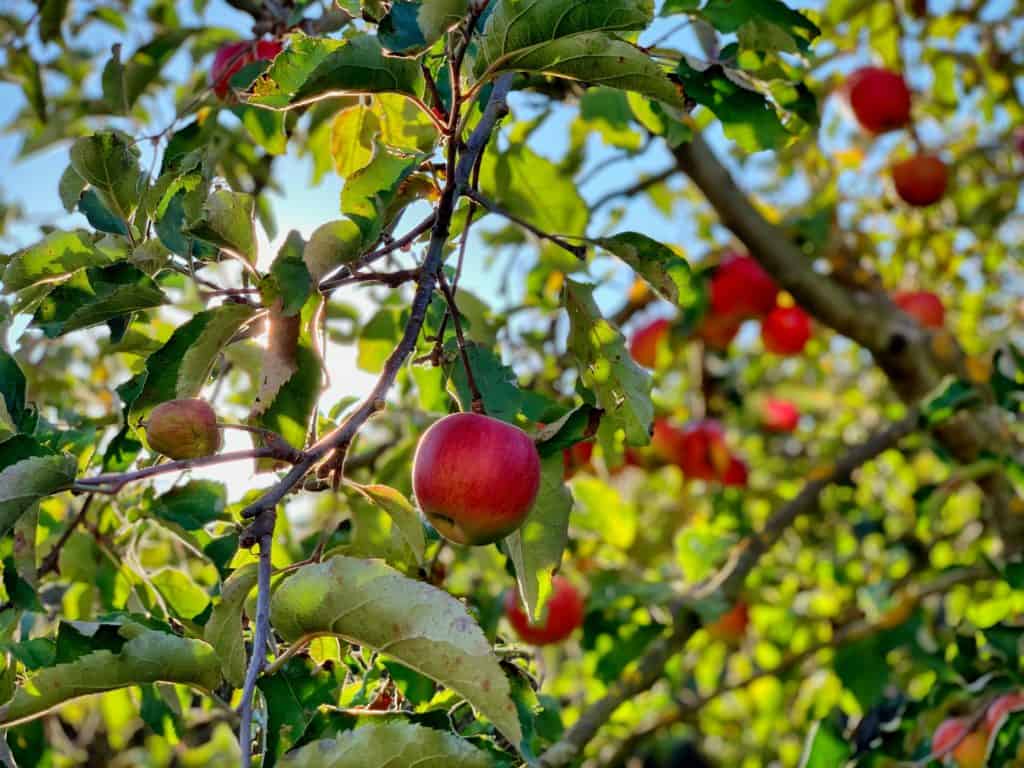 Day of Prep:
Heat the oven to 375F.
Spread baguette pieces on a parchment paper-lined baking sheet.
Top baguette pieces with cheese slice.
Place baguette and cheese into oven to melt cheese. This takes about 8 to 10 minutes.
Remove cheesy baguette rounds from the oven and top with apple slice, piece of thyme and honey drizzle for extra sweetness.
Serve on a fancy plate with napkins.
---
2. Roasted Butternut Squash & Pumpkin Soup
After your Thanksgiving guests have enjoyed conversation and tasty appetizers, we can move onto the sit-down portion of the meal. I find a seasonal soup is a nice way to start a feast. It serves as a natural first course and adds elegance to the meal. My Roasted Butternut Squash & Pumpkin Soup also adds a nutritional punch with beta-carotene, which gives the flesh its bright orange/yellow colour. This antioxidant helps eyesight, regulates the immune system and keeps our skin healthy. Squash also contains lots of potassium which helps lower blood pressure and reduces the risk of heart disease and stroke.
What's more, this Roasted Butternut Squash & Pumpkin Soup is a complete make-ahead! It simply needs to be warmed up and garnished before serving. How easy does that sound?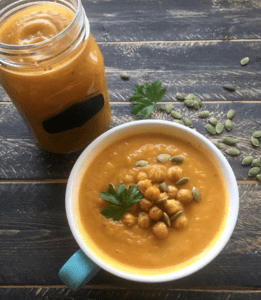 Make-Ahead:
The soup can be made ahead, (see recipe), cooled and put into a transportable container or mason jars for storage or freezing.
I find it helpful to thaw frozen soup a day before serving.
Cooking Tip: When making soups, taste the soup broth and adjust seasoning accordingly. I use no salt added broth and add my own salt to the vegetables when cooking. Can also add more lime/lemon at the end for a little extra zing.
Day of Prep: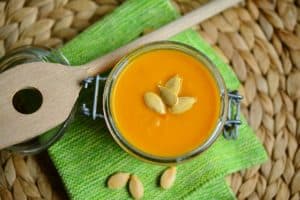 ---
3. Orange, Parsley & Raisin Salad with Sunflower Seeds
Lastly, every feast needs one or two awesome salads. It can be done! Let's make the salad the star of the meal or at least one that people are enthused about. After all, nobody likes boring or soggy salads. Instead, let's add interest to those greens with punches of flavour and exciting ingredients that add sweet, savoury and/or crunch. People also generally want healthy and delicious options, so give the people what they want!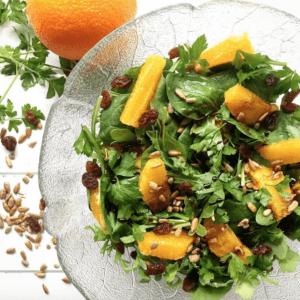 Did you know? According to the Tracking Nutrition Trends survey, taste is the most important factor Canadians (38%) consider when making food choices. The second most important factor in food choice is nutrition (31%).
These Tracking Nutrition Trend Survey results are promising because we know Canadians are increasingly health-conscious, and the vast majority (92%) reported making at least one improvement to their eating habits in the past year (Tracking Nutrition Trends Report).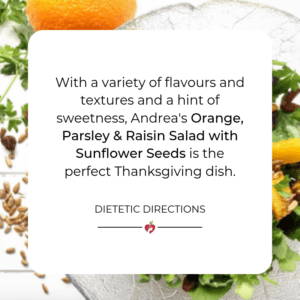 When making this salad, I wanted something sweet (oranges, raisins), something crunchy (chia seeds & sunflower seeds), a pop of flavour (parsley) and variety of textures (mixed greens – spinach and arugula). However, this formula lends itself to lots of variety – see more Dietetic Directions salads here!
Make-Ahead:
Use pre-washed greens (like spinach and/or arugula). Can mix these together or use one type of green. Alternatively, can pre-wash head lettuce, green leaf lettuce or romaine. Kale is also a nice hearty green that can be mixed in. Choose what you like best!
Segment oranges or cut into small slices without the peel. Put these into a small container to add to salad later.
Have container with raisins and unsalted sunflower seeds. Can also sprinkle chia seeds on top of salad for fibre boost.
Fresh herbs like Italian parsley bring new flavour dimension to your salad. Could use basil, mind or chives in salad as well.
Make dressing: For this recipe, I use the simple 2:1 ratio for oil to balsamic vinegar. Can make this dressing ahead of time and put in a mason jar.
Day of Prep:
Add salad greens to a large bowl.
Top with oranges, raisins and sunflower seeds (grapes would be tasty too) and chia seeds.
Sprinkle fresh herbs of choice.
Toss to coat with oil and balsamic vinegar dressing. Can serve dressing on the side or you can gently toss salad greens in the vinaigrette.
Option: balsamic glaze is thicker and adds a nice finishing drizzle on salad.
Cooking Tip: Aim to have salad greens to be lightly coated or glossy, but never wet or dredged in dressing.
---
Bottom Line:
There you have it folks! Three Thanksgiving Entertaining Dishes that are delicious, nutritious and unique to make-ahead. These are options you can make yourself or delegate/suggest to a friend or family member looking for inspiration. Finally, I encourage you to think of Thanksgiving (or any eating occasion) as a time to celebrate food as nourishment for your body, mind and soul. Let's all take notice of the flavours, textures and aromas of the foods you enjoy this fall festive season. Above all, taking enjoyment and pleasure in foods helps bring mindfulness and gratitude to the food and entire eating experience.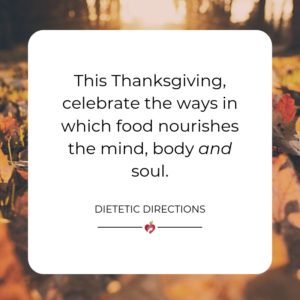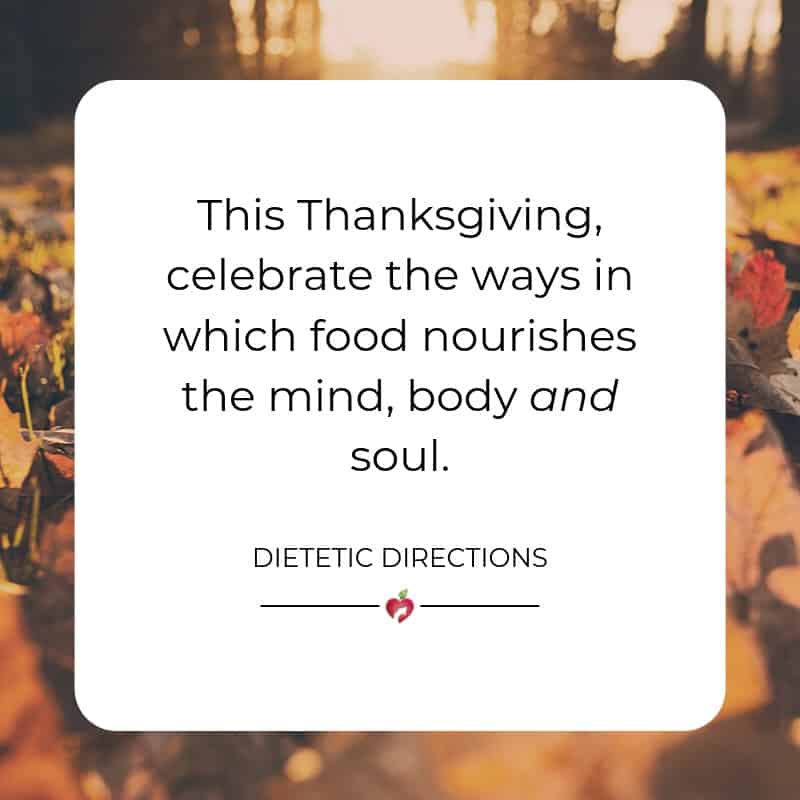 Now it's your turn. What are your favourite Thanksgiving meals? Do you have potluck-style dinners where everyone contributes? What's your favourite part of the Thanksgiving feast?
Want More Thanksgiving Reads?
3 Thanksgiving Superfoods you Must Try!
10 Practical Ways to Reduce Thanksgiving Food Waste
Curbing your Mindless Eating: Thanksgiving Edition
10 Unique Ways to Use Turkey Leftovers
Are Canned Vegetables Healthy?
P.S. If you're looking for an easy way to give back to the community, here's a link to donate to your local food bank.