10 'Plant-Based' Back-to-School Lunches
September is almost here, which means two things: 1) kids are going back to school and 2) fall is in the air. For many, fall is a time to "start fresh" and get into new "healthy" routines. This may include packing a lunch, going to the gym/yoga or perhaps including more veggies or plant-based proteins in your diet. Today, in honour of "back-to-school" or simply "pack-for-work lunches", I will be highlighting my favourite 'dietitian-approved' plant-based lunches.
In my private practice, more clients are asking about plant-based options. This comes at a time when Health Canada is wrapping up consultation #2 on Canada's Food Guide. One of the main media stories surfacing is a push towards more "plant-based" or vegetarian/vegan eating patterns. Health Canada has not confirmed this but consumers are nevertheless interested in including more plant-based options for a variety of reasons.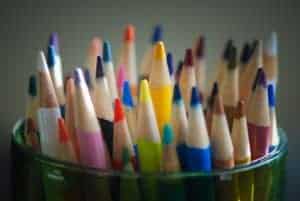 Check out top 5 dietitian reasons for eating more plant-based!
Click To Tweet
Why Include more Plant-Based Options?
More environmentally sustainable; plant-based proteins require fewer resources and have a lower carbon footprint.
Cost Saving: Plant-based proteins are much cheaper than meat.
Expand diet to include different types of protein-rich foods while enjoying meat less frequently.
Health benefits: Plant-based diets can be higher in vegetables, fruit and fibre, potassium and magnesium. Some evidence suggests vegetarian diets can lower the risk of cardiovascular disease, diabetes and some/certain cancers.
Personal reasons include cultural, religious or ethical reasons.
Find out Andrea's top 10 Plant-Based Lunches!
Click To Tweet
Top 10 Plant-Based 'Dietitian-Approved' Lunches
Mediterranean Bento Box
Bento boxes are Japanese-style lunch containers with small compartments for putting different foods. These are great for kids and adults alike because you can add proteins, grains, veggies and fruit to your lunch. Many of my clients like the simple Mediterranean Bento box which may include: hummus sprinkled with pumpkin seeds, black olives, whole grain crackers or pita wedges, sliced peppers and cucumber and possibly fruit. I love to add lupini beans to my bento for added plant-based protein and fibre.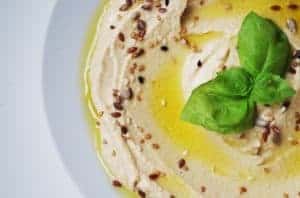 Vegetarian Fajita Wrap/Burrito
Here's a speedy lunch idea that uses whole wheat tortillas stuffed with sliced avocado, black beans, tomatoes, lettuce, and plain yogurt or hummus. If you prefer, you can separate ingredients and combine them at work or school to build your own wrap. I find many teenagers enjoy making wraps for lunch and meal prepping their ingredients ahead of time. Some also enjoy heating the beans to have a warm lunch. I love cumin or chili powder added to beans for extra spice along with lime wedges.  Grated cheese is optional.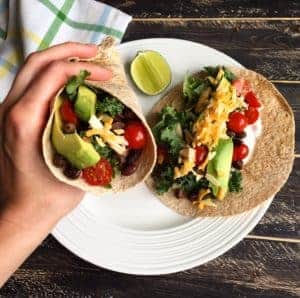 Italian-Style Romano Beans
Need a lunch ready in under 10 minutes? This D'Ambrosio family favourite is a very popular 3-ingredient lunch among my busy clients. Click here for the recipe.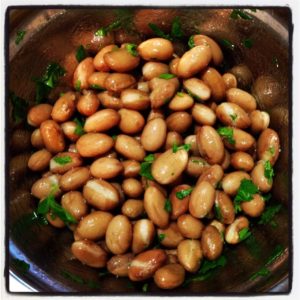 Leftover Pizzas
Who doesn't love pizza for lunch? Make recipes like Mini chickpea flour pizzas, speedy naan pizzas or pita pizzas ahead of time so there are leftovers that can be served hot or cold. Toppings may include variety of veggies, fresh or dried herbs and cheese or vegan cheese.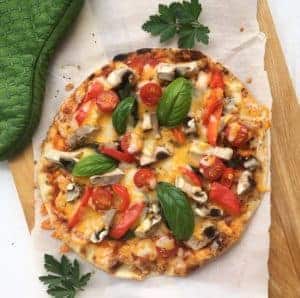 This recipe is a favourite, quick, no-cook lunch option! One cup of lentils has 18 grams of protein and an impressive 16 grams of fibre. This lunch is so filling, heart-healthy and popular among adults and children!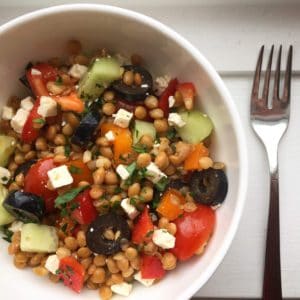 Curry Egg Salad or Chickpea Salad
Mash up chickpeas in place of (or in addition to eggs) to boost protein and fibre. Here is my Curry egg salad recipe with apples and walnuts.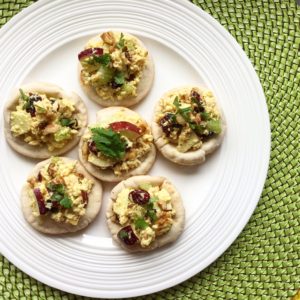 Quinoa Salad
Cook up a batch of quinoa on the weekend, open a can or black beans, toss in some veggies and you have a nutritionally balanced lunch. Here's my black bean quinoa recipe.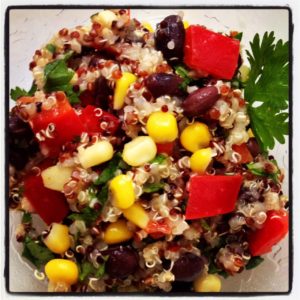 Buddha Bowl
These are all the rage for lunches right now and involve easy assembly of ingredients. First, choose a whole grain (ie. Bulgur, brown rice, couscous, barley, etc) 2. Choose a protein (lentils, chickpeas or beans, tofu, etc) 3. Choose two different veggies.  You can have different themes like a "Mexican bowl" with refried beans, corn, avocado and tomatoes with lime wedges and salsa. Or perhaps a Middle Eastern bowl with bulgur, chickpeas, eggplant, parsley and a lemony vinaigrette or tahini dressing. Here's a recipe for my Buddha bowl with Tahini Miso sauce or my Roasted Butternut Squash & Chickpea Bowl with Goat Cheese.
Roasted Chickpeas
Whenever the oven is hot, take advantage by tossing in a tray of chickpeas for roasting. You can do your favourite flavourings for sweet or savory. Try my Roasted Rosemary Chickpeas here. Feel free to add sliced veggies and/or fruit to your lunch.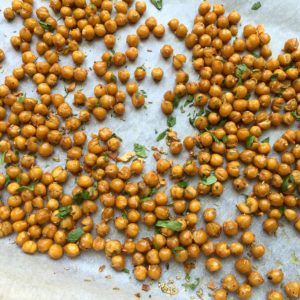 Peanut/Almond Butter Quesadilla:
This is a simple option for those work or school environments that allow almond or peanut butter. Choose a whole grain tortilla, spread a layer of peanut or almond butter on one side and sprinkle with cinnamon. You may want to add extra protein like yogurt, hard-boiled egg (checkout my hard boiled eggs to perfection recipe) or edamame beans.
Making lunches a headache? Find plant-based lunch inspiration!
Click To Tweet
Can I still Eat Meat in 'Plant-Based' Lunches?
This article is not to persuade you to become vegetarian or vegan. It is simply to offer ways to include more plant-based proteins in your lunches. The evidence suggests that meat, chicken, fish and other animal products can be part of a healthy diet. If you are curious, you can talk about your needs and preferences with a registered dietitian.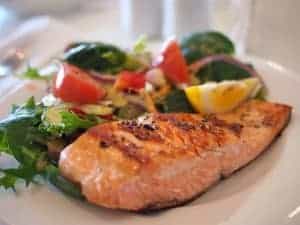 Bottom Line:
When gearing up for back-to-school or packing work lunches, including more plant-based proteins is a healthy choice. Feel free to mix it up and include a variety of foods to contribute to your vitamin, mineral needs. If you are planning on adopting a more "plant-based" diet, be sure to speak with a dietitian to cover your nutritional bases to ensure you are getting enough protein, iron, zinc, calcium, vitamin D, B12 and omega 3's in your diet.
Remember that your best diet will be one that you can enjoy long-term; one that's individualized to your needs, taste preferences and lifestyle. Whatever you decide, including additional plant-based foods is a nutritious, cost-effective, environmentally sustainable and delicious way to go!
PS. In case you missed it, here is another popular lunch idea post: 15 favourite lunches (ready in 15 minutes or less)