Chickpea, Feta & Pesto Pasta Salad
Got lunchbox blues? It can be tough to come up with lunch ideas; especially ones that don't take an exorbitant amount of time. Not like this chickpea, feta and pesto pasta salad. It's quick and easy.
With busy schedules, many of our clients wonder what they can prep ahead so they can grab and go in the rushed morning. In my newest blog, Reinvent Dinners into Unique Lunches, I share how to save time by swapping components of your dinner to create different lunches. One of the recipes featured was this Chickpea, Feta Pesto Pasta Salad.
I've always loved a cold pasta salad. It's fresh, simple and satisfying. If you find yourself fearing carbohydrates be sure to read: In Defence of Carbs: Stop the Hating. I explain why they are an important part of a healthy diet. While we come into fall, you also might be wanting to use up your garden herbs and can make your own pesto using the Sunflower Seed Pesto recipe or store-bought pesto.
---
Prep time: 10-12 minutes
Cook time: 10-12 minutes (depends on type of pasta)
Serves: 4-6
---
Ingredients:
1 package of whole grain or gluten free pasta
1 cup of cherry tomatoes, halved
½ cup of feta cheese, cubed
¼ cup of sunflower seeds, unsalted
¼ cup pesto (Sunflower seed pesto or store-bought)
Lemon to squeeze on top
Garnish: ¼ cup fresh basil, chopped
Directions for Chickpea, Feta & Pesto Pasta Salad:
Cook pasta according to package directions usually for 8-12 minutes.
Transfer drained and cooked pasta into a large container with a seal. Allow pasta to cool before adding veggies.
When pasta is cooled, add tomatoes, feta cheese, sunflower seeds and pesto (recipe here if you want to make homemade pesto) or use store-bought. 
Stir to combine all ingredients.
Garnish with fresh basil and lemon.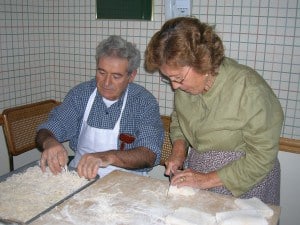 Need more Lunch ideas?
3 Ways to Master Make-Ahead Lunches
15 Favourite Lunches Ready in 15 Minutes
10 'Plant-Based' Back-to-School Lunches
3 Steps to Master Packed Lunches