Reinvent Dinner into Unique Lunches!
It's back-to-school or back-to-work from the cottage time! 'Tis also the dreaded lunch-box dilemma time. Are you wondering what to make? Not to worry. We got you. Let's ward off tuna sandwich boredom or resorting to expensive takeout by instead learning how to reinvent dinner into unique lunches.
After all, the fall season reinvigorates people to start fresh with dietary and lifestyle changes. Therefore, let's take a spin on dinners by transforming them into scrumptious lunches! These time-saving strategies will have you cooking once but eating twice or three times.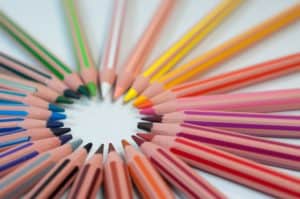 If you're worried about being bored with leftovers, you shouldn't, because these dinners have been modified to become unique lunches that both parents and children will enjoy.
Please Note: If you're new to cooking during the work week, start with one meal on Sunday with planned leftovers for the next day. This starts the week off strong. With time, you can add another cooking day to the week and get into the habit of freezing leftovers too. Click here for more tips on how to start meal prepping.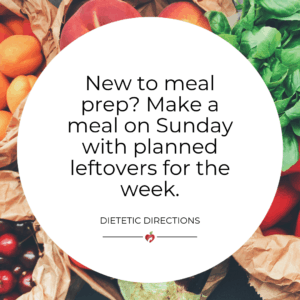 3 Benefits of Packed Lunches:
Eat Better – Eating out is generally higher in calories, salt and fat as well as lower in vegetables and fibre.
Save Money – Cooking at home simply costs less than eating out. Click here for tips on how to save money when buying groceries.
Feel Better – Enjoying foods that nourish the body leaves you feeling awesome.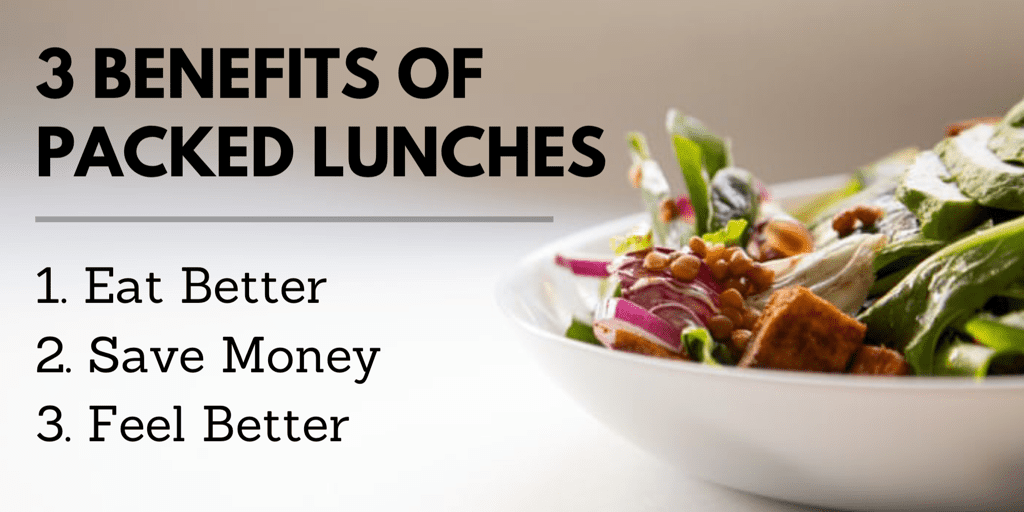 ---
Top 5 Dinners Reinvented into Lunches
1. Fajitas/Tacos Reinvented into Buddha Bowls
Who doesn't LOVE fajita or taco night? Right? The flavours are delicious, the ingredients are simple and the crowd is always pleased. The best part, this delectable meal allows for spare ingredients that can be reinvented into a lunch Buddha bowl.
Reinvented Fajita Buddha Bowl
To transform your Mexican dinner into a Fajita Buddha Bowl Lunch, be sure to make extra protein (about double the portion), extra veggies and rice! Then, we can place leftover components in a lunch container to be enjoyed. Just think, your future self will thank you.
To make my Buddha Bowl, I like to separate the ingredients and stir to combine when eating. Use your preference. You can also switch up the protein: chicken, beef, fish, black beans, lentils or tofu – they're all good.
Here's my fajita spice to mix with protein: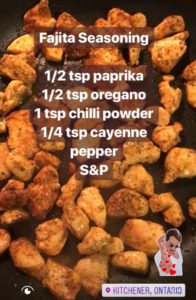 Foodie Note: A Buddha Bowl is a collection of components (like a grain, a green and a bean/protein) to make a colourful meal. Add toppings like lime wedges, plain yogurt, cheese, salsa/pico de gallo for flavour-boost.
Fajita Meal Prep Tips: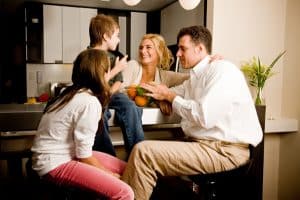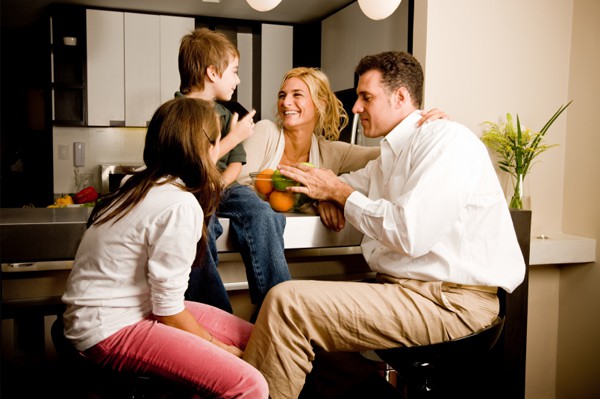 Make more than you think you need. If you are planning on cooking dinner for four, cook enough for eight. Trust me, you will have no shortage of ways to use extra veggies and protein for other meals later in the week.
Portion lunches at the same time as serving dinner. This ensures you have leftovers instead of going overzealous on seconds or thirds. This portioning-ahead technique becomes easier with practice.
Veggie-prep: Cut peppers, onions, tomatoes on the weekend so that you can simply cook them when home from work. You can also cut veggies and store in freezer bags to use later.
Carb Prep: Cook a pot of brown rice or bulgur on the stove or in rice cooker to add carbohydrate (why to stop the carb hating) to your Buddha Bowl.
Time Saving: Use rotisserie chicken pulled off the bones and add fajita spices (see my suggestion above) if you don't have time to BBQ or bake chicken. Can also use canned black beans and simply rinse, drain and add seasoning.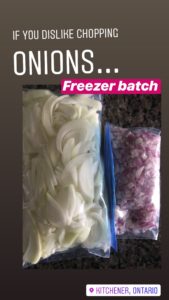 P.S. Leftover veggies and taco protein can also be tossed on salad for Mexican Fajita entrée salad (see How to Build Summer Salads blog for more ideas).
2. Pulled Pork with a Twist
Cooler temperatures and busy schedules call for slow cooker meals. Try pulled pork as a slow cooker meal that can cook while you're at work or the kids are at school. Later, you have the smell of savoury BBQ pulled pork wafting and a ready-to-eat meal. Added bonus, you can make extra leftovers for a scrumptious lunch.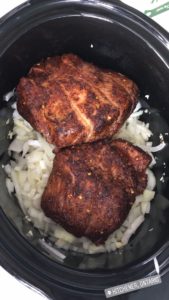 Reinvent into BBQ Pulled Pork Flatbread:
I love a classic pulled pork sandwich with slaw on a whole grain bun and served with side of raw veggies. This could be served at dinner and for lunch the next day (if you don't want to reinvent it). In this case, simply pack the portion of pulled pork in a glass container to reheat. Separate your bread so it doesn't go mushy. However, for this reinventing dinner blog, to put a new spin on unique lunches, we will create a BBQ Pulled Pork Flatbread.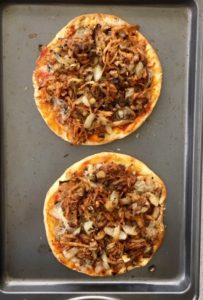 Pulled Pork Meal Prep Tip:
Have raw veggies stocked in the fridge for adding to meals. Click here to read how to stock your kitchen like a dietitian.
Stock whole grains (like naan bread and whole grain buns) in the freezer to be used for meals. A well-stocked kitchen lends itself to speedy meals without frequent stops to grocery store.
Store pizza sauce in the fridge in reusable container to last longer.
Plan a slow cooker night of the week when you have time in the morning to put ingredients in for the day.
Foodie Note: There are endless possibilities for transforming a Speedy Naan Pizza. For example, try pesto or buffalo chicken with mozzarella, Caprese pizza with tomatoes and basil, or Fajita-seasoned chicken on top with veggies, etc.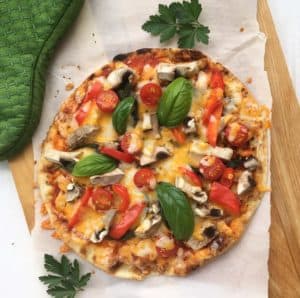 3. Presto! Pasta Transformed into Pasta Salad Lunch
Gotta love pasta for a quick and easy meal! Additionally, there are limitless possibilities (aka pasta-bilities) for ways you can make it. However, having a quick and easy sauce is key for those busy nights. For me, pesto is a fridge staple because it adds freshness and flavour to pasta, rice, beans, fish or chicken dishes. This sauce is also tasty served either hot or cold. If you are interested in making homemade pesto, here's my Sunflower Seed Pesto recipe.
For a weeknight dinner, simply cook whole grain pasta and add your pesto! Easy peasy lemon squeezy! Then you can add your veggies of choice (I love blistering cherry tomatoes) with oil and garlic. Add a pinch of kosher salt to tomatoes while cooking for extra flavour pop. A serving of pasta has about 10 grams of protein and 6 grams of fibre, not too shabby! You can bump this protein amount up by adding a side of grilled salmon, pork tenderloin, tofu bites or green peas to the pesto pasta.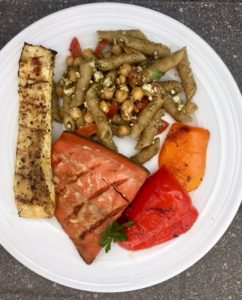 Reinvent into Cold Pasta Salad
Next, we will reinvent your pesto pasta dinner into a cold pasta salad for lunch. First step is to prepare a double batch of pasta. Be sure to cook it until it is al dente which means it is still firm to the bite. Now let's add to your dinner pesto pasta. For a lunch option, add crumbled feta cheese, chickpeas, cherry tomatoes and sunflower seeds for a Mediterranean kick. Can garnish with lemon wedge and basil leaves.
Meal Prep Tip:
Have either store-bought pesto or make your own (see my sunflower seed pesto recipe)
Keep pasta as a pantry staple. Choose whole grains for higher fibre, protein and vitamins.
Pre-cut garlic, cherry tomatoes and onions and can store in the freezer for up to four months. Click here to learn if frozen vegetables are healthier than fresh. Click here to do a freezer inventory if you're unsure what's lurking.
Stock pantry with unsalted sunflower seeds. I add them to everything – sauces, oatmeal, cereal, salads, etc.
4. Salmon Antojitos into Bento Box Lunch
Antojitos are Mexican street food that literally means "little cravings." They involve tortilla wraps, usually with cream cheese filling. For this recipe, I used smoked salmon, light chive whipped cream cheese and chopped green onions. It's that simple. I love the quick assembly. You can also wrap up the stuffed tortillas and freeze them. Later, you simply cut them into pinwheels for a quick dinner or lunch. This would be a meal prep item on a Sunday to stock in your fridge or freezer. (Note: Read more on how to start meal prepping).
Reinvent Antojitos for Lunch:
To reinvent this meal, we are using the separate components to fill a bento box. A bento box is a Japanese-style, single-portion lunchbox container. A traditional bento holds rice or noodles, fish or meat with vegetables. However, the bento trend has been heating up the lunchbox arena with a fun way to enjoy a homemade, healthy, "lunchable"-style meal.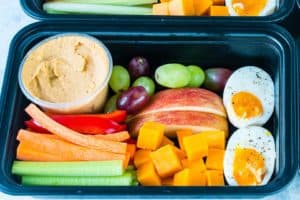 For this bento, we could use smoked salmon, cooked rice/bulgur/quinoa, crackers, fresh fruit, raw veggies. You can then enjoy lunch picnic-style with lots of delicious foods. Feel free to add yogurt or hard-cook eggs to your lunch.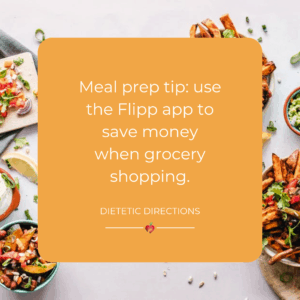 Meal Prep Tips:
P.S. In my Top 15 Favourite Meal Themes blog, I explain how families can use meal themes (like Meatless Mondays, Taco Tuesdays or Fish Wednesdays) to add fun and dinner anticipation. The blog helps us get organized, meal plan (click for how to meal plan) or meal prep.
5. Spectacular Meatballs Sandwich
I decided to post another pasta meal for this reinventing dinner blog because it's quick and easy and contains numerous helpful tips. Also, I'm an Italian dietitian who loves food. So in my opinion, there can never be enough pasta! 🙂
Nevertheless, spaghetti and meatballs (or veggie 'meat' balls) is a classic weeknight dinner meal. Love it because it's a fast meal, nutritionally sound and ideal before running off to soccer practice or doing homework. The best part of this meal is that you can prepare the sauce ahead (link to my recipe) and use pre-made, frozen meatballs or freeze your own homemade ones (see Grandma's meatball recipe).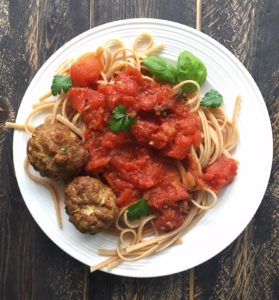 Reinvented into Meatball Sandwich Lunch:
Okay, so this might be the best lunch ever! Transform your spaghetti dinner into a saucy meatball sandwich. Serve with pepper, mushrooms/onions and cheese as possible toppings. To bring to work/school as a lunch, store meatballs, veggie toppings and sauce in a glass container. This way you can easily reheat. Pack a bun separately. Then add your heated meatballs and toppings onto your bun with shredded mozzarella cheese. The cheese will melt with the heat of the warmed meatballs. Serve with a side of cut veggies.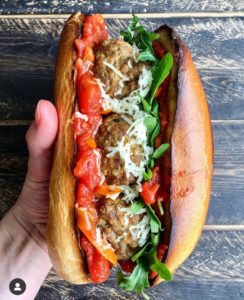 ---
Bottom Line:
Lunches do not have to be boring or overwhelming. An effective strategy is to cook extra dinner that you can enjoy for lunch the next day. Remember, cooking twice as much does not take twice the time. Be sure to make the process enjoyable by giving yourself time – this might mean preparing a dinner with leftovers on a Sunday. A habit starts with consistency in effort. Performance is less important. You don't have to cook every night. But more cooking is generally healthier than eating out or choosing processed alternatives.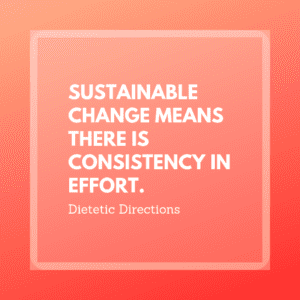 Now it's your turn! Do you make lunches? What do you find helpful if you're cooking dinner to transform it into your lunch?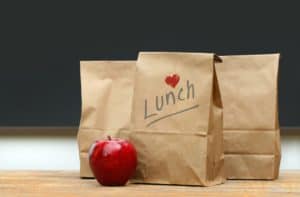 Interested in more Lunch ideas?
3 Ways to Master Make-Ahead Lunches
15 Favourite Lunches Ready in 15 Minutes
10 'Plant-Based' Back-to-School Lunches
3 Steps to Master Packed Lunches