Tips when Cooking for One or Two
I am thrilled to introduce Kate Park as my guest blogger and Dietitian extraordinaire!  Kate is a self-proclaimed foodie who vibrantly demonstrates that healthy cooking does not mean boring or tasteless. Kate leads interactive cooking classes, makes regular CTV appearances and works at a Family Health Team.  Kate also posts awesome content in her blog, the Sensible Foodie. 
When you live on your own or with one other person, cooking can sometimes be a challenge. Many products are sold in family sized packages, leaving you with lots of leftovers that sometimes go bad before you can finish them. But it is not hopeless; you just have to be creative. Here are a my tips for reusing foods more effectively: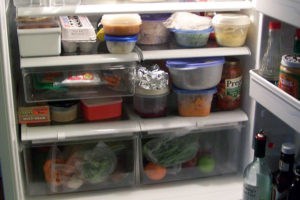 1) Save roasted vegetables for soups, stir-fry or an omelet in the morning.
2) Use leftover Cesar salad as topping on your sandwich to add some flavor and crunch!
3) Buy good quality containers and thermoses to take leftovers from dinner in your lunch the next day.  You can also freeze lunch-sized portions for a later time.
4) Cook up a large roast and keep slices aside to be used in a sandwich instead of lunch meat.
5) Avocados last longer in the fridge if you leave the pit in the half you didn't use and cover with plastic wrap. Lasts an extra day or so.
Refrigerated avocados last longer if you leave the pit in unused half & cover with plastic wrap.
Click To Tweet
6) Cook a small chicken for dinner, then shred the remaining meat into individual sandwich bags and freeze. You can now use these as quick additions to casserole, quesadillas, sandwiches or your lunch salad!
7) If you don't go through bread fast enough, split the loaf in half when you get home. Wrap half and put it in the freezer. These slices can then be used for toast and there will be little to no change in flavor.
Don't eat bread fast enough? Split loaf in two, wrap half and put in the freezer.
Click To Tweet
8) Fresh herbs going south? Place them in a food processor with a little oil and blend them to a paste. Then pour into ice cube containers. You can then use these ice cubes from the freezer whenever you need that fresh herb flavor for your dishes.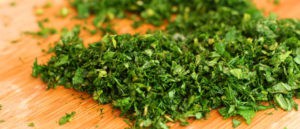 9) If family-sized packs of meat are on sale, make an arrangement with your friends or family to split the package. That way you get the cost savings without the waste.
10) Have a meal exchange night with friends. Everyone cooks a favorite dish and packs it into smaller freezer containers. Then you can exchange with each other.
Hope you can now start incorporating some of these healthful strategies when cooking for one or two!