Healthy Entertaining Appetizers
It's almost Easter! Are you looking for healthy appetizers? For many, Easter is a time to get together with friends and family over a shared meal. If you're hosting the family party, entertaining friends, or perhaps visiting someone's home and need appetizer inspiration, I have three tasty, nutritious, and creative Easter Entertaining Appetizers. They boost nutrition and, of course, please the palate!
---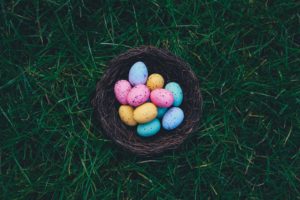 ---
First, when planning your entertaining appetizers, as a dietitian and host, I recommend thinking of three categories:
1. Taste:
According to the Tracking Nutrition Trends survey, taste is the most important factor Canadians (38%) consider when making food choices. Choosing delicious appetizers at your holiday party is no exception.
According to Tracking Nutrition Trends survey, taste is the most important factor Canadians consider when making food choices.

~Canadian Foundation for Dietetic Research (CFDR)
People are often skeptical about whether tastiness and healthiness can go together. The answer is an astounding yes! Of course you can have wholesome and appealing options. Additionally, don't shy away from using flavour-enhancers like fresh herbs, spices, lemon/lime wedges, cheese, etc. Stay tuned for my 3 tasty entertaining appetizer recipes below.
---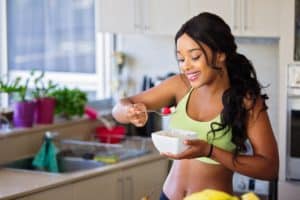 ---
2. Nutrition Boost:
Interestingly, the second most important factor in food choice is nutrition (31%). This is promising because we know Canadians are increasingly health-conscious, and the vast majority (92%) reported making at least one improvement to their eating habits in the past year (Tracking Nutrition Trends Report).
92% of Canadians reported making at least one improvement to their eating habits in the past year.

Canadian Foundation for Dietetic Research (CFDR)
Therefore, when planning party appetizers, ensure healthy alternatives are available. Providing wholesome options will increase enjoyment all around for you and your guests! At your next dinner party, aim to put an emphasis on eating plenty of fruits and veggies during your meal (set a goal to fill half your plate with colourful fruits and/or veggies). Click here to get a better sense of the exciting changes in the new Canada Food Guide.
Remember, offering veggie-loaded appetizers at parties and dinners is a great and easy way to boost nutrition, help you and your guests feel full, and increase overall veggie consumption simply by making these foods convenient and available. Looking for fun ways to incorporate more veggies into your diet? Click here to read my top 7 veggie boosting tips!
---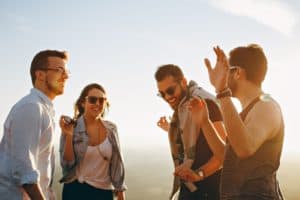 ---
3. Appetizer Presentation
Lastly, prioritize the appetizer's visual appeal when selecting appetizer options. Don't be afraid to make your food fun! If it looks cool or fun to eat, we're actually more likely to enjoy it. This is because we all eat with our eyes as well as our mouths. Presentation matters – aim to balance the different colours and textures you use in your selection of food to help create variety and interest.
Remember, we eat with our eyes as well as our mouths. Add a variety of colours and textures!
For example – add a veggie platter (adds a variety of colours), a dip (provides different textures and flavours), and whole grain crackers (again, a variety or textures and flavours) to your next food platter.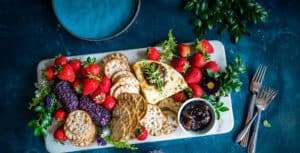 If you are able to integrate a theme into the appetizer, then you can make food so much more fun and engaging for guests of all ages. But keep in mind – don't stress about it. Remember, it's not a competition. You do NOT have to go overboard making Pinterest-style creations, like these ones. Unless of course you like to and making Pinterest-perfect Easter bunny fruit platters brings you joy. In that case, go for it!
Overall, when choosing which party appetizers to serve your guests, ensure you hit these 3 main categories: taste, healthy options, and (if possible) a cool presentation.
---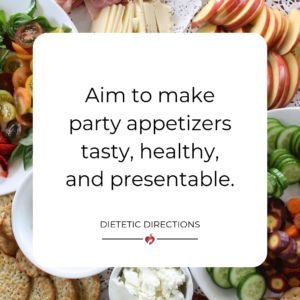 ---
All right – let's get to it! Here are my favourite easy, nutritious, and delicious go-to party appetizers. I can guarantee these will have guests begging for the recipe and are perfect for your next Easter get together.
---
3 Healthy Easter Entertaining Appetizers
1. Garlic Lentil Bruschetta
Who doesn't love bruschetta? Bruschetta is a flavourful mix of fresh tomatoes, garlic and olive oil. Growing up in an Italian household, this appetizer was a common staple in my life. For Easter Entertaining Appetizers, I chose to modify a traditional family favourite into a Garlic Lentil Bruschetta to boost the fibre, and heart-healthy minerals, and of course maximize veggie intake.
---
---
Why It's Nutritious:
---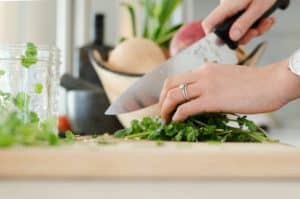 ---
Entertaining Prep Tips:
Prepare the bruschetta mixture in advance. This gives time for the flavours to marinate and intensify.
When bruschetta mixture is made earlier, you can simply toast bread when the meal is ready to serve, resulting in quick and easy appetizer assembly.
Be sure to make extra bruschetta mixture and use the rest in taco/fajita filling, in your chicken/tuna wraps, on top of white fish, inside omelettes or on flatbreads.
Idea: Try using leftover mix to make a garlic lentil themed breakfast with a fried egg.
2. Mexican-Style Dip with Smooth Cottage Cheese
To promote veggie intake, I absolutely LOVE dip options. Additionally, Mexican or taco flavours are always a big party hit. Many people do not know that dips actually increase children's vegetable consumption by 80% according to research published in the Journal of the American Dietetic Association (2011).
---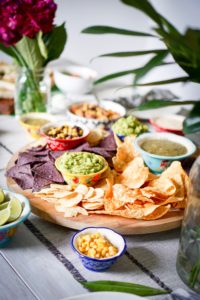 ---
To assemble this Mexican-Style Dip as an appetizer, simply pour cottage cheese, plain yogurt or low fat cream cheese on the bottom of a mason jar or shallow glass serving dish. Stir in taco seasoning. To add a low calorie, creamy texture, I use smooth cottage cheese. Cottage cheese is a low-fat cheese with a mild flavour. Next, add a layer of salsa on top. Finally, top with a layer of chopped lettuce, black beans and grated cheese as a finishing touch.
Check out this link for the full recipe!
Why It's Nutritious:
---
Dips increase children's vegetable consumption by 80% according to research.

Journal of the American Dietetic Association (2011).
---
Entertaining Prep Tips:
To increase the visual appeal of this dish, display the layered dip ingredients in a mason jar or glass bowl. Serve with a spoon for guests to scoop onto their plate.
If you see fit, swap the glass bowl for a half bell pepper as the serving dish for a cool presentation twist your guests will love.
Shredded lettuce, cheese or pickled jalapeños (they're less spicy) are all excellent toppers for this dish.
For creamy taste, use plain Greek, regular yogurt, or cottage cheese in whipped, lactose-free, reduced sodium or sodium-free varieties.
To scoop, serve this dip with a raw veggie platter, warmed naan wedges, or rice crackers.
---
3. Smoked Salmon Cucumber Bites
Omega 3's, baby! Why not boost your guests' nutrition with some scrumptious smoked salmon as an appetizer? And did you know? Salmon is an excellent source of omega 3 fats. These are the heart-healthy fatty acids found in fatty fish like trout, mackerel, and sardines. I love this appetizer because the assembly is speedy and the final product is nothing but impressive.
---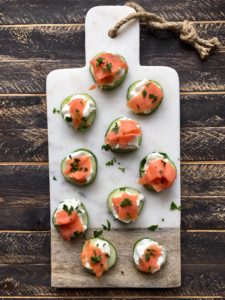 ---
To make these Smoked Salmon Cucumber Bites, clean cucumbers and cut into ½" thick coins. Top each with about half a tablespoon of chive-flavoured smooth or whipped cottage cheese for a low calorie and high protein alternative. Place a small piece of smoked salmon on top of each cucumber coin. Finally, garnish with fresh dill or chives along with squeeze of lemon. Easy peasy lemon squeezy, right?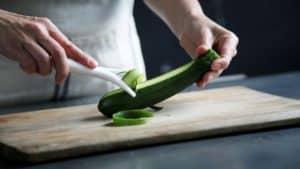 Why It's Nutritious:
Salmon contains anti-inflammatory omega-3 fats that are beneficial for heart health, eyes, and brain functioning.
Just like fresh salmon, smoked salmon is a good source of protein, B vitamins, magnesium and selenium.
Whipped 2% cottage cheese has only 25 calories in two tablespoons and three grams of protein.
Confused about the difference between farmed vs. wild salmon? Click here.
---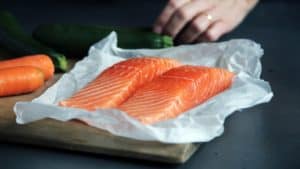 ---
Entertaining Prep Tips:
Cut cucumber slices in advance. Soak a couple of paper towels in water and wrap around the cucumber slices. Then, put the cucumber bundle in a sealable plastic bag for fridge storage.
Purchase fresh smoked salmon and store in the fridge before use. If you decide to keep it for longer, it can safely be stored in the freezer and defrosts quickly.
You can pre-make this appetizer and store it in the fridge garnished with fresh chives or dill and ready to serve when your guests arrive.
Bottom Line:
Easter Entertaining does not have to be stressful. There are easy appetizers that are tasty, nutritious and fun. Try out a Garlic Lentil Bruschetta to increase veggie and fibre intake. Offer a delicious Mexican-Style Veggie Dip with fresh veggies and crackers. And last, but certainly not least, try out Smoked Salmon Cucumber Bites for upping those heart-healthy omega-3 fats. And remember – plan ahead. Planning is crucial for speedy appetizer assembly in order to ultimately spend less time stressing and more time enjoying the festivities! If you plan now, future you will be thankful you did.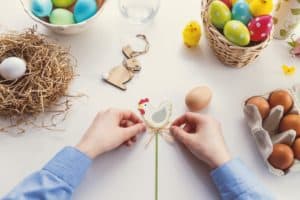 Now's your turn! I want to know your ideas. How do you tackle Easter entertaining? What are your go-to options? Share down below your favourite holiday appetizer (or meal) options you like to make when you're expecting guests!