Italian-Style Salmon Wraps
I'm an enormous fan of delectable food made with simple ingredients. This is also the way I grew up in my Italian-Canadian family. Additionally, I quickly discovered ample meals can be made using olive oil, red wine vinegar and parsley. Here are some of my favourites from the Dietetic Directions blog: Italian-style Romano Beans, Caprese Salad and Hard-Cooked Eggs with chives or parsley.
Today's Italian-Style Salmon Wraps recipe is a quick and easy back-to-school or work lunch that can be prepared in advance or in a hurry. It's also a great option for a fast and filling weekend lunch. 
DYK: This recipe uses canned salmon, which is wild Pacific salmon. Click here to read about the difference in wild versus farmed salmon. 
---
Serves: 2-3
Prep Time: 10 minutes
---
Ingredients
Canned salmon (213 grams)
1 tbsp olive oil
1 tbsp red wine vinegar
1 tbsp sunflower seeds, unsalted
1/3 cup tomatoes, chopped
1 tbsp red onion, chopped (Optional)
2 tbsp fresh Italian parsley, chopped
¼ tsp oregano
Salt and pepper to taste
Optional: Balsamic glaze for garnish
Serve with whole grain pita bread or tortilla, bread, baguette or crackers. Substitute gluten free alternatives for a Low FODMAP or Celiac alternative.
Directions Italian-Style Salmon Wraps:
In a medium sized bowl, add drained canned salmon fillet. Remove the skin and large bones. 
Using a spoon, smash the salmon fillet to break into small pieces. 
Add olive oil, red wine vinegar and sunflower seeds.  Stir to combine ingredients. (Salt and pepper can be added to taste). 
Combine chopped onions, fresh diced tomatoes, fresh Italian parsley and oregano. Mix gently with salmon salad. 
Top your whole grain wrap/pita/bread/crackers with your Italian-Style Salmon Salad.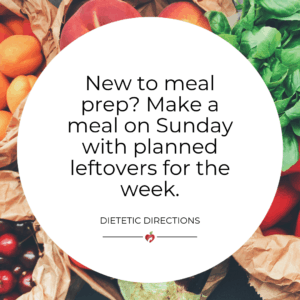 Interested in more Lunch ideas?
Reinvent Dinner into Unique Lunches
3 Ways to Master Make-Ahead Lunches
15 Favourite Lunches Ready in 15 Minutes
10 'Plant-Based' Back-to-School Lunches
3 Steps to Master Packed Lunches
Healthy School Lunches Made Easy!