Top Ten 15-Minute Meals From Kitchen Basics
Now that you have a well-stocked kitchen (see previous post with this dietitian's top fridge, freezer and pantry staples), you're ready to put easy, nutritionally balanced meals on the table! Today, I have compiled my Top Ten 15-Minute Meals to make from your kitchen basics. This means you can save time and money with no special trips to the grocery store (bonus!). Additionally, these meals can be faster on the table than ordering in and will cost MUCH less. For those unaware, cooking at home is generally a healthier option with lower calories, fat, salt and sugar than comparable restaurant options.
The purpose of this post is to demonstrate how cooking at home does NOT have to be time-consuming or fancy. I will provide meal inspiration for easy, home-cooked eats. Get ready for these dietitian-approved Top Ten 15-Minute Meals!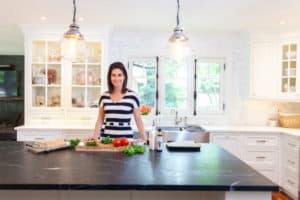 Dietitian TIP: Aim for your meals to have half plate veggies/fruit, quarter plate with protein and quarter with starch/carbohydrate. This is part of balanced eating for sustained energy and nutrient requirements. (See post here with Canada's New Food Guide where I review the pros and cons).
---
What is a Fridge-Cleaner?
A fridge-cleaner is a recipe with the versatility to use up existing foods that will go bad. For example, you can toss a variety of veggies from your fridge into an omelette, a homemade soup, sauce or stir-fries. This helps to both cut down on food waste and increase our veggie intake. 
Looking for inspiration for easy 15-Minute Meals? See versatile options that can be true "fridge cleaners!" #DietitianTips
Click To Tweet
---
Andrea's Top Ten 15-Minute Meals
1. Naan Pizza with Veggies
These Naan Pizzas have converted many clients who were in the weekly habit of ordering-pizza. Similarly, they love the taste, lower cost and the improved digestion-feeling afterwards. One piece of a walk-in pizza slice packs 600 to 800 calories and with over a third of your daily fat and salt intake. This does not include any dipping sauce, sides of wings or beverages. Better alternative, make-you-own naan pizzas!
Naan Pizzas are a simple and delicious way to "build-your-own pizzas" (a fun meal theme) complete with toppings you love. The naan or pita bread makes a crispy crust when baked in the oven. Therefore, keep pizza sauce (I have a resealable squeeze bottle) and mozzarella cheese stocked in your kitchen so you can make these any time! Remember to store naan bread (and other breads) in your freezer for a longer shelf-life. (See blog post here on how to take a freezer inventory). 
Foodie Dietitian Tip: Switch up your naan bread and try English muffins, hamburger buns, tortillas or mini pitas for a change. You can also use themed toppings like Greek Chicken, Pesto & Grilled veggies, or make a "Canadian" style pizza.
Have you tried making your own naan pizzas? Find the #recipe here and save time & money with quick 15-minute meals! #RDChat
Click To Tweet
2. Grilled Cheese & Fried Egg Sandwich
I absolutely had to put grilled cheese (and fried egg sandwich) on my 15-minute minute meals in honor of my grandma. These were her favourite quick options when surprised by a visitor with a hungry belly. These meals were quick and easy because she always had bread, margarine, cheese and eggs on hand. Not to mention, her little sliced grilled cheese sandwiches were always so tasty! I find nostalgia cooking is a great way to inspire meals. Similarly, what's better than making a standard simple comfort food that we don't often think of preparing for ourselves?
To boost the nutrition of this 15-Minute Meal, be sure to add veggies on the side and use high-fibre, high-protein breads. I love sprouted grain breads with 4-5 grams of both fibre and 4-6 grams of protein per slice. You can also switch up the cheese (like gruyere or gouda) to suit your preferences.
If you want to strut your culinary prowess, be sure to check-out Gourmet Grilled Cheese recipes on Pinterest or Google. You can also spice up your butter/margarine with fresh herbs like rosemary for extra flavour. A grilled cheese can become a panini with more toppings. Nevertheless, nothing is wrong either with just plain and simple grilled cheese, ketchup and go! Notice if you have an inner "food police," critically judging your meals. This can be a sign of poor food relationship and sucks the fun out of eating and creates an "All or Nothing Mentality" where we resort to short-term extremes. Remind yourself that satisfaction is a key element of eating, and think back to achieving your balanced meals, as best you can. This means ideally bumping up your veggies with veggie sticks or a salad. Sounds great to me!
3. Cinnamon French Toast with Warmed Berries
We often overlook French Toast as a fun and delicious 15-Minute Meal! Best part, no special trips to the grocery store because it uses ingredients we generally have on hand – bread, eggs, and milk. You can add cinnamon to egg mixture and top with fresh berries for an antioxidant and fibre boost. And of course, I love a drizzle of real, Canadian maple syrup to top it off.
Whisking our eggs reminds us to not skip the yolk! We receive half of the protein in an egg and most of the nutrition such as choline for the brain, heart-health and healthy pregnancy – not to mention we also tend to not get enough in our diet.
4. Greek Lentil Salad or Bean Salad
I love the ease of having a pantry stocked with canned beans, lentils, and chickpeas! They are pre-cooked, ready-to-eat and nutritious wonders. Beans also provide us with a source of protein, fibre and heart-healthy minerals such as magnesium and potassium. This no-cook Greek Lentil Salad is one of my go-to, easy, 15-minute meals. It's also an ideal lunch and a summer potluck pleaser. It uses a simple dressing of oil and red wine vinegar with oregano. Any recipe that includes feta and black olives is also a success in my books! 
5. Picnic Lunch or Bento-Box Meal
This 15-Minute Meal is a super fun assembly-style option where you can add a source of carb, protein, veggies in combinations that you enjoy. Kudos on your balanced eating! For example, try crackers, hummus, a hard-cooked egg, veggies and fresh fruit. You could also have a Mediterranean-style box with warmed pita wedges, Greek yogurt, olives, veggies, and berries.
6. Smoothie Bowl or Yogurt Parfait
It doesn't get much easier than this! Make your own meal smoothie bowl or a yogurt parfait for a 15-minute meal or even less. Use plain Greek or Skyr yogurt for a source of approximately 20 grams of protein in a ¾ cup serving. Add high-fibre cereal (look for over 5 grams of fibre per serving), chia seeds, fresh fruit and sprinkle of raw oats. This meal can easily be ready to go in well under 15-minutes! 
7. Quesadilla with Black Beans and Veggies
I prefer a warm meal to a cold one, so quesadillas are right up my alley. My mom would make a "cheater" recipe where she simply added salsa and veggies (mushrooms and peppers) to grated cheese. Next, she gave it a stir and scooped filling onto one side of a whole wheat tortilla before folding in half. She would then heat a non-stick frypan to medium heat and place the quesadilla on for 3 to 4 minutes a side until cheese melts and outside is golden brown.  Serve with plain Greek yogurt, tomatoes/arugula, and avocado slices or guacamole. 
Dietitian Tip: Keep whole wheat tortillas (keep in freezer), salsa, cheese, can black beans, veggies in the fridge and freezer for days when you want an easy and delicious Mexican quesadilla meal!
8. Mexican Buddha Bowl
Buddha Bowls are a great way of combining a grain (rice, bulgur, quinoa), a green (or any colourful veggies) and a bean/protein (chicken, fish, beans) into a delicious meal. I enjoy a uniquely themed Buddha Bowl, like a Mexican or Fajita Bowl with rice, guacamole, cheese, beans, lettuce, salsa, and lime wedges. 
Dietitian Meal Prep Reminder:
These meals were designed for quick assembly; however, don't forget about meal prep for even quicker assembly. It's always helpful to prep or cook components like protein, carb or veggies in advance. Remember, your future self will always thank you. Try cooking quinoa or rice in advance of making Buddha Bowls. I love BBQing extra marinated chicken breasts so that they can easily be made into quick buddha bowls, wraps, salads, and stir-fries.
9. Gnocchi with Pesto and Green Peas
I love gnocchi because it cooks in about 5 minutes in boiling water. This can also turn into a "fridge-cleaner," like my Veggie Loaded Gnocchi pictured below. Nevertheless, for speedy meals, Chef Jamie Oliver has a trick where he plugs in a kettle to bring water to a boil faster than on the stovetop. He then pours it into a pot to cook the pasta. Experiment and choose whatever method works best for you! Adding pesto or a light cream to pasta can make for an easy and delicious sauce and throwing in some green peas is a great protein boost. You can also add pieces of leftover rotisserie chicken, tomatoes or feta/parmesan cheese. So delicious!
Foodie Dietitian Tip: Veggie-Loaded Gnocchi can become a staple fridge-cleaner meal and is great to use up any spinach and produce you have on hand.
10. Now that's a Wrap!
Who doesn't love a 15-minute wrap? Stuff a whole grain tortilla with your favourite veggie and protein combinations – leftover chicken, tuna salad, beans, chili, egg salad, etc. Add extra veggies and side salad. Don't shy away from flavour enhancers like a little mayo, acid (lemon, lime, or dressing), cheese, and seeds for extra crunch.
---
The Timer Challenge!
Have you ever tried a timer when cooking? I came up with this to make mundane tasks more exciting. When I don't look forward to doing something – offloading the dishwasher, doing dishes, etc. – I set a timer for the amount of time I would like to finish the task. For example, I think I can offload the dishwasher in five minutes. Then, start the timer! Now you have a race against the timer. It's amazing to see how much or how little time tasks really take. With these 15-minute meals, you can do the same. Set a timer for 15-minutes and go! 
---
Bottom Line:
Cooking does not have to be time consuming and boring. Make meals that excite your palate and will leave you feeling satisfied. Keep in mind the principles of balanced eating to ensure you have lots of veggies, as well as a source of protein and carbohydrate for energy. I hope you find my Top Ten 15-Minute Meals inspiring for your stocked kitchen. Lastly, be sure to read my previous post if you are not sure if your kitchen is stocked with basics to make lots of quick meals.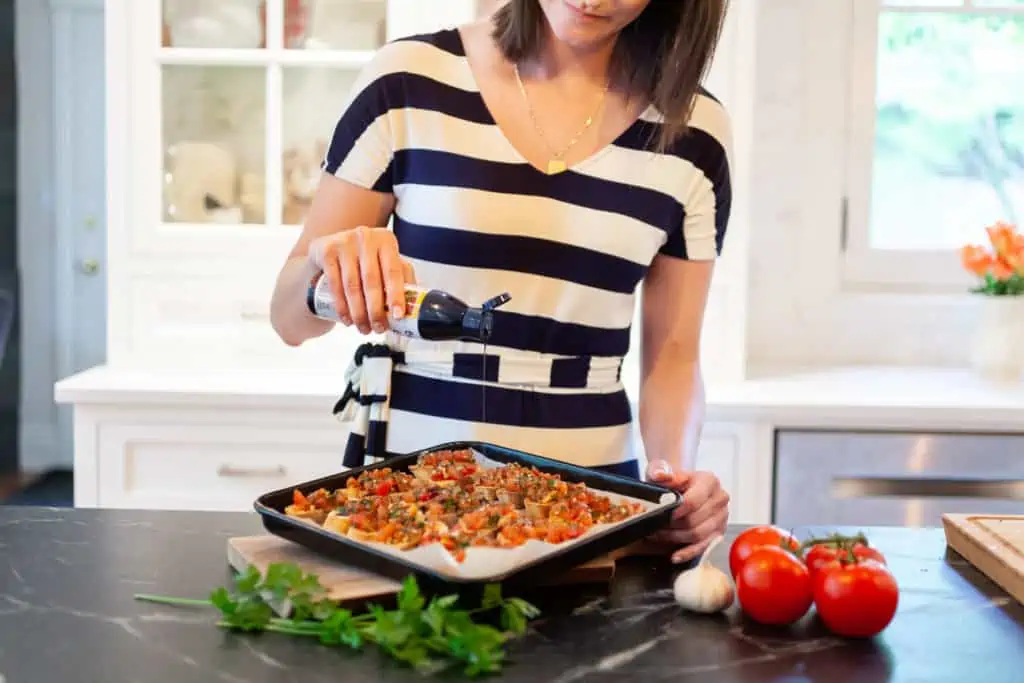 Now it's your turn! What are your go-to quick and easy 15-minute meals? Have you found a benefit to cooking more at home versus ordering in or take-out?