10 Favourite Christmas Brunch Ideas
Sparkle, shine and enjoy this holiday season. Get-togethers are in abundance. Christmas music is playing and a light dusting of snow is on the ground. I love Christmas brunch because it's another opportunity to enjoy festive fare and deliciousness. Plus, the amazing thing about brunch is that it can happen anytime over the holiday season (or all year long). Some people have out-of-town family lodging and enjoy brunch before/after opening gifts. Others enjoy a Christmas brunch before travelling to celebrate with friends or family. Nevertheless, today I will share my 10 Favourite Christmas Brunch Ideas that are sure to impress a crowd – big or small.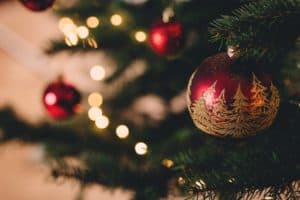 This post was sponsored by the Egg Farmers of Ontario; as always, all opinions are genuine.
For today's Top 10 Christmas Brunch Ideas, I will highlight make-ahead dishes ideal for serving on this festive day. I will also share a recipe or spotlight ingredients needed to boost nutrition and health. Get ready to have a very Merry Christmas brunch!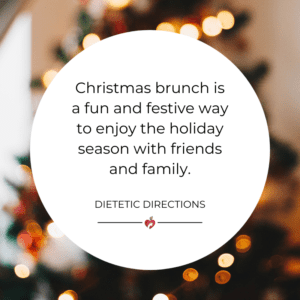 ---
Andrea's 10 Favourite Christmas Brunch Ideas:
1.Cinnamon and Pomegranate Overnight Oats
Make-Ahead:
Prepare Cinnamon Pomegranate Overnight Oats a couple of days in advance or the night before. You can serve this breakfast in mason jars. For an extra festive touch, add a ribbon around the rim. Overnight oats can be stored in an airtight container in the fridge for up to five days. Keep in mind that the oats will continue to soften which may be a bonus or drawback, depending on your texture preference. Additionally, overnight oats are a great portable meal if you're planning to head out in the car travelling.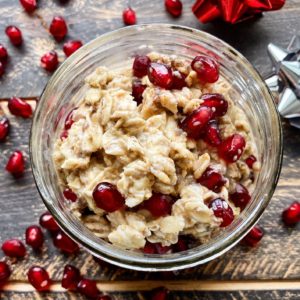 What You Need:
For overnight oats, you'll need rolled oats plus optional added chia seeds for a fibre boost and extra thickness. In this recipe, I add cinnamon, vanilla extract and a pinch of Kosher salt for flavouring. Also, overnight oats are completely customizable to suit your flavour preferences with the fruits you want to include. For Christmas Brunch, a Pomegranate Cinnamon Overnight Oats feels fitting. However, you could make a peanut butter banana flavour, apple cinnamon, tropical, chocolate cherry and more.
Some overnight oats recipes use Greek yogurt or regular yogurt and others use milk or milk substitutes like almond or soy milk. I recommend before the big Christmas brunch, be sure to try a recipe (or two) in advance to see your preference. These overnight oats take only about five minutes to assemble. To serve overnight oats, have guests add extra fruits, nuts/seed or flax seeds as toppers. Click here for my overnight oats recipe.
The addition of fresh or frozen fruit to our overnight oats adds natural sweetness and antioxidants. Click here to discover the difference between fresh and frozen foods.
Nutrition Boost:
Overnight Oats are a high fibre breakfast because of the whole grain oats and chia seeds! The type of fibre is mainly soluble fibre, which helps to lower cholesterol, high blood pressure, and keeps us feeling full for longer. Many do not know that chia seeds are considered a complete protein since they contain all 9 essential amino acids. We also receive calcium and protein from our milk and/or yogurt. Click here to find out how chia seeds compare to hemp seeds and flax seeds.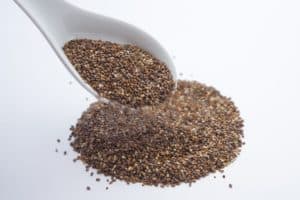 ---
2. Mini Egg Muffins
Make-Ahead:
Mini Egg Muffins are a Christmas brunch or weekday breakfast favourite because they're a complete make-ahead meal. They're also an excellent way to boost protein intake, which many don't get enough of at breakfast. All you need to do on entertaining day, or in the morning, is simply warm in the microwave or oven. Then serve warm (or cold) when you're ready to eat!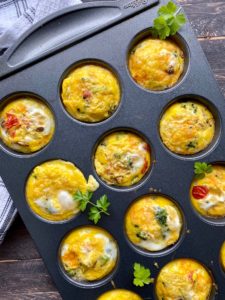 What You Need:
Take out your muffin tin tray to make these Mini Egg Muffins. This recipe yields 12 mini egg muffins. Again, this super flexible recipe includes ingredients you love. Simply use cooking spray to prevent sticking and place toppings in the bottom of a muffin tin tray. Next, pour beaten egg mixture over top. Heat oven to 350 degrees Fahrenheit and bake for around 20 to 25 minutes. Let the mini egg muffins cool for 5 minutes before removing from pan and placing on a cooling rack. Freeze for three weeks or keep in the fridge for up to four days. Check out the recipe here. Finally, be careful to not overfill the egg cups as they expand/rise when cooked.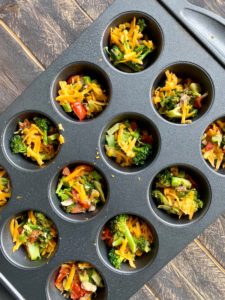 Nutrition Boost:
These Mini Egg Muffins utilize eggs for a nutritious, protein boost with 6 grams of complete protein per egg and only 70 calories each. Making these egg muffins reminds us to not skip the yolk, where we receive half the protein and most of the nutrition such as choline for brain/memory, healthy pregnancy/breastfeeding and heart-health. We also receive antioxidants in the yolk like lutein and zeaxanthin, which are forms of vitamin A (carotenoids) that help reduce the risk of macular degeneration that can lead to blindness. 
Click here to read why you don't want to skip the yolk when eating eggs. Depending on the colourful veggies you choose to add to your Mini Egg Muffins, you will receive a variety of extra antioxidants, vitamins and minerals. I love flavour combinations such as broccoli, tomato and red onion or spinach and mushrooms and caramelized onion with goat cheese or brie.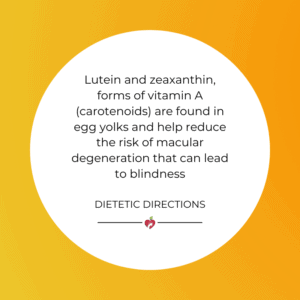 ---
3. Smoked Salmon Antojitos
Make-Ahead:
These 3-Ingredient Smoked Salmon Antojitos are another simple, make-ahead Christmas Brunch. Antojitos are Mexican street food that literally means "little cravings." They involve tortilla wraps, usually with cream cheese or whipped cottage cheese.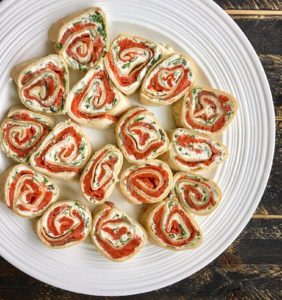 What You Need:
To make Smoked Salmon Antojitos, I use smoked salmon, light chive whipped cream cheese, 12" tortillas and chopped green onions. It's that simple. Gotta love the quick assembly. Click here to see the Smoked Salmon Antojitos recipe. Additionally, to meal prep these, wrap your stuffed tortillas and freeze. Later, simply cut into pinwheels for brunch, or enjoy as part of a quick lunch or dinner. By prepping and planning ahead, you are practicing setting yourself up for success with meal prep. Having easily accessible options stocked in your fridge or freezer makes it much easier to eat well during the busy workweek.
Note… read more here on how to start meal prepping if you're interested!
Did you know? You can re-sprout green onion? Here's a trick: Put the ends in water and they will sprout again!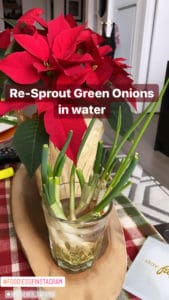 Nutrition Boost:
With this recipe, you can boost your guests' omega-3 intake. These anti-inflammatory, heart-healthy fatty acids are the ones found in fatty fish like salmon, trout, mackerel, and sardines. Omega 3 fats are beneficial for eye, nerve and brain functioning. Many do not know that we receive the same amount of omega 3's in smoked salmon as we do in fresh. Additionally, we also receive the same amounts of protein, magnesium, selenium and B vitamins. However, the salt is higher in smoked salmon. As a result, we may aim to consume this less frequently than fresh/frozen salmon. I like to think of smoked salmon as a treat!
Confused about the difference between farmed vs. wild salmon? Click here.
---
4. Zesty Avocado Toast with Hard-Cooked Eggs
Make-Ahead:
This Zesty Avocado Toast with Hard-Cooked Eggs is an impressive brunch and quick to prepare! Simply hard-cook your eggs in advance, which takes roughly 10 minutes. See my recipe here for Hard-Cooked Eggs to Perfection. Conveniently, the hard-cooked eggs can be stored in the fridge for seven days. The smashed avocado for your toast can also be made ahead since the acid in the lime will prevent browning. Alternatively, you could cut a ripe avocado Christmas morning and smash with a fork before serving. Click here to learn how to cut an avocado, if it's your first time. Click here to learn how to choose an avocado for optimal ripeness.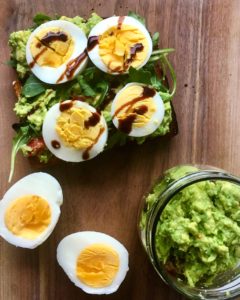 What You Need:
You'll need your favourite bread or a variety for guests following gluten-free or Low FODMAP diets for digestion. I've been into sprouted grain breads lately for extra protein and fibre. However, rye toast, English muffins or mini flat bread rounds also work well. If you need to speed up ripening of your avocado before brunch, store in a paper bag. Alternatively, if you have optimally ripe avocados before Christmas, you can slow the ripening down by storing them in the fridge for three to five days. You'll need fresh lime and Kosher salt (my preference) and fresh ground pepper. Lastly, for extra visual appeal, use a balsamic glaze for a professional finishing touch.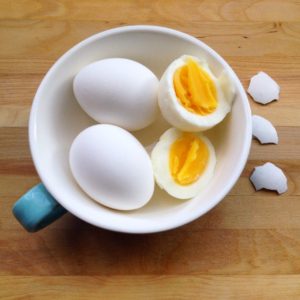 Nutrition Boost:
Avocado is rich in monounsaturated plant-based fats, which are good for lowering cholesterol, boosting our good (HDL) cholesterol, and controlling appetite. Including avocados in the diet also boost fibre (6 grams in half an avocado), along with antioxidants like vitamin E, carotenoids and vitamin C.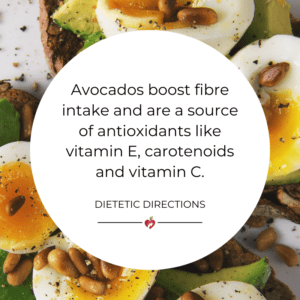 ---
5. Homemade Holiday Granola
Make-Ahead:
This Homemade Coconut Christmas Granola is a Brunch favourite because it's another complete make-ahead. Also, it can easily become a topper for a yogurt parfait or mixed with a high fibre cereal, like bran buds. Store your homemade granola in mason jars and serve with spoon for scooping. Additionally, you can provide small mason jars for guests to bring home to enjoy later as a gift.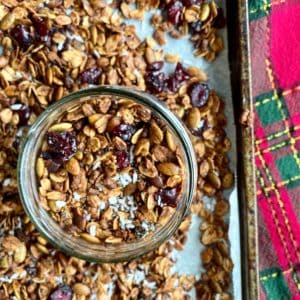 What You Need:
You can use many different online granola recipes for inspiration. The high fibre granola I made has rolled oats, bran buds, chia seeds, shredded coconut, pumpkin seeds and dried fruit (like raisins, craisins or dried cherries). See the full recipe here!
Nutrition Boost:
Fibre is the indigestible component of foods, which means that it slows digestion, helping us feel full for longer. Whole grain oats have soluble fibre, which is important for lowering cholesterol, controlling blood pressure and regulating blood sugars. Bran buds and chia seeds are added because they have super high fibre content with about 4 grams per tablespoon. They add a little crunch and texture. Maple syrup is used for a little extra sweetness. Click here if you're confused about sugar and how much we should be consuming. Try making your own granola and you may never go back to store-bought! 
---
6. French Toast with Berries
French Toast is a crowd-pleaser that takes a little more time than the previous Christmas Brunch options. Our Italian-Canadian family enjoys panettone for Christmas season. It's a festive bread that has sweet nuts and candied fruit. For an extra decadent treat, you can use this type of bread to a make a special Christmas French Toast. Serve with fresh, or warmed berries on top and a dollop of Greek yogurt for extra protein.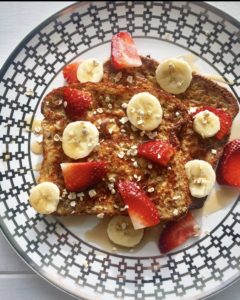 ---
7. Zucchini Chocolate Chip Muffins
Homemade muffins are an ideal make-ahead brunch option that can be stored in the fridge or freezer before serving. My mom is a baker and this is her Zucchini Chocolate Chip Muffin recipe. It's a true crowd-pleaser! Baking with grated zucchini boosts nutrition and adds moisture and flavour. This breakfast can be accompanied by fresh fruit and yogurt, hard-cooked eggs or cheese wedges for protein.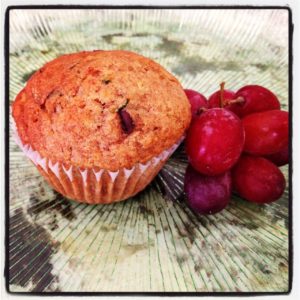 ---
8. Easiest Fruit Salad
Fruit salad is a fun and festive make-ahead brunch option to feed a crowd. Be sure to use seasonal fruits like pomegranates (can buy frozen if you don't want to peel them). Click here for a video I made on how to peel a pomegranate. I also love adding fresh bananas and canned peaches in packed water. Check out my recipe for simple fruit salad here!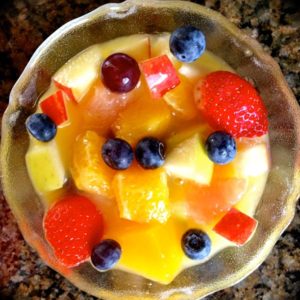 Dietitian Tip: Wondering how to easily peel and de-seed a pomegranate? Check out this tutorial by Andrea below!
---
9. Yogurt Parfait
Absolutely love yogurt parfaits because guests can customize their own toppings. Also, guests can choose their own yogurts  – Greek, regular/plain, flavoured, Islandic or Skyr, etc. Can click here to find out what to do if you have confusion in the yogurt aisle.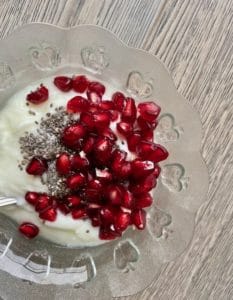 Topping Suggestions: Go for the fibre boost with chia seeds, homemade granola or high fibre cereal. Also, boost the antioxidants by using fresh or frozen fruit like blueberries, cherries or strawberries. Tasty added protein additions include: hemp hearts, pumpkin seeds/sunflower seeds/walnuts and almonds. I sometimes add cinnamon, raisins or dried coconut as a parfait topper. 
Interested in learning about the benefits of different in-season fruits? Click here to discover the nutrition of pomegranates and clementines!
---
10. Shakshuka
Lastly, I'm sharing an impressive, flavourful Lentil Shakshouka breakfast recipe because it's one of my favourites any time of year. If you are looking to spend a little extra time in the kitchen, this could work for Christmas brunch. It's a North African dish that can feed a crowd and add that protein and veggie-boost to the meal. I use canned tomatoes, spinach and feta cheese in mine. You simply crack an egg towards the end of cooking for that beautiful presentation and serve with crusty bread. So tasty!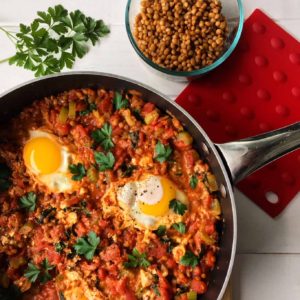 ---
Bottom Line:
This holiday season, be sure to enjoy a healthy (and delicious) Christmas brunch with your loved ones. After all, evenings and dinners can get busy so why not commune earlier over coffee, tea, and brunch? I hope you find inspiration from my 10 Favourite Christmas Brunch Ideas and enjoy the festivities!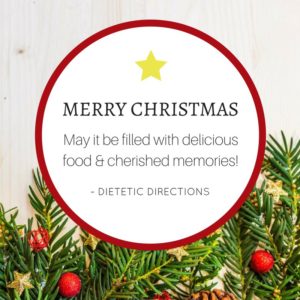 Now it's your turn! What are your Christmas food traditions? What are your favourite holiday brunch options?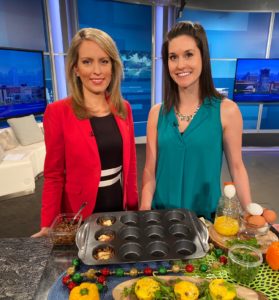 P.S. In case you missed it, Andrea was on CTV News at Noon chatting about healthy make-ahead Christmas brunch options! Check out the segment here!